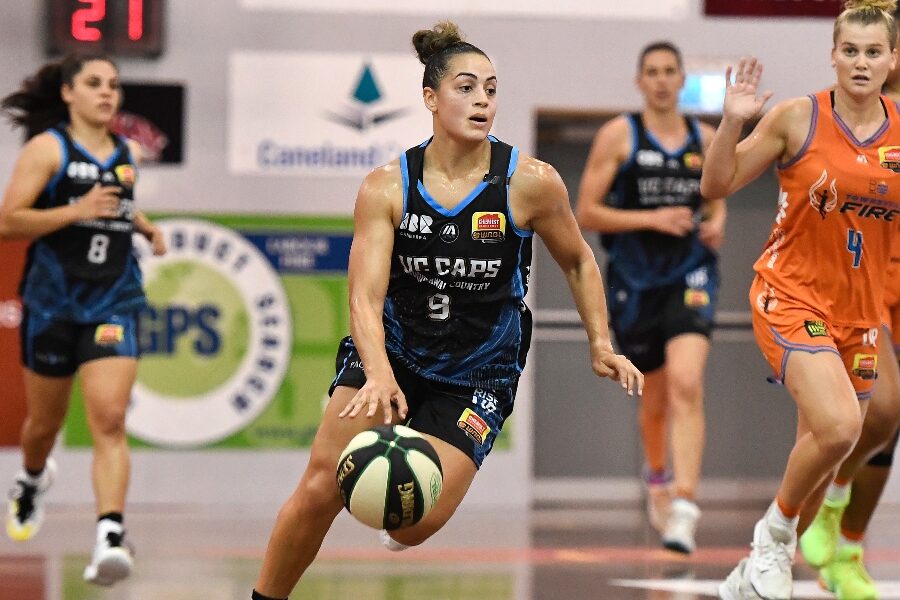 November 15, 2020 | WNBL news
Maddison Rocci won the battle of the young point guards as the injury-hit defending Chemist Warehouse WNBL champions, the UC Capitals defeated JCU Townsville Fire, 78-67, in Mackay on Sunday evening.
Townsville led by one and three at quarter and halftime respectively but were outscored 22-10 in the third.
Canberra got a boost before the game when forward Mikaela Ruef was cleared to play after injuring an ankle in the Caps first outing of the season.
However, the defending champions were again without Kelsey Griffin, Tahlia Tupaea and Brittany Smart.
Rocci was prominent in that surge and finished with 24 points, following up her 21-point haul in the Caps opening game overtime loss to Adelaide.
She shot more accurately on Sunday, nailing four of her seven three-point attempts, shooting 58 per cent from the field and added seven assists, three rebounds and three steals.
Highly rated Townsville point guard Shyla Heal starred in the first half, making all five of her field goal attempts and finished with 18.
Townsville were too reliant on Heal and backcourt partner Lauren Nicholson (19 points), with no other Fire player getting into double digits.
Sparked by guard Rocci and centre Marianna Tolo, Canberra bolted into an early 15-8 lead.
Fire coach Shannon Seebohm called a timeout and his side responded by scoring the first nine points after play resumed.
Two three-point bombs to both Rocci and Abby Cubillo decisively tilted the momentum Canberra's way in the third quarter.
"We were super disappointed with our first game of the season, so to come out and work on those little things we've been working on the past three days and to get the win was just what we wanted," Rocci said.
The Caps lead ballooned to 17 in the last quarter and Townsville were unable to slash the deficit below nine.
"We fought all the way to the end; we didn't give up. We just had some breakdowns here and there and that's where they (Caps) capitalised and got the win," Fire big Lara McSpadden said.
Rocci got great support from her frontcourt with Tolo contributing 13 points, despite getting into foul trouble, Keely Froling (11 points, nine rebounds) and Ruef (10 points,13 rebounds and four assists).
Another big plus for the Caps was the promising performance of 18-year old guard Jade Melbourne (12 points, six rebounds).
Canberra back up on Monday against the Villawood Properties Bendigo Spirit in Mackay and Townsville host Brydens Sydney Uni Flames on Tuesday.
Adrian Warren is a freelance contributor to WNBL.com.au 
UCI Capitals 78 (Rocci. 24, Tolo 13, Melbourne 12)
JCU Townsville Fire 67 (Nicholson. 19, Heal 18, Reid 9, Aukuso 9)