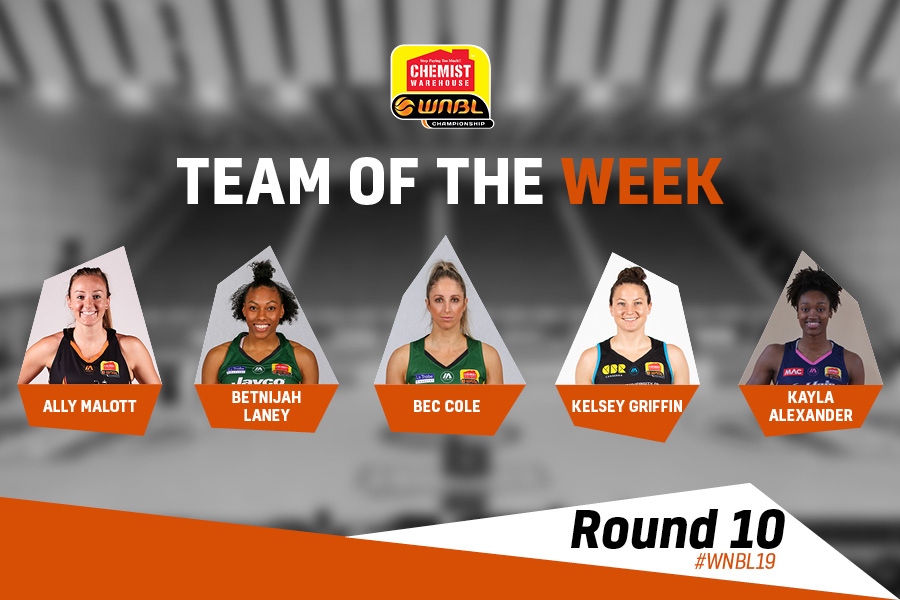 December 18, 2018 | WNBL news
Kelsey Griffin has continued her outstanding 2018/19 campaign, being named to her seventh Team of the Week- a remarkable achievement considering the season is just ten rounds through.
The Jayco Rangers boast two members in the team in Bec Cole and Betnijah Laney and alongside Laney, Ally Malott and Kayla Alexander have made their first Team of the Week for the season
Bec Cole (Jayco Rangers)
The Round 10 Player of the Week enjoyed a stellar weekend, leading her team to two wins and back into the top four on the ladder. Her performances over the weekend continue her fantastic season as she now sits third in scoring with 19.3 points per game- a career high for Cole.
The Rangers' guard has enjoyed a break-out season, as the veteran shooting guard has improved greatly, elevating herself as one of the WNBL's premier guards. To illustrate Cole's breakout campaign, it is in fact just the second time in her nine-year career that she has averaged double-digits in scoring.
Cole also sits in the top ten for assists with 4.1 per game. The Dandenong guard had two outstanding games over the weekend, scoring 31 points on Friday night against the Flames on an efficient 12-14 shooting before backing up on Sunday by setting a new career-high in assists with 11 and 20 points.
Bec Cole Round 10 Stats: 25.5 points on 70% shooting, 5 rebounds, 7 assists and 3 steals per game.
Betnijah Laney (Jayco Rangers)
Cole's teammate has been named to the Team of the Week for the first time this season after she registered 16 points, nine rebounds and six assists against the Flames and another 19 points and nine boards against Bendigo.
The Rangers' wing has been one of the league's leading facilitators all season as she currently sits fourth in the league for dimes with 4.8 per game.
Betnijah Laney Round 10 stats: 17.5 points on 55% shooting, 9 rebounds, 3.5 assists and 1 steal per game.
Kayla Alexander (Adelaide Lightning)
After a delayed start to the season, Alexander has stepped up for the Lightning over the last few weeks as Adelaide extended their win streak to five on Friday night.
Alexander had 22 points, ten rebounds, three assists, one steal and two blocks with the Lightning blowing out the UC Caps by 20 points and while they fell in a nail-biter to Melbourne on Sunday, the Indiana Fever centre still claimed a double-double of 18 points and ten rebounds.
With a size advantage over much of the league, Alexander pulled down 11 offensive boards to now sit fifth for the season in that category.
Kayla Alexander Round 10 stats: 20 points on 47% shooting, ten rebounds, two assists, two steals and 1.5 blocks per game.
Kelsey Griffin (University of Canberra Capitals)
Griffin continued her tilt for the 2018/19 MVP with another impressive round. The UC Capitals skipper led the way in a rout of Perth on Sunday, securing 27 points and 15 rebounds with seven offensive boards and while they fell to Adelaide on Friday night, Griffin still paced her side with 18 points, six rebounds and two steals.
Griffin remains the league-leader in both scoring (20 points per game) and rebounds (11.6 per game)
Kelsey Griffin Round 10 stats: 22.5 points on 58% shooting, 10.5 rebounds, 1 assist and 1.5 steals per game.
Ally Malott (JCU Townsville Fire)
With Suzy Batkovic out of action due to injury, Ally Malott stepped up for the Fire in a starting role with 19 points in a 25-point thrashing of the Lynx.
Much like her team, Malott was highly efficient as she went 6-10 from the field including 3-3 from beyond the arc and Malott is proving to be an integral cog in Townsville's attempts to work their way back into the top four.
Ally Malott Round 10 stats: 19 points on 6-10 shooting including 3-3 from three, seven rebounds, two steals and one block.
Honourable Mentions: Marianna Tolo (UC Capitals), Cayla George (Melbourne).