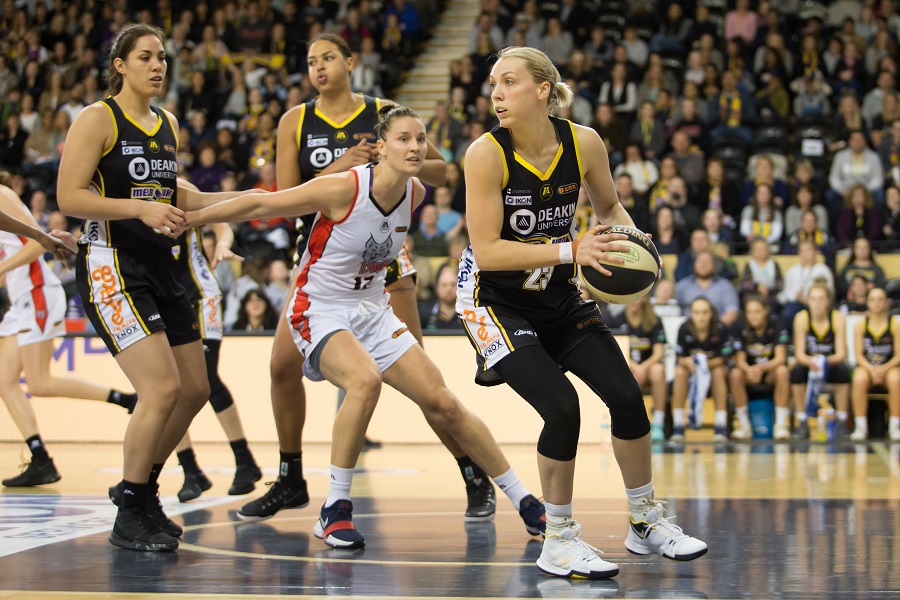 December 14, 2017 | WNBL news
Photo courtesy of Michelle Couling Photography.
Game of the Week
Deakin Melbourne Boomers v Perth Lynx at State Basketball Centre, Sunday, 2.30pm (local time)
A top of the table clash hits the State Basketball Centre on Sunday afternoon and home court advantage through the playoffs could be decided by the end of this contest.
The Lynx sit a game clear on top of the ladder courtesy of 11 consecutive victories which is a club record but they will be hosting Adelaide on Friday night before heading to Melbourne on Sunday.
The Boomers have a week's break from their last contest which should have them primed for the important clash which will also see them put their three-game winning streak on the line.
If their last meeting is anything to go by, fans will be flocking to see these sides in action as Melbourne won an overtime thriller by two points back in Round 3.
Courtney Williams and Sami Whitcomb combined for 38 points, 17 rebounds and ten steals against Maddie Garrick and Brittany Smart who had 31 points between them including seven three-pointers.
However, the power of Liz Cambage under the rim proved the difference as she tallied 23 points and 23 boards and Melbourne were also missing Jenna O'Hea in that contest.
With her ability to control the tempo, the Boomers have an edge but their back court must be at their defensive best to control Perth's starting guard duo who are in incredible form.
These teams meet again in Round 12 for the final time but if the Boomers can clinch the season series on Sunday with a win, it will put a serious dent in the Lynx's hopes for a first-placed finish.
Tickets: https://www.trybooking.com/book/event?eid=272971
Live stats: http://www.fibalivestats.com/u/wnbl/681971/
Bendigo Bank Spirit v University of Canberra Capitals, Thursday, 7.00pm (local time)
Finally putting an end to their losing streak last weekend against Dandenong, the Caps can now start a winning streak and move off the bottom of the ladder against the Spirit.
Bendigo will be out for redemption though after a horror Round 9 in which they dropped two games by an average of 40.5 points.
Scoring has been an issue for them for most of the season but they could only manage 42 and 62 points respectively against Melbourne and Townsville which the Caps will be aiming to exploit.
Jordan Hooper has started to find her range again while they received 14 points off the bench in the victory over the Rangers to help them to a total of 81.
If they get a spread of scorers again, they should overcome Bendigo although the Spirit back court will be aiming to light it up from distance with the Caps missing one of their best perimeter defenders in Rachel Jarry.
Tickets: https://www.trybooking.com/book/event?eid=303111
Live stats: http://www.fibalivestats.com/u/wnbl/681966/
Jayco Dandenong Rangers v Brydens Sydney Uni Flames at Dandenong Stadium, Thursday, 7.30pm (local time)
Dandenong's finals hopes are hanging by a thread after they dropped consecutive games in Round 9 and a loss to Sydney Uni on Thursday night could be the death knell.
Their injuries are also piling up with both Tessa Lavey and Laia Palau in doubt for this weekend which could see assistant coach Sam Richards lace up the shoes after she returned to the league for the first time in five years last weekend.
The Flames cannot afford to take the Rangers lightly though as they have lost five of their past seven while a defeat to Dandenong would hand their opposition the season series which could also hurt come finals time.
Sydney Uni are expecting to get Asia Taylor back and while she will be playing in protective goggles, her inclusion could make all the difference for the visitors.
Tickets: https://wnblround11.in-tix.com/
Live stats: http://www.fibalivestats.com/u/wnbl/681967/
Watch LIVE AND FREE: https://www.foxsports.com.au/live 
Perth Lynx v MAC Adelaide Lightning at Bendat Basketball Stadium, Friday, 6.30pm (local time)
Before Perth hit Melbourne on Sunday, they host Adelaide at home where they have an eight-game winning streak having not fallen there since Round 1.
Adelaide are currently in a finals position as they own the head-to-head results against Sydney Uni but they were dealt a massive blow with Natalie Novosel suffering a season-ending ACL injury last weekend.
Averaging career-highs in points (11.4 per game), rebounds (3.9) and assists (2.7) in 2017/18, Novosel's ability to create for her team mates and control the tempo of the contest will be missed most.
It will also disrupt their plans to shut down Williams and Whitcomb of the Lynx with Nicole Seekamp and Aimie Clydesdale likely to be assisted by Lauren Nicholson up the floor and around the perimeter as they look to take Perth out of rhythm.
Abby Bishop may also be required to hit the scoreboard more as she is averaging just nine points over her past five games compared to 20.2 across her first five games.
Tickets: http://www.ticketmaster.com.au/Perth-Lynx-tickets/artist/2165336
Live stats: http://www.fibalivestats.com/u/wnbl/681968/
Brydens Sydney Uni Flames v Bendigo Bank Spirit at Brydens Stadium, Saturday, 3.00pm (local time)
Belinda Snell notches game 300 on Saturday afternoon and her fans from all around the country will be able to tune in as it is this round's FOX Sports broadcast game of the week.
Still playing at an exceptionally high level, Snell is averaging 12.6 points (second for the Flames), 4.9 rebounds (third) and 4.4 assists (first) to be named in the Team of the Week three times as well as earning a Player of the Week award in Round 8.
Her shooting alongside Alex Wilson will create headaches for the visiting Spirit while the battle between Taylor and Betnijah Laney pits two of the most athletic and exciting forwards in the competition against each other.
Last time these sides met, Sydney Uni tallied a season-high 105 points while shooting 50% from the field so Bendigo will know how much their defence needs to improve to be competitive on Saturday.
Tickets: https://www.eventbrite.com.au/e/brydens-sydney-uni-flames-vs-jayco-dandenong-rangers-tickets-36709636511?aff=social
Live stats: http://www.fibalivestats.com/u/wnbl/681969/
Watch LIVE on FOX Sports Australia channel 503.
JCU Townsville Fire v Jayco Dandenong Rangers at Townsville Stadium, Saturday, 7.00pm (local time)
A rough weekend for the Rangers sees them head north to Townsville to take on the third-placed Fire just two nights after they host the fourth-placed Flames.
Townsville suffered a surprise defeat at the hands of Adelaide last round but bounced back to easily take care of Bendigo and they must continue to beat teams outside a playoff position at least if they want to keep their top-two hopes alive.
The Rangers have proven to be their bogey team in 2017/18 though, having already taken the season series against them with two previous victories in Round 3 and 9.
That last meeting was a 19-point victory for Townsville after they got the jump on the Fire with a 41-19 opening half as four players notched double-figure scoring.
More impressive was their defence though as they tallied 19 points off turnovers while holding Townsville to 32% shooting. It will be a more difficult task for Dandenong against the Fire at home but they certainly have the blueprint to victory from previous encounters.
Tickets: https://whatson.townsville.qld.gov.au/events/community-events/jcu-townsville-fire-v-dandenong-rangers
Live stats: http://www.fibalivestats.com/u/wnbl/681970/
University of Canberra Capitals v MAC Adelaide Lightning at National Convention Centre, Sunday, 3.00pm (local time)
With Sydney Uni playing two winnable games against clubs outside the top four, Adelaide must keep pace with them which makes their Sunday clash with Canberra very important, especially if they fall to Perth on Friday night.
It could be a high-scoring affair on Sunday with the Caps giving up 83 points per contest (the most in the competition) while Adelaide surrender 77 points for equal-third worst in the league.
While the Lightning are missing Novosel, their back court speed will still be a concern for the home side with Nat Hurst and Abbey Wehrung tasked with containing their transition game while a player like Ruth Hamblin could take advantage against a smaller Caps front court.
Tickets: http://premier.ticketek.com.au/shows/show.aspx?sh=CAPITALS17
Live stats: http://www.fibalivestats.com/u/wnbl/681972/