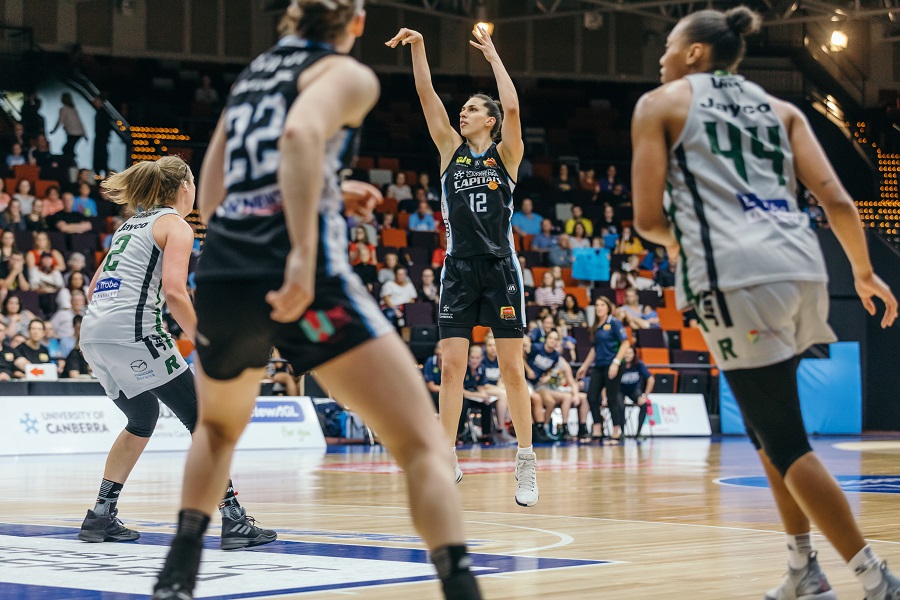 December 24, 2018 | WNBL news
The UC Capitals have swept Round 11 to all but end Townsville's hopes of defending their title but a cruel injury blow to Kristy Wallace has tarnished a stellar weekend for the Caps. Meanwhile, Adelaide are back into the top four with a big win over Sydney Uni while the Rangers stumbled, dropping consecutive games on the road.
University of Canberra Capitals 87 def. Jayco Rangers 60
The Caps put an end to Dandenong's three game winning streak, extending their lead at every break while doubling the Rangers' score in the second half, 38-19. Kristy Wallace made her debut, the final piece of the puzzle for the Caps as they now make a charge to the playoffs with the likes of Kelsey Griffin (24 points, 14 rebounds, four blocks), Kia Nurse (22 points, five assists) and Leilani Mitchell (seven points, six assists) all starring. Bec Cole (20 points, seven boards, two steals) continued her hot form for the Rangers but only her and Amelia Todhunter (ten points) could reach double-figures as the Caps punished them with an 18-0 advantage in points off turnovers.
Boxscore: https://www.fibalivestats.com/u/wnbl/913530/
Paul Goriss, Caps head coach: "We talked about defence at half-time. We've got certain targets and we weren't living up to those but the girls did an amazing job in the second half. To hold them to 60 points in a game and 19 in a half, I can't speak highly enough. I thought Maddi Rocci did a great job of chasing [Cole] in that second half."
Bendigo Bank Spirit 75 def. JCU Townsville Fire 67
Both sides came into this clash desperate for a win to keep in touch with the top four. Once again without Suzy Batkovic, the Fire made the early running as Laurin Mincy and Stella Beck came off the bench to power them to a six-point lead at half-time. However, Bendigo responded, holding Townsville to just six points in the third term on 2-15 shooting with Becca Tobin (16 points, 15 rebounds) controlling the paint and then Nadeen Payne (21 points) and Abbey Wehrung (seven points, four assists) gave the Spirit a double-digit lead early in the final quarter. The Fire did close within two points, thanks to Zitina Aokuso (12 points, six rebounds) and a career-high 30 points from Mincy but Bendigo finished the game on an 11-5 run.
Boxscore: http://www.fibalivestats.com/u/wnbl/913531/
Simon Pritchard, Spirit head coach: "It was nice to be back on the home court where we are comfortable and with all of our fans. Really shows the chemistry of the team by the way they carried themselves and played defence."
Claudia Brassard, Fire head coach: "We were expecting a battle. Credit to them, they came out with a lot more intensity than the last time we played them, they really smacked us on the boards. You're not going to win many games when the rebound count is 47-28."
Adelaide Lightning 95 def. Brydens Sydney Uni Flames 52
Adelaide ensured their stay out of the top four at the end of Round 10 was brief, racing back into a playoff position with a thrashing of Sydney Uni. The Lightning converted a 9-0 start to lead 28-5 at quarter-time and held the Flames to 1-17 shooting in the opening term. The visitors fought back slightly in the second period thanks to Belinda Snell (12 points) and Amanda Johnson (nine points, 11 rebounds) but Adelaide quickly got back on track with a 50-25 second half. Six players scored 10+, paced by Colleen Planeta (21 points) and Nia Coffey (18 points, seven rebounds, four assists, three steals, two blocks). Nicole Seekamp shook off an illness to record 12 points, seven boards and seven assists and Lauren Nicholson impressed at both ends of the floor with 14 points and two steals.
Boxscore: http://www.fibalivestats.com/u/wnbl/913532/
Chris Lucas, Lightning head coach: "That was just a great team effort, I thought defensively to set the tone by keeping them to five points in the first quarter is a credit to the team because I was concerned about the fatigue factor."
Perth Lynx 88 def. Brydens Sydney Uni Flames 84
Perth survived a thriller to snap a three-game losing streak as Sydney Uni fell short of what would have been a brilliant win on the back-end of the Doomsday Double. The Flames looked set for an upset after putting together a 26-9 second quarter but Asia Taylor led the comeback for the Lynx. She had nine points and three assists in the fourth quarter and alongside Alison Schwagmeyer (14 points, five assists) and Brittany McPhee (11 points), hit some clutch free-throws down the stretch to finish with 29 points, 13 rebounds, six assists and two steals. Kayla Steindl was important at both ends of the floor, collecting ten points, three assists, six steals and three blocks to counter an outstanding game from Belinda Snell who turned back the clock with 25 points, 11 rebounds and six assists.
Boxscore: http://www.fibalivestats.com/u/wnbl/913533/
Andy Stewart, Lynx head coach: "We had good contributors across the board, everyone that hit the court today made a contribution."
JCU Townsville Fire 55 def. by University of Canberra Capitals 81
Sweeping the weekend with another comfortable victory, the Caps also made Townsville's hopes of a title defence extremely difficult as they lost a fourth game from their last five. The Caps recorded 22 assists and had a 28-2 advantage in second chance points as they completely owned the front court via Kelsey Griffin (21 points), Marianna Tolo (14 points, 11 rebounds) and Lauren Scherf (11 points, nine rebounds). Kia Nurse added 13 points and Leilani Mitchell had nine points and six assists while Tess Madgen finished with 11 points and 12 boards for the Fire.
Boxscore: http://www.fibalivestats.com/u/wnbl/913534/
Claudia Brassard, Fire head coach: "We got some things that we wanted done but I think at the end of the day some of the effort things just outdid us and shots didn't drop for a few people."
Paul Goriss, Caps head coach: "We've got some confidence from the last couple of games and are stringing some wins together but most important for me is we're doing it defensively. We've been keeping teams to 20 points in the second half and we want to make a statement towards finals that people are going to be in for a tough game when they play us."
Deakin Melbourne Boomers 79 def. Jayco Rangers 55
Melbourne have secured the Michele Timms Cup for another year after defeating the Rangers for a second time this season. While the Boomers were missing Maddie Garrick, Dandenong were hampered by the absence of Kayla Pedersen and Sara Blicavs which Steph Talbot took advantage of to finish with 22 points on 9-11 shooting as well as five rebounds, two assists, three steals and two blocks. Lindsay Allen (27 points) and Cayla George (ten points, 12 rebounds) then took over in a 25-10 third term to maintain the Boomers' holding on top spot. Bec Cole continued her hot form with 18 points in a rare bright spot for the visitors.
Boxscore: http://www.fibalivestats.com/u/wnbl/913535/
Lindsay Allen, Boomers: "We're clicking out there, we're sharing the ball, we're moving, and you can see how well we fit out there together."
Bec Cole, Rangers: "You can't blame having double-headers as everyone has them but I felt like we were running on mud for a little bit. We weren't playing great offence and that led to their offensive transition and helped them get ahead."
Media Links
Chris Dutton of the Canberra Times reported on the Caps' thumping Friday night win: https://www.canberratimes.com.au/sport/basketball/canberra-capitals-edge-closer-to-finals-with-thumping-win-at-home-20181221-p50nm5.html
Anthony Pinda of the Bendigo Advertiser covered the Spirit's important win against Townsville: https://www.bendigoadvertiser.com.au/story/5824645/wnbl-bendigo-spirit-end-losing-streak-with-win-over-townsville-fire/?cs=81
Trent Slatter covered the game from the other side for the Townsville Bulletin: https://www.townsvillebulletin.com.au/sport/mincys-hot-hand-cant-inspire-townsville-fire-in-loss-to-bendigo/news-story/bb80553ce82a4019adcfadf5a9b3e475
Slatter also produced this piece on local junior Alex Fowler who is becoming a Fire fan favourite: https://www.townsvillebulletin.com.au/sport/local-junior-alex-fowler-nets-her-hoop-dream-with-townsville-fire/news-story/5f48831f4a342b7c601765cd5f76f12c
Reece Homfray analysed the Lightning's demolition of Sydney Uni for the Adelaide Advertiser: https://www.adelaidenow.com.au/sport/basketball/adelaide-lightning-beats-sydney-to-go-into-break-on-a-high/news-story/6364803cff3e4ff90b0b896f4fd72272
Roy Ward of The Age reported on the Boomers as they clinched the Michele Timms Cup over Dandenong: https://www.theage.com.au/sport/basketball/christmas-cheer-for-boomers-after-big-derby-win-over-rangers-20181223-p50o0f.html
It was a nightmare before Christmas for the Fire, wrote Slatter for the Townsville Bulletin: https://www.townsvillebulletin.com.au/sport/townsville-fires-nightmare-before-christmas-with-canberra-thrashing/news-story/15dadc85954172be89cbe49e9d6cd5ed
Eamonn Tiernan covered the Caps' win on Sunday for The Canberra Times but also the potential of another cruel injury blow for Kristy Wallace: https://www.canberratimes.com.au/sport/basketball/capitals-put-out-townsville-fire-but-at-devastating-cost-20181223-p50nz2.html