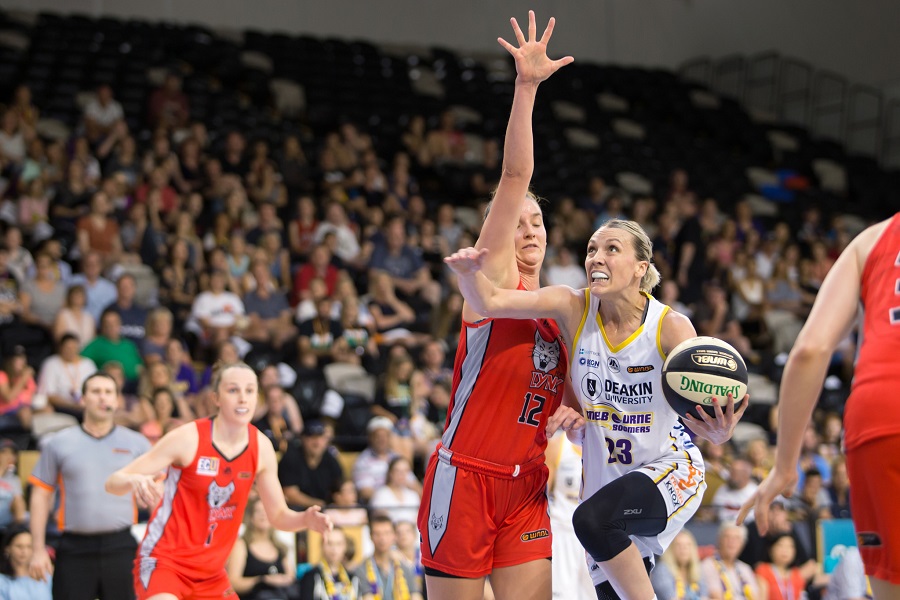 December 21, 2017 | WNBL news
Photo courtesy of Michelle Couling Photography.
Game of the Week
Perth Lynx v Deakin Melbourne Boomers at Bendat Basketball Centre, Saturday, 12.00pm (local time)
Based on their two previous encounters this season, the third and final meeting of the regular season between Perth and Melbourne will be another must-watch clash with all the action brought to you live on FOX Sports on Saturday afternoon.
The Boomers took the first meeting in overtime and almost pushed the Lynx into an extra period again last weekend before eventually falling by three points as the heroics of Liz Cambage (38 points, 17 rebounds) could not counter the back court duo of Sami Whitcomb (28 points, seven assists) and Courtney Williams (26 points, six steals).
Perth now just need one more win to sew up top spot but if the Boomers were to get up on Saturday afternoon, they would take the season series against the Lynx and keep their hopes of first place alive which will add to the drama of this contest.
The hosts will take confidence from the fact they won even with Cambage going on a tear with the efforts of Kayla Standish as well as Toni Farnworth off the bench proving critical.
Melbourne received efficient performances from their other starters though including Bec Cole and Maddie Garrick who each shot 6-11 from the field but they need more production out of their bench to match the Lynx who run deep thanks to the likes of Alex Ciabattoni and Olivia Thompson.
However, nobody in the league currently looks like they can stop Williams whose second half of the season has her well in contention for the MVP and Perth have not lost at home since October 8 which will have them installed as favourites heading into the penultimate round.
Tickets: http://www.ticketmaster.com.au/Perth-Lynx-tickets/artist/2165336
Live stats: http://www.fibalivestats.com/u/wnbl/681976/
Watch on FOX Sports Australia channel 503.
Bendigo Bank Spirit v Jayco Dandenong Rangers, Thursday, 7.00pm (local time)
The end of the season seems like it can't come soon enough for the Spirit as they have lost their last four games by an average margin of 30.8 points.
They have been able to stick with teams mostly through first halves but fade as games wear on and that is mainly due to their limited roster which includes 10-game player Ebony Rolph and development player Maddi Wild who are now getting consistent minutes while a season-ending knee injury to Jess Rennie has further hampered their depth.
Dandenong have a limited roster as well to work with but Tessa Lavey returned to the line-up last weekend and they will be hoping Laia Palau can make it back on court before the end of the season as well.
If they have those guards to create for them, the likes of Steph Blicavs and Carley Mijovic should have too much offensive firepower for Bendigo as the hosts aim to improve their 2-6 record at home.
Tickets: https://www.trybooking.com/book/event?eid=303111
Live stats: http://www.fibalivestats.com/u/wnbl/681973/
MAC Adelaide Lightning v Deakin Melbourne Boomers at Titanium Security Arena, Thursday, 7.00pm (local time)
With little room for error if they want to return to the playoffs, Adelaide face a serious test this weekend against the Boomers and Flames.
Proving how big of a loss Natalie Novosel is, the Lightning could not get past Perth or the Caps last weekend which has put them on the brink of elimination as they have dropped four of their past five games.
Adelaide have also fallen to Melbourne in two previous encounters including a defeat on the back of a Cambage game-winner just a fortnight ago but both losses have come by only five combined points.
Abby Bishop and Ruth Hamblin will once again take on the mammoth task of keeping Cambage quiet but shooters like Garrick or Brittany Smart could take full advantage without Novosel and give the Boomers the edge they need before they head to Perth on Saturday.
Tickets: http://www.ticketmaster.com.au/Adelaide-Lightning-tickets/artist/1703394?tm_link=edp_Artist_Name
Live stats: http://www.fibalivestats.com/u/wnbl/681975/
University of Canberra Capitals v JCU Townsville Fire at National Convention Centre, Thursday, 7.30pm (local time)
It has come too late for a finals run but the Caps are a dangerous team as we head down the stretch of the regular season, owning the second-longest winning streak in the leagueafter a sweep of Round 11.
All three victories have come against non-top four teams though so Townsville should still be heading into this contest as favourites as they aim to secure a top two finish.
Last weekend, they were led by Suzy Batkovic and Cayla George who combined for 42 points, 15 rebounds and four steals to fight off a gritty Rangers team in a 12-point win.
They are also being ably supported by Darcee Garbin and that front court will wreak havoc for the Caps with their length unmatched by the likes of Mistie Bass and Jordan Hooper.
Averaging 74.9 points per game this season, the Caps have piled on 86.6 per game during their winning streak and they will need to maintain that form to match the Fire who are the third most productive offensive team in the competition.
Tickets: http://premier.ticketek.com.au/shows/show.aspx?sh=CAPITALS17
Live stats: http://www.fibalivestats.com/u/wnbl/681974/
Jayco Dandenong Rangers v University of Canberra Capitals at Dandenong Stadium, Saturday, 2.00pm (local time- note game time change)
Initially a Saturday night feature, this game has been moved to the afternoon but with both sides arriving in Dandenong from Thursday night clashes, neither team should be adversely affected by the time change.
Facing the two bottom sides in Round 12, this weekend offer a real opportunity for the Rangers but a three-point loss to the Caps just a fortnight ago sparked Canberra's winning streak so they cannot take this contest lightly.
In that meeting, Blicavs scored 29 points but a strong effort across the board from the Caps' starting five including four three-pointers from Hooper proved too much to overcome while Ezi Magbegor added an important eight points off the bench on 100% shooting.
Mijovic and Kayla Pedersen must get out to Hooper beyond the arc as the forward has the green light to shoot while this will also be the Rangers' last home game of 2017/18 and with just two wins at Dandenong Stadium since the start of November, they will be keen to farewell their fans on a positive note.
After missing a game last weekend, the Caps are also sweating on the health of point guard Nat Hurst and her absence could see more minutes for Maddison Rocci who impressed in Round 11.
Tickets: https://rangerschristmas.in-tix.com/
Live stats: http://www.fibalivestats.com/u/wnbl/681978/
Brydens Sydney Uni Flames v MAC Adelaide Lightning at Brydens Stadium, Saturday, 3.00pm (local time)
Sydney Uni's form is still not convincing but they did what they needed to last weekend, beating two teams outside the playoff race so they now have their fate in their own hands on Saturday night.
Regardless of Adelaide's result against the Boomers on Thursday, this contest will decide if the Lightning are in the playoff race in the final round and if they manage to sweep both games they would be in the box seat courtesy of owning the season series against Sydney Uni.
However, just one more loss from their final three games will make it difficult for Adelaide as Sydney Uni will be banking on having at least one more victory up their sleeve with a game to come against Bendigo on New Year's Eve.
The Flames have had their struggles when facing the Lightning and it has been in the back court where they have lost both encounters. In Round 1, Novosel had a near triple-double and Lauren Nicholson and Nicole Seekamp combined for 30 points while in Round 9, Seekamp and Aimie Clydesdale tallied 39 points together.
Alex Wilson caught fire last weekend against Bendigo though, shooting 4-6 from distance for 21 points and while Belinda Snell was quiet in her 300th game, the superstar rarely has two quiet games in a row which is a concern for the visitors on Saturday.
Tickets: https://www.eventbrite.com.au/e/brydens-sydney-uni-flames-vs-jayco-dandenong-rangers-tickets-36709636511?aff=social
Live stats: http://www.fibalivestats.com/u/wnbl/681977/
JCU Townsville Fire v Bendigo Bank Spirit at Townsville Stadium, Saturday, 7.00pm (local time)
In the second game of a double-header for both teams, Bendigo will be aiming to avoid a clean sweep against the Fire after already falling in Round 6 and Round 10 to their historic Grand Final rivals.
While they should have an advantage in the front court against the Caps on Thursday night, Townsville's forward duo could back up and have a very dominant weekend with Bendigo's Betnijah Laney and Gabe Richards owning the unenviable task of defending them on Saturday night.
The Fire are 6-2 at Townsville Stadium in 2017/18 which includes a 35-point trashing of the Spirit from just over a month ago when Bendigo's bench was out-scored 39-10 while the visitors shot just 28% from the field for the game.
Tickets: https://whatson.townsville.qld.gov.au/events/community-events/jcu-townsville-fire-v-bendigo-spirits
Live stats: http://www.fibalivestats.com/u/wnbl/681979/