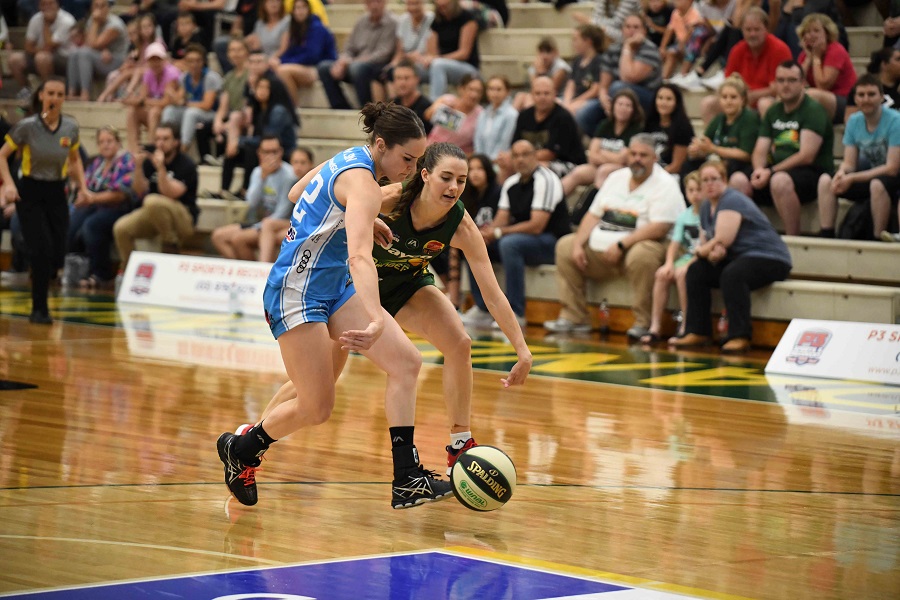 December 30, 2018 | WNBL news
Five straight wins for the UC Capitals has moved them into top spot on the ladder but they are not alone as Melbourne sit equal with them after escaping Bendigo in an overtime thriller.
University of Canberra Capitals 104 def. JCU Townsville Fire 75
Setting up a big win with a 63-38 first half, the Caps defeated Townsville for the second time in a week while also cracking the century for the first time this season. Kia Nurse led the onslaught, finishing with a career-best 33 points and nailing seven three-pointers while Leilani Mitchell (17 points, eight assists), Kelsey Griffin (12 points, 12 rebounds, five steals) and Marianna Tolo (nine points, four assists, three blocks) impressed. The Fire were paced by 20 points from Laurin Mincy but they gave up 32 points off 24 turnovers to drop their fifth game from their past six outings.
Boxscore: https://www.fibalivestats.com/u/wnbl/913537/
Kia Nurse, Caps: "Sometimes when I hit shots in warm-up it gets nerve-wracking because you're going to miss the rest of them in the game. It was like, 'Oh oh, I hit all my shots today', but it switched over so that was a good sign."
Claudia Brassard, Fire head coach: "We had some pretty poor turnovers that led to easy scores and then Kia Nurse just couldn't miss in the first half."
Perth Lynx 95 def. Jayco Rangers 80
An important clash in terms of top-four placings as well as deciding the season series, Perth came away with a decisive victory on Friday night. Leading by only three points at three-quarter time, the Lynx pulled away with a 26-14 final term as Alison Schwagmeyer (20 points) and Brittany McPhee (15 points) combined for 17 in the period. Asia Taylor top-scored with 20 points, 12 rebounds and four assists in a great battle with Betnijah Laney (21 points, ten boards, seven assists) but it was Perth's range of contributors that saw them get over the line with nine players hitting the scoreboard and five reaching double-figures.
Boxscore: http://www.fibalivestats.com/u/wnbl/913536/
Andy Stewart, Lynx head coach: "We got 19 assists, and had five girls in double figures. The ball is flowing around the floor, which we're pretty happy with."
Bendigo Bank Spirit 67 def. by Deakin Melbourne Boomers 71
The Spirit almost pulled off a clean sweep of Melbourne in 2018/19 but it was the heroics of Lindsay Allen that saw the Boomers string together a third straight win. Trailing for a total of just three minutes heading into the fourth quarter, Melbourne looked to be in control late as they opened up a game-high 16-point advantage. However, Bendigo started the final term on an 18-2 run to move back in front as Becca Tobin (12 points, 15 rebounds), Nat Hurst (ten points, five assists) and Abbey Wehrung (nine points, three assists) sparked them. With under a minute remaining, Cayla George (13 points, 16 rebounds, five assists) made it a one-possession game and the Boomers then forced a shot clock violation. With five seconds left, Allen (27 points, three assists) drove the ball up the floor, pulling up for a shot well beyond the three-point line which banked in on the siren to send the game into overtime. In that extra period, the visitors clamped down on the Spirit defensively, forcing them to shoot 0-6 from the field. Jenna O'Hea (eight points, two assists) then missed a game-winning three but Steph Talbot (12 points, 11 boards) reeled in the clutch offensive rebound to give O'Hea a second chance and the Boomers captain made no mistake to clinch a classic.
Boxscore: http://www.fibalivestats.com/u/wnbl/913538/
Simon Pritchard, Spirit head coach: "A big advantage comes from getting that first bucket in overtime, they were able to dictate terms and we didn't finish well. We're playing some of our best basketball, we're back defending like we were at the start of the season. It was a tough loss but we're solid as a group."
Lindsay Allen, Boomers: ''It was huge to keep that top spot and that distance between Canberra and Perth but we just didn't want to be swept by the Spirit this season. 'We needed this win as a road game and last game before the new year. Some games you just have to grind it out and we came together as a team at the end.''
Adelaide Lightning 74 def. Perth Lynx 67
Inching closer to a top-three spot after winning their seventh game from their past eight outings, Adelaide have also now secured the season series over the Lynx. After an incredibly tight first half that saw scores tied at quarter-time and half-time, the Lightning went on a 14-0 run in the third term to blow the match open. Nia Coffey (21 points, nine rebounds) had eight points during the run while Nicole Seekamp (16 points, seven assists) and Steph Blicavs (11 points, four assists) added the other six. As they had done on Friday night, Perth finished strong and closed within four inside the final minute thanks to Asia Taylor (16 points, 12 boards) but Lauren Nicholson (12 points) finished them off with a dagger three-pointer in Aimie Clydesdale's 150th game.
Boxscore: http://www.fibalivestats.com/u/wnbl/913539/
Chris Lucas, Lightning head coach: "We didn't shoot the ball well in the first half but the girls did a tremendous job in the second half. Perth is a top-three team and a genuine contender. We knocked them off at home and won the series. You have got to be happy."
Andy Stewart, Lynx head coach: "You can't argue Adelaide is the form team in the league. But I'm happy with the fight."
Brydens Sydney Uni Flames 80 def. by JCU Townsville Fire 93
The Fire kept their slim playoff chances alive with a confidence-building second half against the Flames, putting together a 28-17 final quarter to seal the win. Sydney Uni had six players reach double-figures in scoring including 16 points and eight assists from Brittany Smart, 26 combined points from Lara McSpadden and Vanessa Panousis off the bench and a near triple-double from Belinda Snell (13 points, ten rebounds, nine assists). However, they could not contain Townsville down the stretch as Stella Beck scored all nine of her points in the fourth term before Casey Samuels scored the last 11 points of the game for the Fire. Ally Malott (19 points, eight rebounds) had reeled off 15 straight points in the second period while Darcee Garbin (16 points) and Zitina Aokuso (15 points) flexed their muscle in the paint throughout the night.
Boxscore: http://www.fibalivestats.com/u/wnbl/913540/
Claudia Brassard, Fire head coach: "We were shooting the ball well in that first half so it was just trying to tighten up on their shooters and slow it down in the second half and get the ball inside. I thought we did a good job of just keeping pushing through and our bench stepped up big time."
Jayco Rangers 43 def. by University of Canberra Capitals 86
Sending a message to a potential playoff contender, the Caps absolutely dominated Dandenong for a fifth-consecutive victory as they moved equal on top of the ladder with Melbourne at round's end. As she did on Friday night, Kia Nurse set the tone and was on target from long range, nailing 6-9 from the three-point line for 26 points and five assists. Her shooting was infectious as the Caps hit 12-21 (57%) overall, out-scoring Dandenong by 30 from beyond the arc. Leilani Mitchell (20 points, five assists) was just as devastating while Kelsey Griffin (12 points, nine rebounds) and Keely Froling (ten points, five rebounds) added to the Rangers' pain as they shot 24% from the field. A late knock to Nurse's knee has the potential to sour the weekend for the Caps, so soon after Kristy Wallace's ACL injury, but Nurse was able to walk off the court at the end of the game.
Boxscore: http://www.fibalivestats.com/u/wnbl/913541/
Larissa Anderson, Rangers head coach: "It was very disappointing. It was probably our worst shooting display but a lot of that came down to what we were doing and the options we were taking so there's a lot we can learn from it."
Paul Goriss, Caps head coach: "We had a chat about keeping things more simple – when [Kia's] open shoot the ball, when she's not try to find other teammates. The last couple of weeks she's done a better job of just keeping things simple."
Media Links
David Polkinghorne of the Canberra Times wrapped up Kia Nurse's amazing performance for the Caps on Friday night: https://www.canberratimes.com.au/sport/basketball/kia-nurse-lights-up-canberra-capitals-in-townsville-fire-thrashing-20181228-p50oma.html
Trent Slatter of the Townsville Bulletin covered the game from the Fire side: https://www.townsvillebulletin.com.au/sport/townsville-fires-finals-hopes-fade-after-10475-road-loss-to-canberra/news-story/914f70f0775d6e5274308da334f4eda5
Slatter then recounted the Fire's win on Sunday to keep their slim playoff hopes alive: https://www.townsvillebulletin.com.au/sport/townsville-fire-keep-wnbl-finals-hopes-alive-with-win-over-sydney/news-story/33307d00904bb53ed1c4e9e9562a686c
Roy Ward of The Age was on hand to witness Lindsay Allen's incredible buzzer-beater at Bendigo on Saturday: https://www.theage.com.au/sport/basketball/allen-beats-the-buzzer-with-an-assist-from-the-backboard-20181229-p50ori.html
Adam Bourke of the Bendigo Advertiser recounted the Spirit's pain following the tough loss: https://www.bendigoadvertiser.com.au/story/5830145/three-point-buzzer-beater-denies-spirit-upset-win-over-boomers/?cs=81
Ward then followed up on Sunday as the Caps dismantled Dandenong: https://www.theage.com.au/sport/basketball/kia-nurse-stands-tall-for-capitals-as-rangers-end-year-off-track-20181230-p50ov1.html
Warren Partland of the Adelaide Advertiser covered the Lightning's strike down of Perth: https://www.adelaidenow.com.au/sport/basketball/adelaide-lightning-keep-on-winning-defeat-perth-lynx-to-move-closer-to-playoff-spot/news-story/9d538743d16e9ba6df7f644f9212f95e