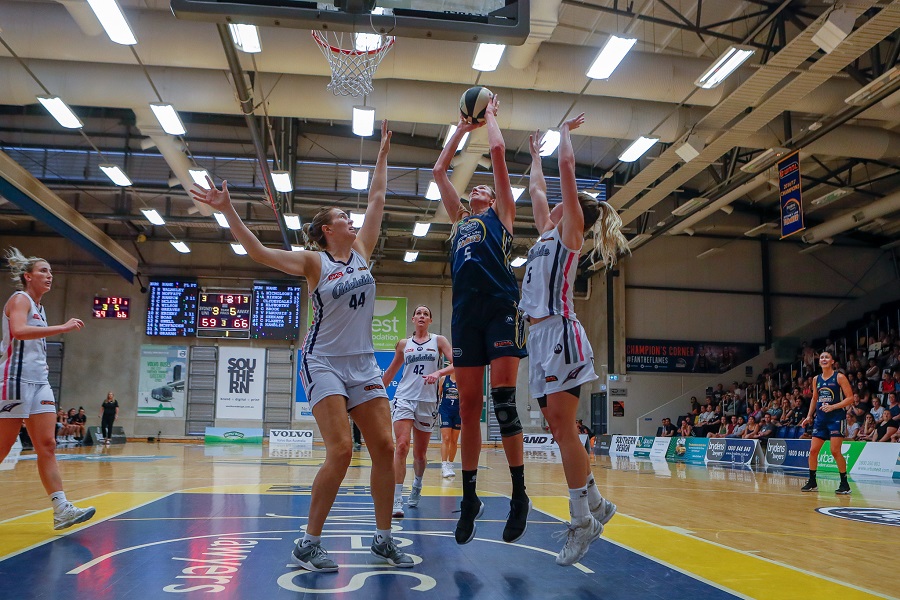 December 24, 2017 | WNBL news
Photo courtesy of Geoff Tripp.
The top four has been set at the end of Round 12 and Perth will face off with Melbourne in one Semi-Finals series while Townsville and Sydney will battle for home court advantage in the other Semi-Final series over the last round of the regular season.
Bendigo Bank Spirit 64 def. Jayco Dandenong Rangers 47
The Spirit kept their hopes of moving off the bottom of the ladder alive with a strong defensive effort on Thursday night. Trailing by one at three-quarter time, Bendigo held Dandenong to 1-17 shooting in the final term to run away with a 20-2 quarter while also holding their opponents to 28% shooting overall. Nadeen Payne and Rachel Banham tallied 16 points each, Betnijah Laney had 15 and Gabe Richards tallied a double-double of 13 points and ten boards while the Rangers were led by Carley Mijovic's 12 points and 11 rebounds.
Boxscore: http://www.fibalivestats.com/u/wnbl/681973/
Simon Pritchard, Spirit coach: "We almost kept them to a donut in the last quarter, so it was nice to see us play that resolute defence and compete really well on the boards and pressure shots. We've always had it in us, it's just being able to put it together for four quarters."
University of Canberra Capitals 66 def. by JCU Townsville Fire 99
After the Caps knocked down the first two points of the game, Townsville never let them into the contest to secure a spot in their seventh straight finals series- the longest running streak in the league. The front court domination of Suzy Batkovic (21 points, seven rebounds, two steals, three blocks) and Cayla George (14 points, 11 boards) set up the win while Darcee Garbin proved unstoppable off the bench with a game-high 23 points on 8-9 shooting. She paced a 53-point charge from the Townsville second unit which included Micaela Cocks' 18 points on 5-5 three-point shooting while at the other end of the floor, only Mistie Bass (18 points) could get free.
Boxscore: http://www.fibalivestats.com/u/wnbl/681974/
Paul Goriss, Caps coach: "If you look at our first and third quarters we were right there with them. Eventually their depth wears you down and they pile on points quickly. We weathered the storm really well in the first and third quarter but the cyclone was going to come and we had to batten down. We didn't batten down defensively."
Claudia Brassard, Fire coach: "It was probably the most complete game we've played all season. We were a lot more disciplined at the start of the game and we had contributions from everyone really."
MAC Adelaide Lightning 67 def. Deakin Melbourne Boomers 56
The Lightning kept their quest for the playoffs alive with a stirring win over Melbourne, handing the Boomers a second straight loss in the process. After opening up a double-digit lead in the first half, Adelaide held off a number of runs from the visitors who got as close as four points early in the final term before the Lightning finished the game on a 9-2 run, restricting Melbourne to two points over the last eight minutes. Liz Cambage recorded 21 points and 17 rebounds but her team gave up 27 turnovers for 17 points as Abby Bishop (22 points), Nicole Seekamp (12 points, five steals) and Lauren Nicholson (eight points, four assists, four steals) harassed them all night.
Boxscore: http://www.fibalivestats.com/u/wnbl/681975/
Abby Bishop, Lightning: "We knew it was going to be another tough game. A big emphasis for us was to play team defence. Playing team defence keeps us in the game and the win tonight showed that."
Jayco Dandenong Rangers 59 def. by University of Canberra Capitals 63
A 24-14 second term for the Caps proved to be enough as they claimed their fourth win from their past five outings as their strong finish to the season continues. They led for the entire second half but were threatened by the Rangers late who trimmed the deficit to a point on four occasions in the final term before some clutch shooting from rising star Maddison Rocci (ten points, five assists) and Kate Gaze (14 points) finished the hosts off. Tayla Roberts impressed for Dandenong with 15 points off the bench while Steph Blicavs combined a game-high 17 points with seven boards and five dimes.
Boxscore: http://www.fibalivestats.com/u/wnbl/681978/
Tayla Roberts, Rangers: "It's been a bit like this in the second half of the season, we are so close to a majority of the teams but we are just not getting it done. There are injuries all over the place but that's not an excuse."
Paul Goriss, Caps coach: "It's always tough at this time of the season when you know you're not in playoffs to get up for games and to be focused. I think the girls have done a hell of a job in the circumstances during that loss streak to stay positive, stay focused and keep working."
Perth Lynx 84 def. Deakin Melbourne Boomers 66
Melbourne's quest for revenge after last weekend's loss was made more difficult before the opening tip with Liz Cambage and Bec Cole sidelined due to injury. They jumped out of the blocks to lead by six at quarter-time but from there, Perth ran over the top to officially secure first place behind Courtney Williams (19 points), Sami Whitcomb (17 points) and Alice Kunek (12 points) while Alex Ciabattoni added nine off the bench. A short-handed Boomers roster saw six players score 8+ points, paced by Jenna O'Hea (15 points, six rebounds).
Boxscore: http://www.fibalivestats.com/u/wnbl/681976/
Andy Stewart, Lynx coach: "We wanted to win every series and we would have loved to have finished on top. But it really will come down to nought and everybody everywhere knows it will come down to nought – the records will mean nothing, the finishing on top will mean nothing if we don't follow this up with a championship now."
Brydens Sydney Uni Flames 104 def. MAC Adelaide Lightning 97
Fighting for their playoff lives, both teams showed how desperate they were to win this contest as the lead changed hands 18 times before the Flames finally prevailed in overtime to end the Lightning's season. Trailing by ten points at half-time, Sydney Uni fought desperately down the stretch to take the contest into the extra period thanks to a free-throw from Katie Ebzery (18 points, eight assists) while in overtime, Asia Taylor (35 points, six rebounds, four assists, four steals) scored seven points to clinch a famous win. Jennifer Hamson (19 points, ten boards), Sarah Graham (13 points) and Belinda Snell (nine points, eight rebounds, nine assists) were all integral to the victory as well, answering the efforts of Aimie Clydesdale (28 points) and Abby Bishop (24 points, 14 boards, eight assists).
Boxscore: http://www.fibalivestats.com/u/wnbl/681977/
JCU Townsville Fire 120 def. Bendigo Bank Spirit 62
Townsville made light work of Bendigo to finish off Round 12, recording their highest ever score and handing the Spirit their biggest ever loss as six players hit double-figures. Darcee Garbin had a career-high 30 points on 10-11 shooting while Suzy Batkovic (17 points, 13 rebounds) and Cayla George (16 points, 13 rebounds) had double-doubles with the front court completely dominating the visitors.
Boxscore: http://www.fibalivestats.com/u/wnbl/681979/
Claudia Brassard, Fire coach: "We weren't playing for records but it's nice to be able to collect a win. We've got to carry that momentum into the final round and then the playoffs."
Media Links
Luke West looked at the improved defence of the Spirit from Thursday night for the Bendigo Advertiser: http://www.bendigoadvertiser.com.au/story/5137643/pritchard-praises-blue-collar-spirit-after-win-over-rangers/?cs=81
The Caps received a stark reminder of their place in the pecking order wrote Caden Helmers on Thursday night for the Canberra Times: http://www.canberratimes.com.au/sport/act-sport/wnbl-canberra-capitals-come-crashing-back-to-earth-against-townsville-fire-20171221-h08ltt.html
But they are beginning to reap the rewards of hard work wrote Helmers on Saturday: http://www.canberratimes.com.au/sport/act-sport/wnbl-paul-goriss-says-canberra-capitals-reaping-the-rewards-after-dandenong-win-20171223-h09n6w.html
Jon Tuxworth of the Townsville Bulletin covered the finals bound Fire after their win over the Caps: http://www.townsvillebulletin.com.au/sport/townsville-fire-secure-wnbl-finals-berth-with-win-over-canberra/news-story/98626280432c92dfefde828d4228b5a7
Roy Ward reported on the Boomers' injuries as well as their advancement into the 2017/18 playoffs for The Age: http://www.theage.com.au/sport/basketball/melbourne-boomers-into-wnbl-finals-despite-perth-lynx-loss-as-liz-cambage-battles-groin-injury-20171223-h09q9s.html
Craig O'Donoghue of The West Australian covered the Lynx's 14th consecutive victory: https://thewest.com.au/sport/basketball/perth-lynx-defeat-liz-cambage-less-melbourne-boomers-84-66-in-top-of-the-table-wnbl-clash-ng-b88699125z
Jon Tuxworth of the Townsville Bulletin wrote about Darcee Garbin's Opals audition in front of Sandy Brondello on Saturday night: http://www.townsvillebulletin.com.au/sport/garbin-should-be-in-opals-frame-fire-coach/news-story/157ee29fbfaf4c3d17b7b74706155e1c
Basketball Australia announced three additions to the Opals squad camp ahead of the Commonwealth Games with Adelaide's Nicole Seekamp and Aimie Clydesdale as well as Sami Whitcomb from Perth joining the team: http://basketball.net.au/opals-announced-for-first-camp-ahead-of-commonwealth-games/
And Craig O'Donoghue looked at Whitcomb's Australian citizenship process for The West Australian: https://thewest.com.au/sport/basketball/perth-lynx-star-sami-whitcomb-set-to-become-an-opal-at-2018-commonwealth-games-ng-b88695625z
Catch up on all the news around the league via the Basket Case podcast here: https://www.spreaker.com/show/basket-case
You can also listen to Megan Hustwaite's WNBL podcast here: https://itunes.apple.com/au/podcast/the-wnbl-show/id1292447514?mt=2#episodeGuid=85fa7997-cdbf-463a-ba63-6880c78e48f9