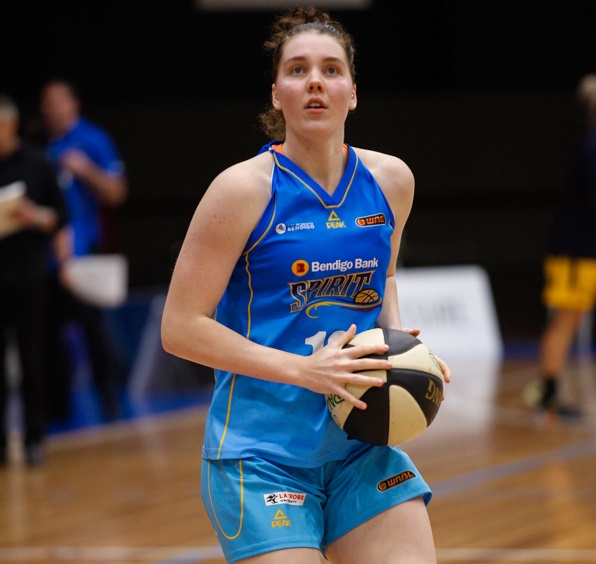 January 4, 2017 | WNBL news
By Luke Sicari. Photo courtesy of Akuna Photography.
What were you doing at 23-years-old? Partying, searching for that full-time job or wrapping up university all sound like normal activities, but for Nadeen Payne, she is different than most of her age group.
Instead of figuring out her future, Payne has a list of accomplishments that some can only dream about.
The Bendigo Bank Spirit forward clocked up her 150th WNBL game in Round 10 against the Flames, reaching the milestone at an age where many are still finding their footing in professional basketball.
Additionally, Payne is coming off a career year with South East Queensland Stars, where an increased opportunity saw her average double-digit points for the first time in her career.
Now in Bendigo, Payne is bringing her long-range shooting and rebounding expertise to the second-placed Spirit. The roots of her WNBL career, though, begin in Canberra.
ÒI think the AIS did a really good job with me when I was younger,Ó Payne said.
ÒI think that really helped with my progression onto the professional teams. It really helped me get a feel for the league but obviously the league has progressed so much from then, but I think it definitely gave me a little kick-start.Ó
That kick-start snowballed into a nine-year WNBL stint spanning five clubsÐ AIS, Townsville, Adelaide, South East Queensland and Bendigo.
Moving from home at such a young age was something Payne admitted was tough in its infant stages. However, as she became accustomed to being away from her parents, she discovered a sense of comfort.
ÒInitially, when I was younger, it was really hard but now IÕve adapted to it and I havenÕt been home in ages and lived with my parents in ages,Ó Payne said about living away from Townsville.
ÒItÕs fine, IÕm really comfortable with it. Now IÕm 23 and IÕm comfortable being in my own company as well. ItÕs been a good thing.Ó
PayneÕs growth has not come without setbacks, suffering a torn ACL in mid-2014, a devastating injury that sidelined her for over 12 months. The time off, though, may have acted as a blessing in disguise for Payne.
Her coach, Simon Pritchard, who has overseen PayneÕs progression from her days playing for Queensland in Australian junior tournaments, noticed a positive switch in her mentality after the injury.
ÒShe was really advanced as a junior player,Ó Pritchard said.
ÒI was the assistant coach when she played in Adelaide for two seasons. IÕve coached against her at Under-20 state level when she played for Queensland, and I knew what an athletic player she was then as a junior.
ÒAt times, she was a little bit ahead of herself in terms of where she thought she was- still a great athlete- but a bit ahead of herself in terms of where she thought she was within the WNBL.
ÒShe has gone away, had an injury, reflected, and IÕve been so impressed at how she conducts herself.
ÒWhen she had her ACL injury, it really made her reflect on where she sat in basketball.
ÒShe really had some growth in terms of responsibility and getting on with life and seeing there is life after basketball.
ÒShe has been so good for us in terms of her growth relative to where she used to be. She has really matured- at 23 to play 150 games.
ÒSheÕs been shooting really well for us, really well prepared, her defensive game has really improved and her rebounding has always been outstanding.Ó
As Pritchard pointed to, PayneÕs overall game has seen an uptick in production, especially last season.
Playing under Shane Heal, who encouraged shooting more than most coaches, Payne was able to come into her own and average 10.2 points.
ÒI really enjoyed playing there and I think I really took that opportunity with two hands and showed I can be deserving of minutes like that,Ó Payne said of her days at SEQ.
While a stacked rotation has seen PayneÕs minutes drop from 25.8 to 19.7, she remains a key cog in the SpiritÕs attack.
Pulling down a career-high 4.6 rebounds, Payne has embraced a larger responsibility on the glass and on the defensive end, where sheÕs been one of BendigoÕs toughest defenders. Both those traits, along with the overall balance of the SpiritÕs team, has Payne optimistic for what the future might hold.
ÒI think, team-wise, we are pretty tough and I think we are going to be a challenge for a lot of teams come finals time,Ó Payne said.
ÒWe are extremely deep and play really good team basketball.Ó
Personally, Payne doesnÕt reflect on her time in the WNBL so far. Instead, she is looking forward, paying attention to what the future might hold.
ÒI donÕt even really think about it,Ó Payne said.
ÒItÕs crazy that 150 has come up so quick, but yeah, hopefully I can make another 150 more.Ó
The Spirit visit Perth on Saturday night in Round 13. Purchase tickets for that game here.