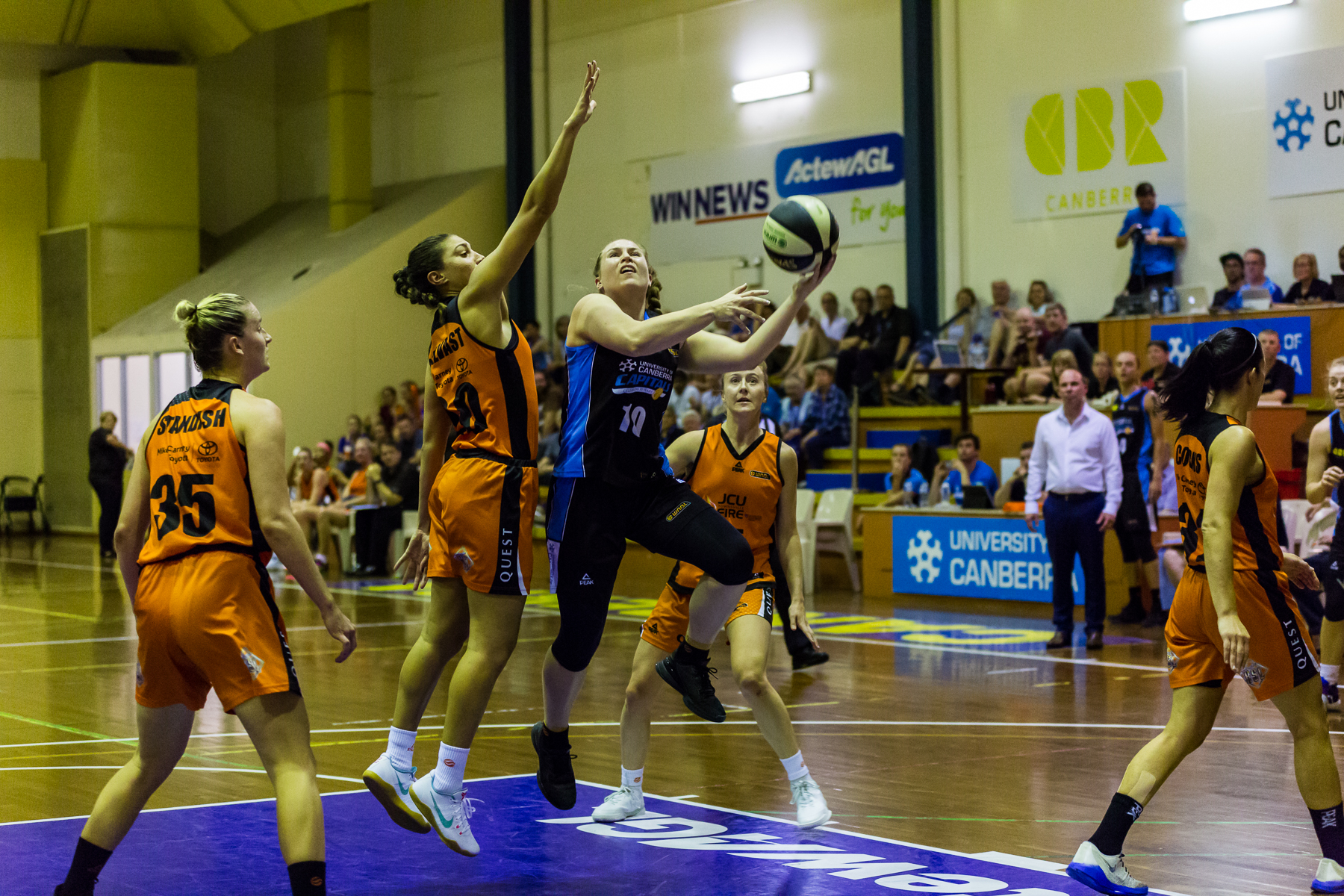 January 5, 2017 | WNBL news
Photo courtesy of Aaron Palazzo.
Round 13 Game of the Week
JCU Townsville Fire v University of Canberra Capitals, Townsville Stadium, Friday, 7.00pm (local time)
Townsville know it is crunch time in their bid to stay in the WNBL finals race and keep their dream of a third-straight championship alive.
After a win on New YearÕs Eve, the Fire host Canberra on Friday night knowing their chances of keeping up with the top four could rest on winning their series against sixth-place Canberra.
The two clubs meet again next round making these two games crucial, more so for the Fire when you consider Canberra won their first meeting in Round 7.
The Fire received a timely boost this week with point guard Kelly Wilson making her return from an ankle injury which kept her out for two months.
Wilson may not immediately play a major role but as a two-time championship winner she makes the Fire a much more imposing side.
Her immediate worries are with claiming two wins over Canberra though.
ÒThey have a great big in Marianna Tolo and a good point guard in Lauren Mansfield- both of those players hurt us in the last game they played,Ó Wilson said.
ÒThey are a great team with great players so we will need to play well to beat them but thatÕs why we are looking forward to playing them at home.
ÒThe only series we have lost so far is against Perth so our aim is to win every other series against the other teams.
ÒFor us to get this home game against the Capitals, knowing we play them next week in Canberra is huge for our season and we all know that.Ó
Wilson has worked hard to return to fitness and was counting down the days until her two-month mark came up and allowed her to return to action.
The time off has also helped her rest a neck problem which was also troubling her earlier in the campaign.
ÒIÕm extremely keen. It feels like it has been a long two months and I donÕt like sitting on the sidelines and watching.
ÒThe girls have done a great job [while I was out].
ÒIÕm not looking to step in and do big things straight away- I just want to be back on the court and part of the team again.
ÒBeing a point guard I want to be a distributor and get back into the rotation but honestly I want to help the team win games, thatÕs my job and what I want to do.Ó
Tickets: https://au.patronbase.com/_TVCC/Productions/1057/Performances
Live Stats: http://www.fibalivestats.com/u/wnbl/311870/
Perth Lynx v Bendigo Bank Spirit, Bendat Basketball Centre, Saturday, 7.00pm (local time)
The Lynx already have plenty to play for as they and the Spirit are battling for spots in the top four while the home side will also be buoyed by Toni EdmondsonÕs 200th game.
Edmondson has become a key player for the Lynx and the New Zealand international will have a big job along with the rest of the Lynx forwards as they look to reduce the impact of Spirit stars Kelsey Griffin and Nayo Raincock-Ekunwe.
BendigoÕs motivation will come from the chance to take the season series over Perth and with the Lynx having lost as many games at home as they did last season already in 2016/17, they will have no fear coming into the Bendat Basketball Centre.
Spirit veteran Jane Chalmers is out for the rest of the season after she had thumb surgery with teenage Victorian guard Kara Tessari coming onto the roster.
Tickets: http://www.ticketmaster.com.au/Perth-Lynx-tickets/artist/2165336
Live stats: http://www.fibalivestats.com/u/wnbl/311871/
Deakin Melbourne Boomers v MAC Adelaide Lightning, Geelong Arena, Saturday, 7.30pm (local time)
The Boomers take WNBL basketball back to Geelong for the first time since 2008 as they chase a second win in three games when they host the Lightning.
Melbourne will be out to keep their late season resurgence going with Maddie Garrick, Alice Kunek and Brittany Smart all in form but the Lightning have shown noticeable improvement in recent weeks and have former Geelong SEABL centre Tayla Roberts on their roster.
The Boomers can also take the season series after winning in Adelaide earlier in the campaign and will be keen to make the Geelong match a permanent part of their fixture moving forward.
Tickets: https://www.trybooking.com/Booking/BookingEventSummary.aspx?eid=211556
Live stats: http://www.fibalivestats.com/u/wnbl/311872/
Live Stream link to come. Keep an eye on WNBLÕs social media channels.
Jayco Dandenong Rangers v MAC Adelaide Lightning, Dandenong Stadium, Sunday, 2.00pm (local time)
Dandenong want to keep their hold on top spot against the troublesome Lightning who will be coming off a clash with Melbourne the previous night while the Rangers also have the opportunity to clinch the season series.
The home side will be out to control the game early through Steph Cumming, Sara Blicavs and Aimie Clydesdale but with Laura Hodges not yet confirmed, it could be a tough double-header for the winless Lightning.
Tickets: https://secure.ticketdesq.com/book/index.cfm?fuseaction=main&TicketDesqID=2020&OrgID=21722
Live stats: http://www.fibalivestats.com/u/wnbl/311873/
Live Stream: https://www.youtube.com/watch?v=O-eGTEVSKVw
Brydens Sydney University Flames v University of Canberra Capitals, Brydens Stadium, Sunday, 5.00pm (local time)
Sydney and Canberra end the round with perhaps the game which has the most bearing on the top four.
Canberra need every win they can to keep touch with the top four while Sydney will be keen to not give up the gains earned from two road wins just before the New Year.
Watch for the battle between Caps centre Marianna Tolo and Flames imports Asia Taylor and Jennifer Hamson after Taylor dominated Perth and Adelaide last round. Unless Canberra get her under control, she could lead her Flames into the top two if other results go their way.
The season series currently sits at 1-1 and Sydney are two points ahead with this game and one more to come.
Tickets: https://www.eventbrite.com.au/o/brydens-sydney-uni-flames-11071603487
Live stats: http://www.fibalivestats.com/u/wnbl/311874/