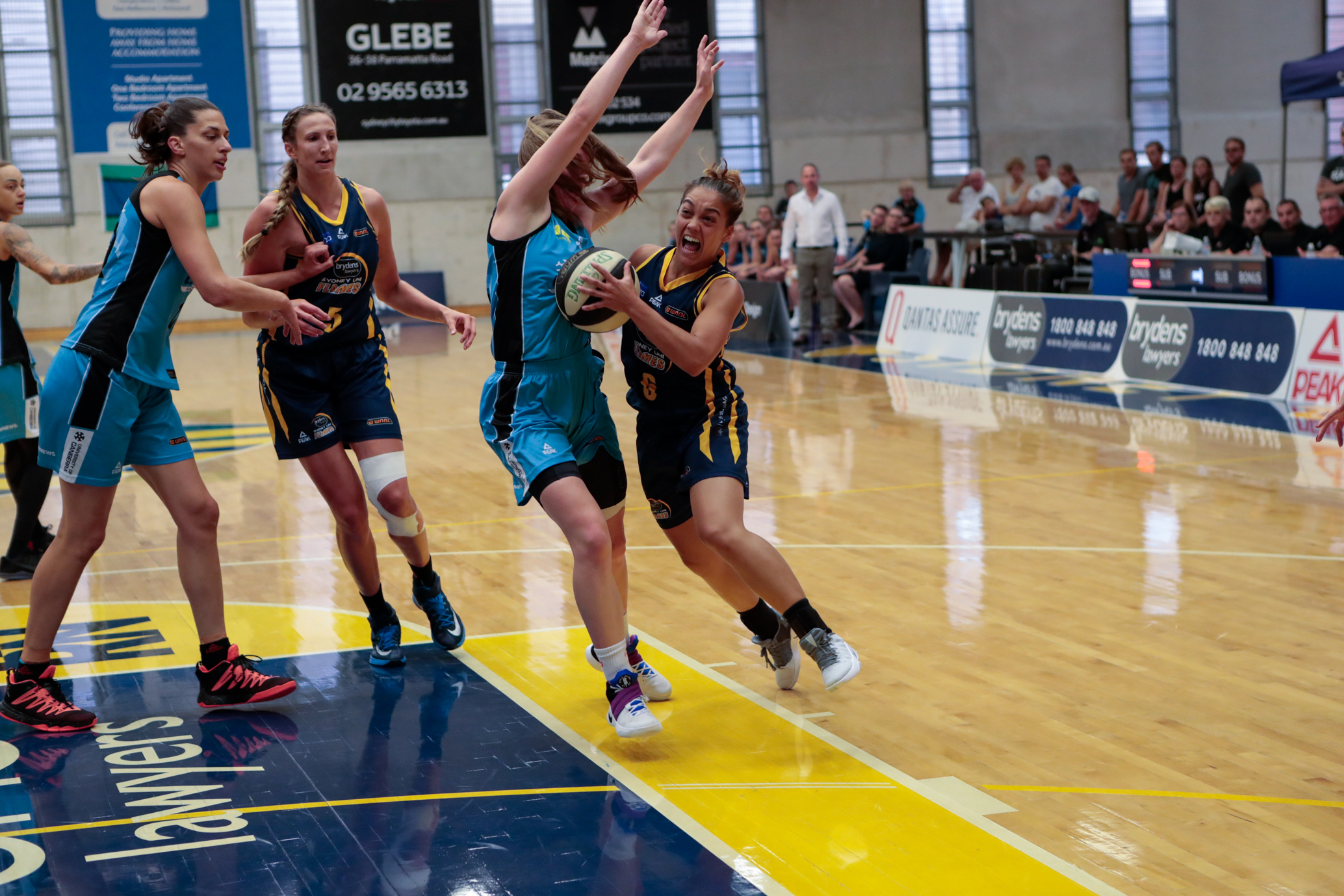 January 8, 2017 | WNBL news
Photo courtesy of Geoff Tripp.
The MAC Adelaide Lightning have rung in the New Year with renewed confidence, recording their first wins for the season with a successful road double against Melbourne and the ladder-leading Rangers while the Perth Lynx tallied the highest score of the season in a thrashing of the Spirit.
JCU Townsville Fire 93 defeated University of Canberra Capitals 60
The Fire kept the pressure on the top four and put a gap between themselves and the Caps with a devastating fifth consecutive win. Five players hit double-figures in scoring, led by Suzy Batkovic (19 points, 12 rebounds) and Micaela Cocks (14 points) while the bench play of Darcee Garbin (13 points, eight rebounds) and Amy Kame (16 points, two steals) played a big role in the victory. For the visitors, Mikaela Ruef collected a double-double of 13 points and 12 boards but early foul trouble kept Marianna Tolo from having an impact and Townsville went on to record a 54-20 advantage in the paint.
Boxscore:Êhttp://www.fibalivestats.com/u/wnbl/311870/
Suzy Batkovic, Fire:ÊÒItÕs been another tough week, but to my girlsÕ credit, they just keep on fighting. I was really proud of the way we played tonight and the contribution we got from everyone. We play them again next week on their home floor and thatÕs going to be another tough contest, but that was a really good win.Ó
Deakin Melbourne Boomers 67 defeated by MAC Adelaide Lightning 71
The Lightning broke their duck on season 2016/17 with a victory in Geelong courtesy of four starters reaching double-figures in scoring while Tayla Roberts (22 points, 13 rebounds) and Colleen Plenta dominated inside (15 points, 15 rebounds, six blocks). Maddie Garrick and Alice Kunek combined for 28 points for the Boomers but they were out-scored 44-20 in the paint which was made all the more impressive considering Lightning captain Laura Hodges remained on the sidelines with her hamstring strain.
Boxscore:Êhttp://www.fibalivestats.com/u/wnbl/311872/
Guy Molloy, Boomers coach:ÊÒCredit to Adelaide, they played a lot better than us. We were chasing for a reason, there was a lot of activity but not a lot of achievement. We werenÕt aggressive enough to chase rebounds down.Ó
Chris Lucas, Lightning coach:ÊÒThe thing that IÕm happy about is the reward for the team. They work as hard as any team in the league and this is a terrific reward for our hard work. We got 10 up and a couple of players tightened up which we will learn from but our execution down the stretch was pretty good.Ó
Perth Lynx 108 defeated Bendigo Bank Spirit 67
An absolutely dominant performance from the Lynx saw them move into second place on the ladder after leading from start to finish and by as much as 48 points in a game in which they shot 56% from the field and held the Spirit to 31%. Ruth Hamblin recorded a career high 21 points on 9-10 shooting with eight rebounds, three assists, three steals and five blocks, Carley Mijovic added 11 points, seven boards and four blocks while Sami Whitcomb went on another tear with 34 points on 11-17 shooting as the Lynx out-scored their opposition 52-30 in the paint and 31-11 off turnovers. Nayo Raincock-Ekunwe was a bright spot for the Spirit with 17 points while Blake Dietrick came home strong to finish with 16 points.
Boxscore:Êhttp://www.fibalivestats.com/u/wnbl/311871/
Andy Stewart, Lynx coach:ÊÒIt was a whole lot better than last week. I think thatÕs our potential, we can play that well. It was our best win of the season, we had a lot of people committed to the same game plan. WeÕve struggled to get there but the real positive sign is that we are there.Ó
Simon Pritchard, Spirit coach:ÊÒIt was a dirty day for us. We started the game poorly and it never got any better. [The break] has to be a contributing factor because we were humming before that but I donÕt think you have to be too far off the pace to be off the pace, our league is so competitive.Ó
Jayco Dandenong Rangers 73 defeated by MAC Adelaide Lightning 80
While AdelaideÕs victory on Saturday was impressive, they proved just how high their ceiling is with a defeat of the ladder-leaders the following day.Ê Roberts was again the catalyst, finishing with 21 points and nine rebounds and was joined in double-figures by Sam Logic (13 points) and Planeta (11 points) while Anneli Maley starred off the bench in just her fifthÊgame of the season with 16 and nine boards. The Rangers were led by Sara BlicavsÕ 19 points and Ally MalottÕs 18 points and eight rebounds which helped them reduce a 10-point margin at three-quarter time to four points with 5:30 remaining before the visitors finished strongly.
Boxscore:Êhttp://www.fibalivestats.com/u/wnbl/311873/
Larissa Anderson, Rangers coach:ÊÒIÕm really disappointed. ItÕs inexcusable how we came out. At the end of the day, our endeavour wasnÕt there, the intensity wasnÕt there. The last quarter and a half was more like us, if we had have played like that the game would have been different.Ó
Brydens Sydney University Flames 73 defeated by University of Canberra Capitals 76
To top off Round 13, the Caps responded to their big loss on Friday night with a victory over the Flames which kept them within two games of the top four.ÊKate Gaze came up big off the bench, dropping 18 points in just 20 minutes while Marianna Tolo (12 points, eight rebounds) and Abbey Wehrung (12 points, four rebounds, three assists) were critical in the win. After trailing by 14 points at the first break, Sydney Uni slowly pulled themselves back into the contest thanks to Alex Wilson (16 points) and Carly Boag (15 points) to take a lead early in the final term but Gaze and Tolo combined for 11 points in the fourth period as the visitors hung on.
Boxscore:Êhttp://www.fibalivestats.com/u/wnbl/311874/
Cheryl Chambers, Flames coach:ÊÒThe Caps were fantastic. I think we gave them too many open looks, we made adjustments as the game wore on but that first quarter was hard to come back from.Ó
Paul Goriss, Capitals coach:ÊÒFor one of the few this season, we started at a really good clip but sooner or later the shots are going to dry up and you just have to stay with the process.
Media Links
Trent Slatter of the Townsville Bulletin reported on the FireÕs fifth straight victory: http://www.townsvillebulletin.com.au/sport/local-sport/fire-cruise-past-capitals-to-make-it-five-straight/news-story/764de3b1f707de0ab9829142518df58e
Blake Dietrick told Kieran Iles of the Bendigo Advertiser about her trip home over the Christmas break: http://www.bendigoadvertiser.com.au/story/4388060/break-does-blake-wonders/
Boti Nagy reported on the young guns of the Lightning leading them to success:Êhttp://www.adelaidenow.com.au/sport/basketball/lightning-kids-rock-dandenong-rangers-after-ending-losing-skid-against-melbourne-boomers/news-story/db0551a43cfaf79ffd262fb773b570bc
The Roar took a look at the top MVP contenders for the 2016/17 season so far: http://www.theroar.com.au/2017/01/07/wnbl-mvp-race-can-suzy-batkovic-win-fifth/
Megan Hustwaite reports on the Rangers' stunning loss to the Lightning:Êhttp://www.heraldsun.com.au/leader/south-east/sport/ladderleader-dandenong-rangers-stunned-by-bottomplaced-adelaide-lightning-in-shock-wnbl-loss/news-story/fffeb5488c741bdd9556b58b34067e9c
Roy Ward looked at the celebrations following Adelaide's road-double:Êhttp://www.theage.com.au/sport/basketball/wnbl-outsiders-adelaide-lightning-end-15game-losing-streak-against-dandenong-rangers-20170108-gtnu5f.html