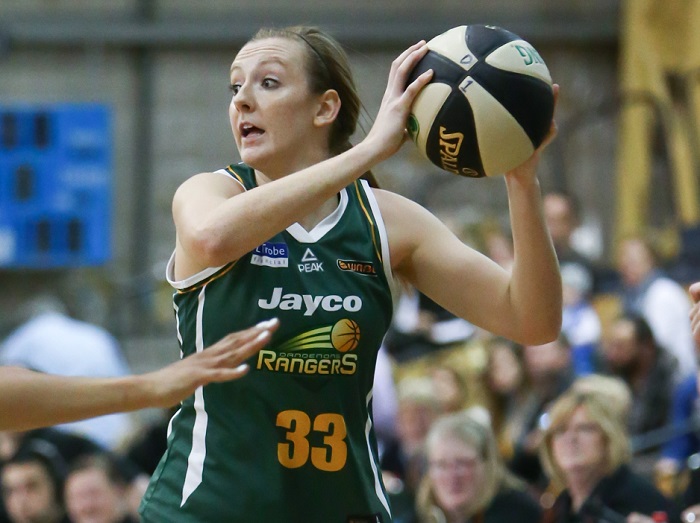 January 16, 2017 | WNBL news
No matter their positions on the ladder, the Jayco Dandenong Rangers and Deakin Melbourne Boomers always bring a thrilling contest and Saturday night was no different as the Rangers pulled away in an overtime thriller to defeat the Boomers, 73-61.
Ally Malott was a major part of the victory, whichÊmaintained Dandenong's top position, scoring a game-high 24 points on a very efficient 10-15 shooting with eight rebounds, two assists and a steal.
She hit 6-9 from two-point range and 4-6 from beyond the arc, helping to stretch the floor for the likes of Sara Blicavs and Lauren Scherf while also providing a viable offensive option for ball-handlers Aimie Clydesdale and Steph Cumming.
All four of those three-pointers were made from the wingsÊbut the 190cm forward also proved her skills in the low-block as she went 5-6 from the paint.
Melbourne jumped out to a 9-0 lead at the start of the game but Malott helped reel in the deficit during the second quarter.
She went on a personal 7-0 run for the Rangers, extending a 21-18 lead to 28-18 before Dandenong again trailed by two at half-time.
The third period saw the home side clamp down defensively, restricting Melbourne to just nine points on 3-12 shooting with Malott helping to hold themÊto 3-8 shooting inside the key.
At the other end of the floor, Malott almost out-scored the Boomers with eight points herself, hitting another two three-pointers.
With Dandenong then forcing overtime courtesy of a Natalie Novosel lay-up, the forward set the tone in the extra period with a steal and score before the Rangers went on to win overtime, 17-5.
Ally Malott Round 14 Stats:Ê24 points on 10-15 shooting (including 4-6 from distance), eight rebounds, two assists and a steal.