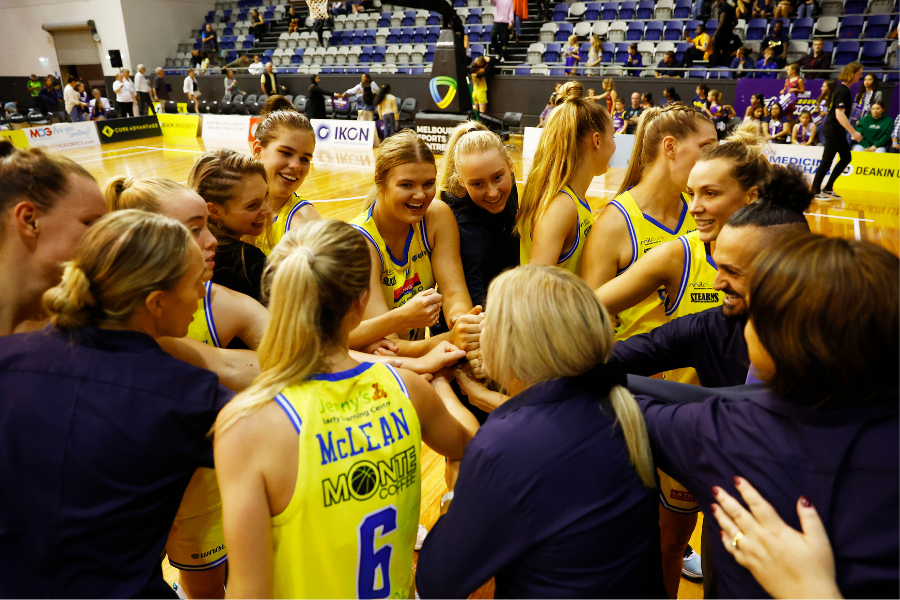 March 7, 2022 | WNBL news
If round 13 had upsets, then round 14's top four clashes will produce some master class spectacles. With home-court finals on the line, expect some extra grit from the top teams.
WNBL Media previews the round:
Perth Lynx v Adelaide Lightning.
Bendat Basketball Centre. Monday 6:30pm local. Kayo.
Bendat Basketball Centre. Wednesday 6:30pm local. Kayo Freebies.
The first of the top four matchups for the round comes as a doubleheader. Perth fans will have double the chance to see the Lynx host the Lightning and will be hoping to go home as winners after the Lynx's five-game winning streak was broken in a shock loss to the Sydney Uni Flames over the weekend. After their mid-season rut, the Lightning is building up momentum yet again and having just claimed the top spot on the ladder, expect them to bring their best. We're anticipating some big performances from not only the big guns from each team but also a battle between Perth's Alex Ciabattoni and Adelaide's Marena Whittle, both impact players coming off the bench.
Note: Perth's Lauren Scherf is expected to return, which comes as a massive in for the Lynx.
Southside Flyers v Sydney Uni Flames.
Dandenong Stadium. Thursday 7pm. Kayo Freebies.
How the tides have changed. Last season's champion, Southside has fallen to a six-game losing streak topped off by suffering a 42-point demolition in the hands of the UC Caps. Although their season is just about done with only three games to go, they'll be looking for redemption and to finish on a positive note but will have to face the Flames who will fly to Melbourne with their heads held high after upsetting the high-flying Perth Lynx in round 13. Undermanned and with two development players named in their starting five last week, the Flames' co-captain Keely Froling played a captain's game (30 points, 22 rebounds), leading her team back to the winners list so she'll be one to watch come Thursday night.
Note: Flames' development players, Katie Deeble and Chyra Evans held their own last weekend. Both contributing eight points, and Evans strong in defence claiming seven rebounds, will coach Shane Heal keep them in the starting lineup for another week?
Bendigo Spirit v Sydney Uni Flames.
Bendigo Stadium. Saturday 5pm. FoxSports/ABC
With Bendigo creeping up the ladder and knocking over championship contenders and Sydney producing an unexpected victory over the top of the table Lynx away from home, this matchup has some buzz about it. Without both Lauren Mansfield and Shyla Heal out and after a string of bad luck with their import players, the Flames' will be counting on their youth to take it to the building force of the Spirit. Anneli Maley, Maddie Garrick and Tessa Lavey are building something strong down in Bendigo and will strong contributions from the likes of Meg McKay and Cassidy Mclean, they're becoming hard to beat for a team who went without a win last season. A Maley and Keely Froling match-up should be on the cards.
Note: The Spirit are currently sitting equal fifth on the ladder, and mathematically could still push for a finals campaign if results go their way. This win has become a non-negotiable.
Townsville Fire v Southside Flyers.
Townsville Entertainment Centre. Saturday 7pm local. Kayo.
Both teams are probably hanging for season's end as they hobble to the finish line. Townsville will be without their key players with Monique Billings, Loz Nicholson and Sug Sutton all sitting on the sidelines and the Flyers have had a luckless run with injuries of late, so this game may be a messy one. Courtney Wood and Steph Reid have stood up for the Fire when it counts while Kristy Wallace is a consistent performer for the Flyers. A Wood and Wallace head-to-head will feature the match. Both coming off a string of losses, one streak will break as a team gets back on the winners' list.
Note: On a positive note, the Fire will be celebrating the long time server of the game, Nadeen Payne's 250th game in front of their home crowd.
Perth Lynx v UC Capitals.
Bendat Basketball Centre. Saturday 7:30pm local. Kayo Freebies.
The final of Saturday's tripleheader is set to be a beauty as Perth face another top-four opposition within the round, the UC Capitals. Both vying for the first home final, this matchup will be feisty. The last time these two met, the Lynx outplayed the Caps and claimed a dominant win with captain Darcee Garbin top-scoring and Lauren Scherf having a big impact in defence. If Perth's Marina Mabrey returns in time for Saturday night, then a Mabrey and Britt Sykes match up will be one to watch
Note: Keep in mind that this will be the Lynx's third game for the week and the Caps will be running on fresh legs as they head into the Saturday night clash.
Adelaide Lightning v Melbourne Boomers.
The Lights. Sunday 3pm local. Kayo.
Rounding out the weekend comes the final top-four clash. The Lightning will be coming off a dual run against the Lynx while the Boomers have an extended break as they prepare for their Sunday afternoon clash. The Boomers went down to Bendigo in round 13 in a game- one that was a crucial win for them to lock in a top-two stance- so we'll need to see a lift if they want to get one up on the Lightning. The last time these two faced off, the Lightning notched up a 12-point win after Melbourne fell away in the fourth, with Alanna Smith topping the scoreline. An import match up will turn heads as point guards Kiana Williams and Lindsay Allen compete for the win.
Note: If Adelaide manages to come away from round 14 three from three, they'll extend their winning streak to seven and they'll retain their top spot on the ladder.