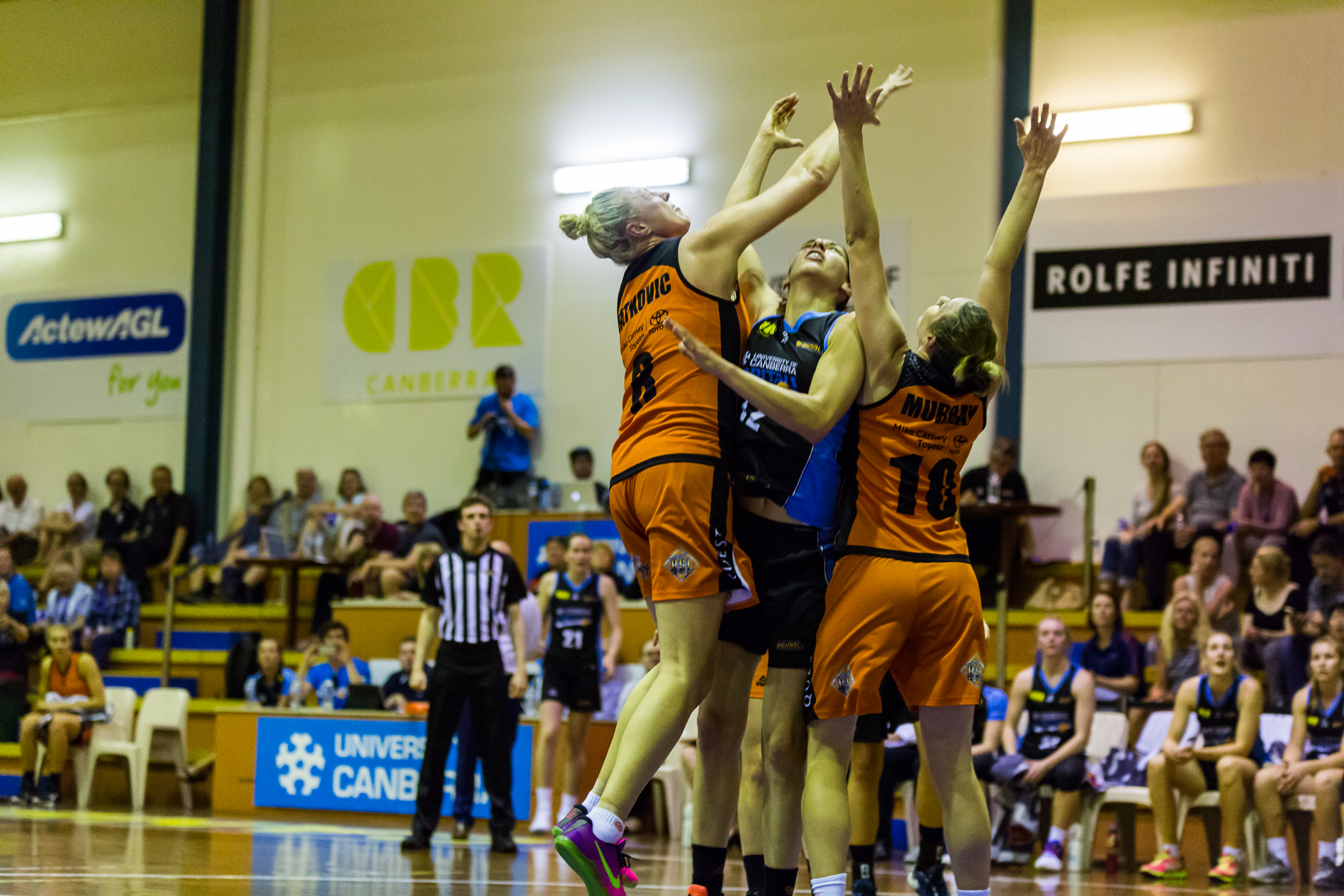 January 15, 2017 | WNBL news
Brydens Sydney University Flames have swept a road double to solidify aÊtop two on the ladder but the Jayco Dandenong Rangers secured an overtime victory to hang on to top spot while the University of Canberra Capitals recorded an important win over the Fire to keep the top four race extremely tight.
MAC Adelaide Lightning 74 defeated by Brydens Sydney University Flames 77
Alex Wilson (15 points) hit the go-ahead lay-up with just eight seconds remaining to give Sydney Uni a thrilling win over Adelaide after a 33-21 second term gave the hosts a handy advantage heading into the final term. Belinda Snell was huge late, finishing with 14 points including two three-pointers in the fourth quarter while Jennifer Hamson added nine points and eight boards. For the Lightning, Laura Hodges returned with 14 points off the bench and Colleen Planeta top-scored with 18 points, seven rebounds and two blocks while Samantha Logic had a double-double of ten points and ten assists with five rebounds to win the point guard battle against Leilani Mitchell (12 points, four boards, five assists).
Boxscore:Êhttp://www.fibalivestats.com/u/wnbl/311875/bs.html
Bendigo Bank Spirit 68 defeated by Brydens Sydney University Flames 71
Sydney Uni then backed up that win with a second consecutive three-point margin to move two games clear in second spot on the ladder. The visitors led by ten points at the first break but the Spirit pulled themselves back into the contest as the physical and tough encounter wore on. Bendigo came within a point inside the final minute on Kelsey Griffin three-pointer but it would be their last field goal as Leilani Mitchell (25 points, five assists) sealed the contest from the free-throw line. Asia Taylor added eight points and ten rebounds to counter GriffinÕs 17 points, nine boards and four blocks.
Boxscore:Êhttp://www.fibalivestats.com/u/wnbl/311876/
Simon Pritchard, Spirit coach:ÊÒWe battled hard today and I think we had a real chance at it at the end but we just missed a shot. That 7-0 start didnÕt help us but we forced 22 turnovers and I thought we got ourselves back in the game. A couple of times we slowed down and didnÕt get the ball movement, weÕll work on that during the week.Ó
Cheryl Chambers, Flames coach:ÊÒIÕm very excited. Any weekend you play two games is tough and we were pushed in both games and I thought down the stretch we were able to keep our cool and get the win. It was a difficult third quarter so I was really proud of the girls and I think as a team we are getting stronger.Ó
Jayco Dandenong Rangers 73 defeated Deakin Melbourne Boomers 61
In an overtime thriller, the Rangers secured the Michele Timms Cup and celebrated their 25th anniversary while maintaining top spot on the ladder. Ally Malott was sensational, recording 24 points on 10-15 shooting with eight rebounds and two assists but it was a lay-up from Natalie Novosel (18 points) in the final five seconds of regulation which forced overtime. Dandenong then powered away in the extra period, winning it 17-5, as Steph Cumming (14 points, seven rebounds, five assists) and Sara Blicavs (12 points, nine boards, two steals) combined for three three-pointers. Melbourne were led by Brittany SmartÕs 18 points and Olivia Thompson (12 points, nine rebounds) but will rue their finish to the game after they led by five with just over a minute left in the fourth quarter.
Boxscore:Êhttp://www.fibalivestats.com/u/wnbl/311877/
Larissa Anderson, Rangers coach:ÊÒIÕm super proud of the girls how they held on. I was worried with a minute to go but they never give up. Lots of teams are lifting against us, we know thatÕs going to happen but we have just been a little bit rattled and a little rusty coming out of the break. Hopefully this gives the girls a bit of confidence moving forward.
Guy Molloy, Boomers coach:ÊÒI knew [overtime] would be hard because we were struggling to score and getting tired. We got some good looks, we just didnÕt drop them. Our chance was in regulation. IÕm really proud of the [team], itÕs a tough situation when youÕre losing a lot, everyoneÕs confidence is down. But the girls continue to show up and train really well and prepare to win games.Ó
University of Canberra Capitals 73 defeated JCU Townsville Fire 67
In an important game for both clubs with potential finals ramifications, the Caps held off a fast-finishing Townsville to stay within a game of the top four as well as ruin Suzy BatkovicÕs 300th game. The Fire missed an opportunity to sneak back into third place despite the outstanding performance of Batkovic (23 points, 12 rebounds, five assists) as her side shot just 21% from deep. Marianna Tolo impressed for the home side with 17 points and eight boards while Lauren Mansfield added 15 and seven but it was their 25-7 advantage off the bench that proved the difference.
Boxscore:Êhttp://www.fibalivestats.com/u/wnbl/311878/
Paul Goriss, Capitals coach:ÊÒIt was a great effort by our girls to turn things around in eight days. The girls were focused this week in training and they know what is on the line with spots up for grabs in the top four. Every time we get a big crowd in here it seems to get us over the line.Ó
Claudia Brassard, Fire coach:ÊÒCredit to Canberra, they were certainly a different team that came up to Townsville [last week]. IÕm a little bit disappointed in our effort on the boards. We certainly missed Natasha [Cloud], she really gets us going in transition.Ó
Media Links
Megan Hustwaite of Leader Newspapers took a look back on the history of the Rangers as the club celebrates 25 years in the league: http://www.heraldsun.com.au/leader/south-east/sport/dandenong-rangers-celebrate-a-whirlwind-25-years-in-the-wnbl/news-story/ad5478b8eac0e15389d45c1f6a4e8ba1
Hustwaite also caught up with Monique Conti of the Boomers who is coming off the best year of her life: http://www.heraldsun.com.au/leader/outer-east/sport/teenager-monique-conti-spends-school-holidays-training-and-playing-wnbl-with-melbourne-boomers/news-story/5c6cea20f06536ef5152bcd1db1491b8
Boti Nagy reported on the LightningÕs narrow loss to Sydney Uni on Thursday night for the Advertiser: http://www.adelaidenow.com.au/sport/basketball/sydney-uni-flames-alex-wilson-delivers-comeback-victory/news-story/43c97b3dcdc7993c52f28dd7a7ef1151
Nagy also took his own look at DandenongÕs 25-year milestone: http://www.botinagy.com/blog/rangers-a-force-beyond-25-years/
The Bendigo Advertiser covered the SpiritÕs loss to the Flames which also saw them lose the season series: http://www.bendigoadvertiser.com.au/story/4403461/spirit-go-down-in-thriller-to-sydney-uni-flames/
Eamonn Tiernan of the Sydney Morning Herald looked at the CapsÕ 39-point swing in just eight days as they bounced back to defeat Townsville: http://www.smh.com.au/sport/basketball/canberra-capitals-secure-crucial-home-win-against-townsville-fire-20170114-gtrh9i.html
Roy Ward recapped DandenongÕs stunning overtime victory over the Boomers for the Sydney Morning Herald: http://www.smh.com.au/sport/basketball/wnbl-dandenong-rangers-leave-it-to-overtime-before-beating-melbourne-boomers-20170114-gtrg4d.html
Legends of Australian basketball have lauded Suzy Batkovic following her 300th game: http://sodweb.com.au/clients/wnbllegacy/townsville_news/legends-laud-suzy-ahead-of-game-300/