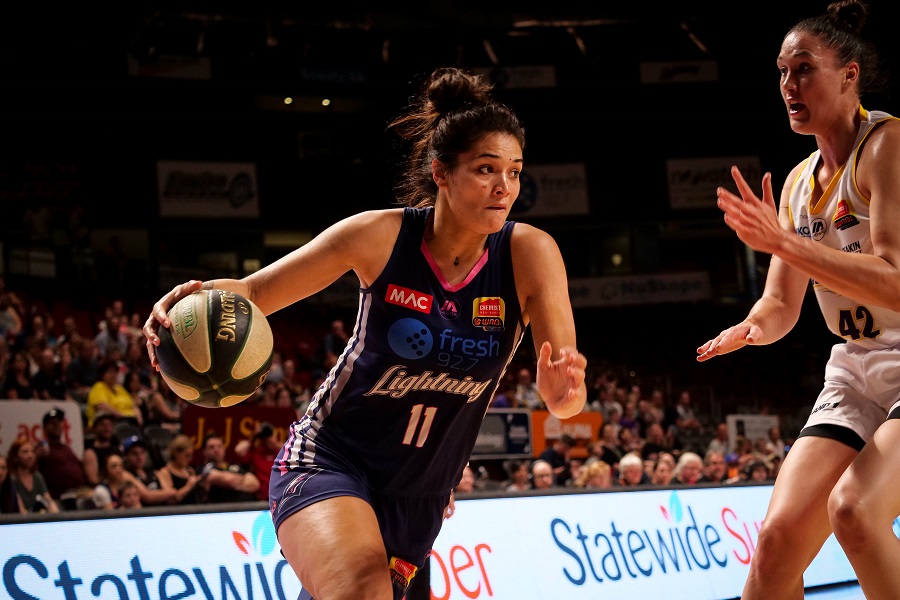 January 14, 2019 | WNBL news
The University of Canberra Capitals and Deakin Melbourne Boomers have officially locked up the top two spots respectively and are set to host the Semi-Finals series' in less than a fortnight.
Perth Lynx 74 def. Deakin Melbourne Boomers 60
Perth claimed their first win over Melbourne in 2018/19 to keep the race for home-court advantage in the playoffs open. Trailing by 13 at half-time, the Boomers closed within four in the third term courtesy of Ezi Magbegor (16 points) and Jenna O'Hea (12 points, eight rebounds). The Lynx were not going to be overrun though, with Asia Taylor (29 points) scoring seven straight at one stage down the stretch while Alison Schwagmeyer added 14 points. Melbourne were out-scored by 15 and shot just 5-24 (20%) from beyond the arc.
Boxscore: https://www.fibalivestats.com/u/wnbl/913548/
Andy Stewart, Lynx head coach: "We just kept working at things, and it turned around. You can see that they were scoring from areas that they don't normally score from because they had to, because we were taking a lot of stuff away from them."
Bendigo Bank Spirit 81 def. by Adelaide Lightning 92 in OT
In a similar story for the Spirit, they seemed to have the answers most of the night for Adelaide before they went scoreless in the last three minutes of regulation and Nia Coffey hit a late three-pointer to send the game into overtime. From there, the Lightning finished on a 16-5 run to take Bendigo's record in overtime's to 0-3 this season while spoiling Nadeen Payne's 200th game. Payne still had 21 points to lead the home side but they could not stop Coffey who hit a league-high for the season 37 points to go with 12 rebounds, four assists and two steals. Nicole Seekamp (11 points, nine assists and another league-high for the season seven steals) and Kayla Alexander (ten points, 11 rebounds) also came up big as Adelaide kept their top-two hopes alive.
Boxscore: http://www.fibalivestats.com/u/wnbl/913549/
Simon Pritchard, Spirit head coach: "Getting that first basket in overtime is so vital and we couldn't get that tonight and we then turned the ball over four times and that was the end of it."
JCU Townsville Fire 68 def. by University of Canberra Capitals 80
Another dominant opening half set the Caps up for a seventh straight victory although it did not come without a scare from the home side. Leading by 22 at the main break with all eight active players having hit the scoreboard, the Caps moved in front by as much as 24 in the third quarter before Townsville went on a 17-2 run, sparked by eight points from Laurin Mincy (15 points, five assists). They got as close as six points down the stretch but the guard combination for the Caps settled things down as Leilani Mitchell (20 points, seven assists) and Kelly Wilson (14 points, seven assists) scored the next six points. Kelsey Griffin (ten points, nine rebounds, three steals) then finished the Fire off as all five Caps starters reached double-figures.
Boxscore: http://www.fibalivestats.com/u/wnbl/913550/
Claudia Brassard, Fire head coach: "We dug ourselves into an early hole with the way we started the game but I was pleased with the way we fought back. The way we played in the second half is the way we wanted to play from the outset."
Adelaide Lightning 83 def. by Deakin Melbourne Boomers 98
Salvaging their weekend and cementing a top-two finish, Melbourne claimed a brilliant win over Adelaide in a potential Semi-Final preview. The highly entertaining contest saw the Boomers overcome a seven-point deficit at the main break with a 52-30 second half as they shot 50% from the field and out-scored the Lightning by 21 from the three-point line. Every starter scored 12+ including 22 points and eight assists from Lindsay Allen and 21 points from Steph Talbot while Kalani Purcell (13 points, 11 rebounds) and Jenna O'Hea (11 points, 13 boards, five assists) claimed double-doubles. Coffey again starred for Adelaide with a game-high 26 points and Kayla Alexander contributed 21 points and nine rebounds.
Boxscore: http://www.fibalivestats.com/u/wnbl/913551/
Chris Lucas, Lightning head coach: "They're a high-quality team but I feel like we gave them a start. We could have had some control if we had tidied that up. Melbourne played particularly well but we have three people that didn't shoot well tonight and you're not going to win many games giving up 98 points.
Guy Molloy, Boomers head coach: "We haven't played great basketball since Christmas, our energy has been a little down and it's been more of a defensive grind. This was an important momentum-building win for us, I was really proud of the team."
Brydens Sydney Uni Flames 79 def. by University of Canberra Capitals 99
The Caps officially claimed top spot heading into the playoffs with an eighth consecutive win, cruising past Sydney Uni on the back of a 30-17 first term while they tallied 30 assists as a team. It is the first time they have finished on top of the regular season since 2010- also the last season they won the Championship. Leilani Mitchell continued her good form heading into the post-season with 24 points and eight assists while Kelsey Griffin came close to a triple-double with 16 points, 11 rebounds and seven dimes. Belinda Snell stood up in her final home game, recording 15 points and ten assists and the Flames again showed a lot of heart but their incredible run of bad luck was worsened as Tahlia Tupaea (22 points) suffered a knee injury.
Boxscore: http://www.fibalivestats.com/u/wnbl/913552/
Cheryl Chambers, Flames head coach: "Hopefully it will be just a three or four week injury for [Tupaea] and she will bounce back."
Paul Goriss, Caps head coach: "It's a great result for the club and our fans and the Canberra community, but it's special for us knowing where the club has been and to get it back to that place where it once was. To finish the season in top spot is great and also just knowing we've done a great job in respecting the rich history of the Capitals. We're back."
Jayco Rangers 68 def. by JCU Townsville Fire 81
After the lead changed hands five times in the early stages, Dandenong moved out to an eight-point lead midway through the second quarter. However, Townsville responded to trim the margin to three at half-time and then exploded out of the main break with a 14-0 run. Stella Beck scored all seven of her points during that burst while the Rangers could not contain the front court pairing of Darcee Garbin (20 points, seven rebounds) and Zitina Aokuso (15 points, 11 rebounds). Bec Cole (20 points) tried to answer with a personal 8-0 run but the Fire went on to win the second half 38-22 as Micaela Cocks (17 points) put the finishing touches on their last road game of the season.
Boxscore: http://www.fibalivestats.com/u/wnbl/913553/
Bec Cole, Rangers: That was a disappointing game. Defensively we really let ourselves down and you could tell we were tired in our legs as well."
Claudia Brassard, Fire head coach: "It was clearly one of Darcee's better games, but Zitina was great despite not being able to train all week and Micaela was also very good. It was pleasing to pick up the win."
Media Links
The schedule for the 2018/19 Semi-Finals series' has been revealed: http://wnbl.basketball/blog/news/schedule-confirmed-for-2018-19-semi-finals-series/
Craig O'Donoghue was on hand for the Lynx's win against Melbourne for Perth Now: https://www.perthnow.com.au/sport/basketball/perth-lynx-thrash-melbourne-boomers-in-wnbl-ng-b881071021z
Luke West chronicled the Spirit's continued overtime woes for the Bendigo Advertiser: https://www.bendigoadvertiser.com.au/story/5846661/another-that-got-away-for-spirit-in-season-of-so-close-yet-so-far/?cs=13346
Trent Slatter covered the Caps' series sweep of the Fire for the Townsville Bulletin: https://www.townsvillebulletin.com.au/sport/fire-fall-short-of-huge-secondhalf-comeback-in-8068-loss-to-caps/news-story/eb9cff4456afb46d35fdf87b415c1fbb
Slatter then backed up on Sunday as the Fire got the better of Dandenong: https://www.townsvillebulletin.com.au/sport/defence-sparks-townsville-fire-in-8168-road-win-over-dandenong/news-story/c7845f724eede614c1449f445a8d4205
Eamonn Tiernan of the Canberra Times reported on the Caps securing top spot on the ladder: https://www.canberratimes.com.au/sport/basketball/capitals-eighth-straight-clinches-first-minor-premiership-since-2009-20190113-p50r2u.html
Amanda Lulham of the Daily Telegraph articulated the agony for Tahlia Tupaea as she suffered a knee injury on Sunday: https://www.dailytelegraph.com.au/sport/swoop/sydney-uni-flames-gun-tahlia-tupaea-goes-from-opals-squad-to-injury-list/news-story/c8a9272e741112e3a39ce431e7640346
Roy Ward of the Age wrote about the positive signs for Townsville moving forward: https://www.theage.com.au/sport/basketball/fire-sweep-past-rangers-and-show-they-re-ready-for-post-batkovic-era-20190113-p50r4l.html
Basketball Australia announced the 2019 squad for the Chemist Warehouse Australian Opals: http://wnbl.basketball/blog/news/2019-chemist-warehouse-australian-opals-squad-announced/