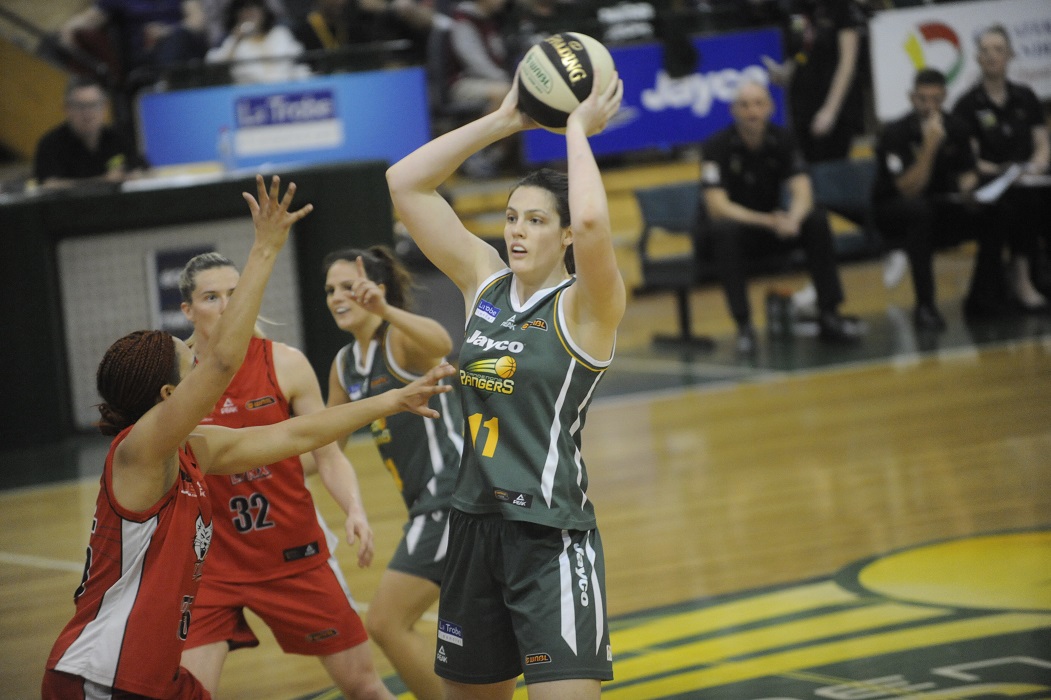 January 18, 2017 | WNBL news
Athletes reach a point where a vital decision needs to be made.
ItÕs often one that dictates the rest of their professional career, and usually, it has to be done at a young age.
For Lauren Scherf, this moment was pretty much made for her in 2015.
While tossing up between whether or not to pursue a college basketball career in the United States, Scherf was fine-tuning her craft with the Jayco Dandenong Rangers in the WNBL. She made such an impression with the Rangers, that she was named the 2014/15 WNBL Rookie of the Year, an achievement that changed her mindset.
ÒIt made me think twice about how this is something that I could potentially be really good at,Ó Scherf said, reflecting on her Rookie of the Year award.
ÒIt was a turning point for me because I was deciding whether or not to go to college or stay here in Australia and being able to see those achievements, it made me think this is what I need to go through.
ÒIt did help me along the way to choose what path to go, but IÕve still got so much to learn and develop as a player and being in the environment that IÕm in helps so much in that regard.Ó
The instant validation that comes with an individual award like that fuelled ScherfÕs confidence level, and her progression has been clear since that point.
Physically, Scherf is naturally gifted. Standing at 196 centimeters, the 20-year-old has height to guard the middle, but marries that length with mobility, athleticism and versatility. Having those attributes is one thing, but putting them together and using them to maximise your basketball ability is another.
While she is still learning, there is no doubt Scherf, who is averaging 4.8 rebounds and just under a block per game, is putting her innate build to good use. However, coach Larissa Anderson is constantly ensuring Scherf knows just how dominant she can be.
ÒWe get to see what she is capable of every session,Ó Anderson said.
ÒFor Loz, itÕs about always being confident in her own abilities and bringing them together consistently. That comes with age and at times people forget she is only 20 years old and coming up against some of the most experienced bigs in the competition every week.
ÒYou are going to have some inconsistencies, but it is more about continuing to work hard and Lauren realising what she is capable of more than anything.
ÒShe has great speed for her size, is extremely strong and has a great inside and outside game coming together. It is fabulous working with such a gifted athlete and above everything, such a great person.Ó
As she continues to develop, ScherfÕs resume will grow, but it is mightily impressive already.
Along with playing a strong role in the RangersÕ top-of-the-ladder campaign, Scherf has represented Australia in numerous events, including the FIBA U19 World Championships and Youth Olympic Festival in 2013, FIBA U17 World Championships in 2012 and FIBA U16 Oceania Championships in 2011.
These experiences have fast tracked ScherfÕs development, but the benefits she can provide her teammates, have been just as vital.
ÒIt helps immensely,Ó Scherf said of playing for Australia.
ÒHaving that international experience helps my teammates that havenÕt really seen that side, so you bring those lessons learnt internationally into the team.Ó
Scherf assists her teammates in more ways than one, which is a reason why she is so beloved. On the defensive end, Scherf not only imposes herself physically, but she has increased her vocal skills, anchoring the RangersÕ defence.
ÒIÕm very vocal on the defensive end, so I want to be that presence and communicate to the others whatÕs going on,Ó Scherf said.
ÒI want to be that extra set of eyes for everyone on the court. Being vocal helps the team push through on defence because it makes sure everyone is on the same page.
ÒItÕs something weÕve really developed into my game. When I was a kid, I was really shy, so I was never one to be the centre of attention. ItÕs something IÕve worked on and developed as a player.Ó
All of these aspects Ð natural athleticism, defensive intelligence and providing for her teammates Ð have helped Dandenong to a WNBL best 12-5 record. However, being on top means you generate the best out of your opponent and that has been no more evident than in the past two weeks, with the Rangers losing to the Lightning and just getting past the Boomers in overtime.
It is nothing new for Scherf though, who is used to playing for the team everyone wants to take down.
ÒBeing from Vic Metro in Under-16, Under-18 and Under-20, we always had that target on our back because everyone always wanted to beat us and itÕs kind of the same thing now at Dandenong,Ó Scherf said.
ÒThat does makes us work harder but at the same time we are very focused on the things we need to work on as a team. We know you cannot afford to be down for any game and we are trying to build together in the run to hopefully play finals. We need to work harder at everything we do, especially given how young some of us are.Ó
As the Rangers continue to stamp their authority across the league, and Scherf continues her rapid rate of development, Anderson is confident that plenty more big games are in store for her centre in the near future.
ÒLauren has a great attitude towards getting better and is a wonderful team mateÓ Anderson said.
ÒShe is a very big part of our team and her role is very important to our teamÕs success. With the hard work she is putting in, you can feel that she is ready to have a big impact in the second half of the season.Ó