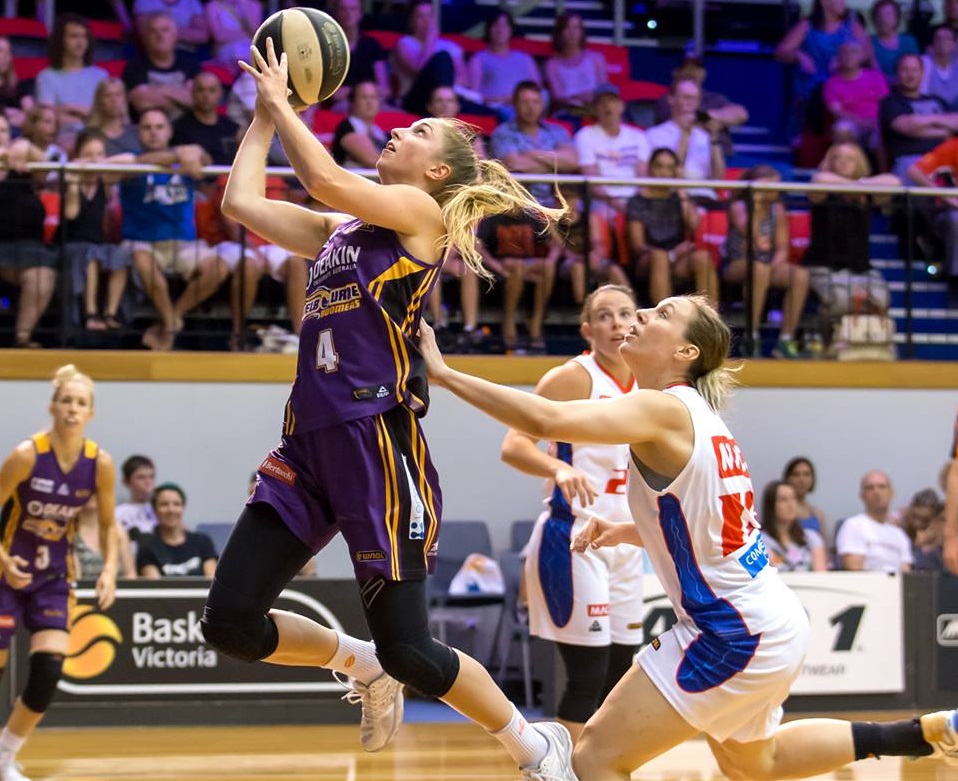 January 25, 2017 | WNBL news
Photo courtesy of Michelle Couling.
ItÕs been a disappointing campaign for the Deakin Melbourne Boomers who will miss out on playoffs for a third consecutive season but after a year and a half on the sidelines, Bec Cole is just happy being back on court.
Following an ACL injury during her 2015 SEABL season, Cole endured a long road back to the WNBL and while she is still not performing at the level she expects of herself, the guard has learnt to be patient with her progress.
ÒI had to have a realistic expectation of what my season would be,Ó she said.
ÒIÕve had some good games and been up and down in my minutes but IÕm starting to find my confidence and my form again which I know will come back to me. I wish I was doing better than I was but I have to think I was out a year and a half not playing basketball at all. IÕm just so happy to be back on the court again.Ó
Despite that lack of consistency, Cole is leading the team in assists and averaging a career-high 3.3 per game which places her 11th in the league.
ÒAs a point guard, I need to be able to facilitate the ball. I need to penetrate, get my feet in the key and then dish it out to our good shooters as well as Kalisha [Keane] or [Liv] Thompson.Ó
No matter where the Boomers are positioned on the ladder, the fans continually get out to their games and they will be expecting another bumper crowd when they host the Jayco Dandenong Rangers tonight in the Australia Day Eve match-up.
ÒWe always get great crowds against Dandenong but being Australia Day Eve, we should have lots of supporters. ItÕs always an exciting game when we play each other.
ÒKnowing we always get a good crowd gets you pumped up and makes you want to get out there and play well. ItÕs our fourth time playing the Rangers as well so itÕs our last chance to get a win against them.Ó
Following the success of last yearÕs inaugural Australia Day Eve game which saw 2,490 fans pack the State Basketball Centre (a record for that stadium and the biggest crowd of the 2015/16 WNBL season), the Boomers are hoping to better that number this year.
While Cole missed the game due to her injury, she was still a part of the night and alongside her team mates, remembers the atmosphere fondly.
ÒLast year was crazy good,Ó she said. ÒWhen you are out on the court, the adrenaline is amazingÊwhen the crowd gets behind you and itÕs such a great experience to be a part of.Ó
Even without playoffs on the horizon, Melbourne will be keen to perform in front of a huge home crowd and continue their improving form from the past few weeks.
ÒWe canÕt get down thinking we canÕt make finals; you have to stay positive. We want to finish strong and feel like we have accomplished something as a team.
ÒIndividually, spots are up for grabs for next season as well so you want to make sure you are working hard and are determined.
ÒThe season has been a rollercoaster. Lately, we have stuck together as a team, weÕve still had a lot of losses but weÕre training really well and weÕre still trying to develop and grow each week. We want to win and produce the best Boomers basketball we can.
ÒIt is unfortunate that the season hasnÕt gone our way but thereÕs still five games for us to prove how good we are and play the brand of basketball we want to play.Ó
Melbourne host Dandenong tonight at 7.30pm in the final game of the Michele Timms Cup for 2016/17. Purchase tickets for that game here. The Boomers will then travel to Bendigo to face the Spirit at 7.30pm on Saturday night with tickets for that game available here.