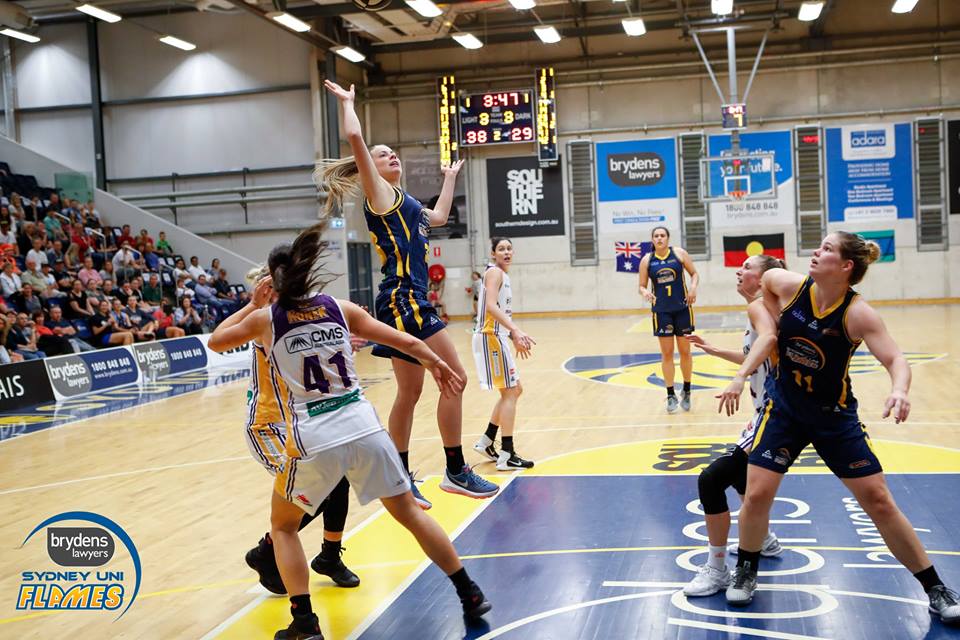 February 2, 2017 | WNBL news
Photo courtesy of Geoff Tripp Photography.
Round 17 Game of the Week
Deakin Melbourne Boomers v Brydens Sydney University Flames, State Basketball Centre, Sunday, 3.00pm (local time)
The Boomers are celebrating their 33rd WNBL anniversary but the leagueÕs oldest club wonÕt be getting any birthday love from the Flames on Sunday afternoon.
Sydney Uni enters the round with a slim edge as the top team in the WNBL and with three rounds until the finals, will need this win and a couple more to keep Dandenong or possibly Perth from overtaking them.
The Boomers have had an unfortunate campaign with too many close losses but there-in lays the hope for this SundayÕs game as the Boomers have the guards who can match it with Flames playmakersÕ Leilani Mitchell, Belinda Snell, Ally Wilson and Tahlia Tupaea who have all shone.
Mitchell scored the game-winning basket against Canberra last round while Snell scored a round-high 30 points so both will ask big questions of the home teamÕs defence.
Bec Cole and Maddie Garrick had big tasks last round while carrying the guard duties due to Brittany SmartÕs ankle injury but Smart is expected to again take her place in the side which will help the BoomersÕ to score and also handle the defensive demands of the FlamesÕ guards.
Where the Boomers will have the most problems will be with the FlamesÕ import post stars with power forward Asia Taylor and centre Jennifer Hamson to give the undersized Melbourne team all kinds of problems down low.
Boomers coach Guy Molloy said his side wanted to close out the season with a bang.
ÒWhen finals became mathematically out of the equation we certainly didnÕt want to be purposeless and without focus,Ó Molloy said.
ÒWe asked all the players to respond, to work a bit harder and we re-invented ourselves a little bit and we wanted to improve so itÕs been a chance for players like Bec Ott to get time at this level of basketball and for the team to regain some credibility and respect.
ÒWe are coming out to win every game and if we can get a scalp or two before the end of the season then we would like nothing better.Ó
Tickets: https://www.trybooking.com/Booking/BookingEventSummary.aspx?eid=211556
Live stats: http://www.fibalivestats.com/webcast/wnbl/311894/
Listen Live: http://www.smashfm.com.au/
MAC Adelaide Lightning v University of Canberra Capitals, Adelaide Arena, Friday, 7.30pm (local time)
The Capitals can temporally move into equal footing with Bendigo and Townsville in the finals race if they can claim this crucial win in South Australia.
But the Lightning wonÕt be in a charitable mood and will look to punish the CapsÕ if their need for wins turns into nervous play as Canberra are desperate to get back in the winners column to have any chance of playing finals.
Look out for an earnest battle between one of the leagueÕs best loved veterans, CanberraÕs Carly Wilson, and one of its newest young stars, AdelaideÕs Anneli Maley, as the pair are likely to have to match up in the forward position throughout the game.
As they have done previously, the Lightning will again throw open the doors to its fans this weekend with FREE ENTRY for Friday nightÕs clash.
Live stats: http://www.fibalivestats.com/u/wnbl/311890/
Live Stream: https://www.youtube.com/channel/UCC4MIJY0OzQUTlVEm57TGFQ
Jayco Dandenong Rangers v JCU Townsville Fire, Dandenong Stadium, Saturday, 6.30pm (local time)
The Rangers and Fire begin a Òmini-seriesÓ of two games in two weeks with a pivotal clash at Dandenong this Saturday night.
Townsville is fighting tooth and nail for a top-four place while the Rangers can officially book a playoff spot with a win in this game.
The season series can also be clinched by Dandenong with a victory although the Fire would love to steal this one before heading back to Townsville to host their return meet next Friday night in what shapes as a make or break fortnight for the defending champs.
Proceeds from the game will also go towards supporting The Unite Project.
Tickets: https://secure.ticketdesq.com/book/index.cfm?fuseaction=main&TicketDesqID=2036&OrgID=21722
Live stats: http://www.fibalivestats.com/u/wnbl/311891/
Live Stream: https://www.youtube.com/user/dandenongrangerstv/videos
Bendigo Bank Spirit v JCU Townsville Fire, Bendigo Stadium, Sunday, 3.00pm (local time)
Bendigo know they are also in a desperate battle for a top four finish and they host the Fire on Sunday in a game which could prove to be a knockout contest.
If Perth and Sydney hold firm it seems impossible for both Bendigo and Townsville to make the finals. So whoever wins this game will have a major advantage over the other both on wins and in season series where the Fire lead 2-1 with a ten-point lead on margin.
This means the Spirit need to win by 11 to claim the season series although at this stage the Spirit would surely take the win by any amount.
The Fire will be mindful of an in-form Nayo Raincock-Ekunwe who came off the bench and starred last round but could well start this time due to the FireÕs tall front line.
Tickets: https://www.trybooking.com/Booking/BookingEventSummary.aspx?eid=211355
Live Stats: http://www.fibalivestats.com/u/wnbl/311893/
Perth Lynx v University of Canberra Capitals, Bendat Basketball Stadium, Sunday, 2.00pm (local time)
The Lynx will look to take another step towards confirming their place in the finals when they host the Capitals in Perth on Sunday while a top-two spot is still within reach.
While the Capitals could be tired from their earlier clash with Adelaide this round, watch for the visitors to give as good as they get on offence with Lauren Mansfield and Marianna Tolo the key cogs in their attack.
Mansfield and Kate Gaze will look to take the game to Lynx guards Tessa Lavey and Sami Whitcomb but the CapitalsÕ duo will need to be on their game defensively to keep control of the dangerous Whitcomb.
The winner of this clash will also claim the season series between the two clubs which could prove vital if Perth drop a couple more games in the final three rounds.
Tickets: http://www.ticketmaster.com.au/Perth-Lynx-tickets/artist/2165336
Live stats: http://www.fibalivestats.com/u/wnbl/311892/