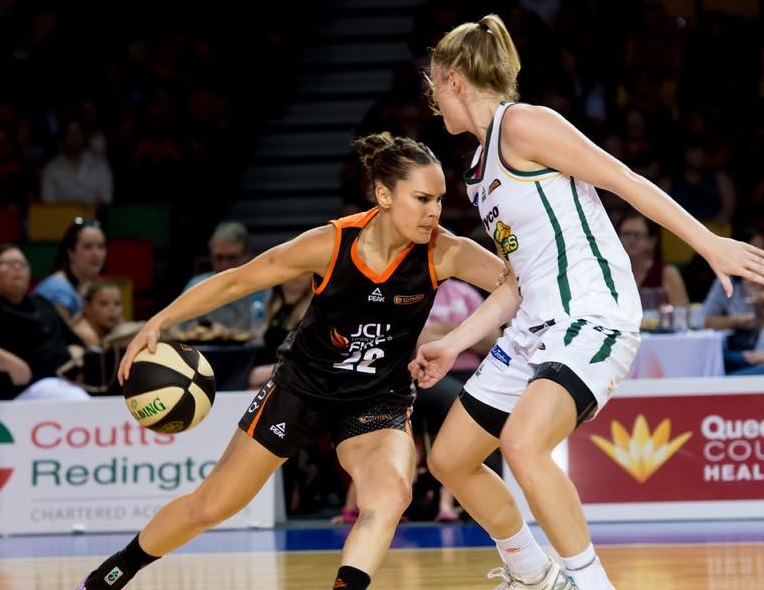 February 13, 2017 | WNBL news
Photo via NQ Images.
Fighting through injury for most of her debut season with the JCU Townsville Fire, Kelly Wilson may not have had her best yearÊbut she stepped up to lead her side to a very important victory over the Rangers in Round 18 and inch the Fire closer to a playoff berth.
Wilson threatened for a triple-double in the 83-66 win, finishing with 16 points, nine rebounds and seven assists as well as a steal while shooting 66% from the field.
Townsville were hot from the opening tip, leading by double-digits at quarter-time and Wilson helped them to an 11-6 start as she tallied two points, an offensive board and two assists inside the first three minutes of the game.
The Fire continued to grow their lead in the second term as Wilson added another six points, four rebounds and two assists to have eight points, six boards and four assists at the main break and be well on her way to a triple-double.
Townsville's lead extended beyond 30 in the third quarter and the game looked over but Dandenong had a final run left in them, cutting the deficit to ten with 3:30 remaining.
Wilson helped finish them off though, knocking inÊfour free-throws and a field goal down the stretch to seal the game and move the Fire just one win away from the post-season.
The point guard is now averaging 4.4 points and 4.3 assists per game on the season but if she canÊmaintain her Round 18 form, Townsville will be a different beast in the finals.
Round 18 Kelly Wilson Stats:Ê16 points on 6-9 shooting (66%), nine rebounds (two offensive), seven assists, one steal, +34.