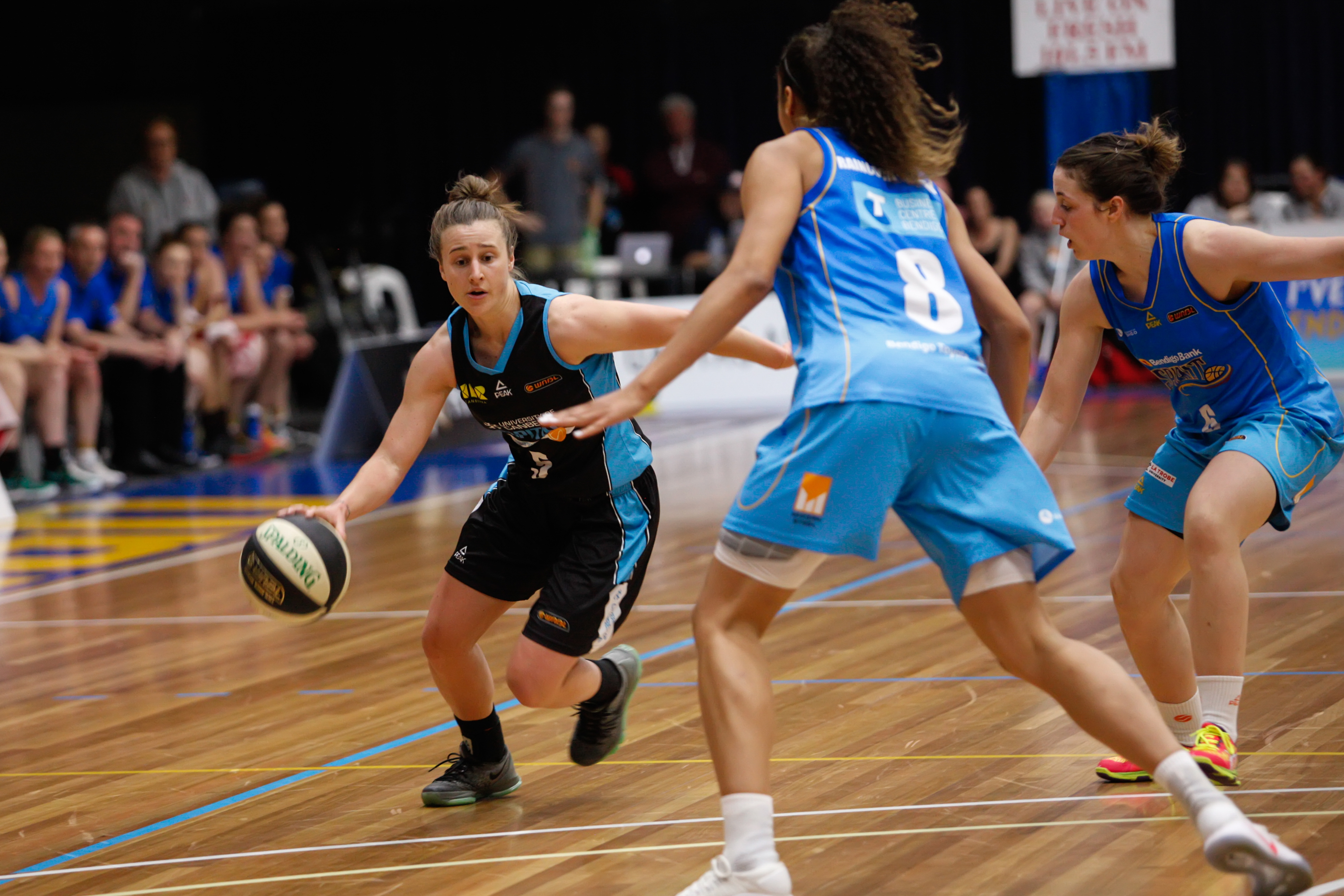 February 9, 2017 | WNBL news
Photo courtesy of Akuna Photography.
Round 18 Game of the Week
University of Canberra Capitals v Bendigo Bank Spirit, Southern Cross Stadium, Sunday, 12.00pm (local time- note game time change)
Both the Caps and Spirit are virtually playing to keep any chance of making the finals alive and that ÒvirtuallyÓ could be removed by game time if Townsville beats Dandenong on Friday night as it will mean whoever loses this game is officially out of the finals race.
The Capitals are also celebrating their 30th anniversary in the WNBL and will be looking for a much greater physical presence after being out-muscled by the Spirit in their earlier meetings this season.
Bendigo coach Simon Pritchard said his side, like Canberra, knew winning this game was essential.
"We are not out because the road home for the other teams is so difficult," Pritchard said.
"There are so many permutations and things that can happen.
"For us we simply have to win our last three games, and we know we are 2-1 against Canberra and were tied up at 56-all with them with six minutes to play in Canberra before we ran out of legs after the Townsville game.
"We know we can get Canberra and then lump a whole heap of pressure on Dandenong, who have Townsville and Sydney to come."
Marianna Tolo and Mikaela Ruef will again be the CapitalsÕ low post targets and they will have their work cut out as they battle Gabe Richards, Nayo Raincock-Ekunwe and Kelsey Griffin but Tolo has shown in the past she can lift when presented with tough match-ups while Ruef can also make an impact.
The key for the Capitals will be to work their guards and shooters into open positions.
Lauren Mansfield has regularly found the bottom of the net but to overcome Bendigo they will need broader contributions from Carly Wilson, Kate Gaze, Abigail Wehrung and Jazmon Gwathmey.
Point guard Kerryn Harrington has been the key to much of the SpiritÕs best performances while Raincock-Ekunwe canÕt afford another quiet offensive night as she had last round against Townsville but Griffin was incredible for the Spirit in that game and with her side desperate for wins expect her to perform once again.
With the temperature forecast to soar up to 41 degrees celsius on Saturday, this game has been moved to Sunday at midday and it will still be at Southern Cross Stadium.
Tickets: https://www.ticketbooth.com.au/s/?se=uc+capitals
Live stats: http://www.fibalivestats.com/u/wnbl/311897/
Live Stream: https://www.youtube.com/channel/UCMloEHnKNYWGxWVbiJWtd7w
JCU Townsville Fire v Jayco Dandenong Rangers, Townsville Stadium, Friday, 7.00pm (local time)
Dandenong missed their chance to put the Fire on the back-foot last round and to seal a playoff position but they get a second chance when they clash with the Fire in Townsville on Friday night.
After two wins last round, another Fire win all but locks down their own playoff spot and could even give them a chance at moving up to third place.
But the winner of this game gets the season series over the other so there are many key components to this clash.
Suzy Batkovic and the FireÕs shooters carved up the Rangers last round but the visitors will have put in plans to avoid a repeat performance while they will be keen to celebrate former Fire championship winner and current Dandenong star Steph CummingÕs 250th game this weekend.
Tickets: https://whatson.townsville.qld.gov.au/events/community-events/jcu-townsville-fire-vs-dandenong-rangers
Live stats: http://www.fibalivestats.com/u/wnbl/311895/
MAC Adelaide Lightning v Deakin Melbourne Boomers, Adelaide Arena, Friday, 7.30pm (local time)
The Lightning upset the Boomers in Geelong earlier this season and FridayÕs return meeting in Adelaide gives the home side the chance to earn their first home win this season while a loss will lock them into bottom spot.
The Boomers continue to fight and come up short and will be pressed to snap that losing streak by the likes of Laura Hodges, Colleen Planeta, Tayla Roberts and Anneli Maley who are all in-form for the home side.
Boomers guard Maddie Garrick has been in outstanding form as well though and Alice Kunek continues to fire. A big crowd could be expected for this clash with the Lightning opening the doors for all patrons with FREE ENTRY on offer for their final home game.
Live stats: http://www.fibalivestats.com/u/wnbl/311896/
Live Stream: https://www.youtube.com/channel/UCC4MIJY0OzQUTlVEm57TGFQ
Brydens Sydney University Flames v Jayco Dandenong Rangers, Brydens Stadium, Saturday, 7.00pm (local time)
If the Rangers want any chance at keeping the FlamesÕ from top spot they must win this game in Sydney as a victory for the home side will give then the series over Dandenong and officially guarantee first place.
Leilani Mitchell, Belinda Snell and Asia Taylor have been superb in recent weeks but the RangersÕ hard-running style will ask plenty of questions of them, even with the visitors playing the second game of a double-header.
Taylor will need to be minded closely by Sara Blicavs, Ally Malott and Jacinta Kennedy while Mitchell will battle with Aimie Clydesdale in what could be one of the best point guard duals this weekend and a key factor in who wins.
Tickets: https://www.eventbrite.com.au/o/brydens-sydney-uni-flames-11071603487
Live Stats: http://www.fibalivestats.com/u/wnbl/311898/
Perth Lynx v Deakin Melbourne Boomers, Bendat Basketball Stadium, Sunday, 2.00pm (local time)
The Lynx have to wait until the end of the round but they wonÕt be taking any chances against a road-wary Boomers as the home side are battling to secure their place in the top four and maybe still beat out Sydney Uni or Dandenong for a top two spot.
The Boomers will fancy their chances in Perth if they can keep Sami Whitcomb quiet and not let others like Carley Mijovic and Tessa Lavey off the chain.
Whitcomb will also be playing her first WNBL game since it was announced her WNBL success had led to her receiving a contract with WNBA giants Seattle Storm for the coming WNBA season.
All those good vibes will help drive the Lynx to avoid any BoomersÕ themed upset losses in MelbourneÕs final road game of 2016/17.
Tickets: http://www.ticketmaster.com.au/Perth-Lynx-tickets/artist/2165336
Live stats: http://www.fibalivestats.com/u/wnbl/311899/