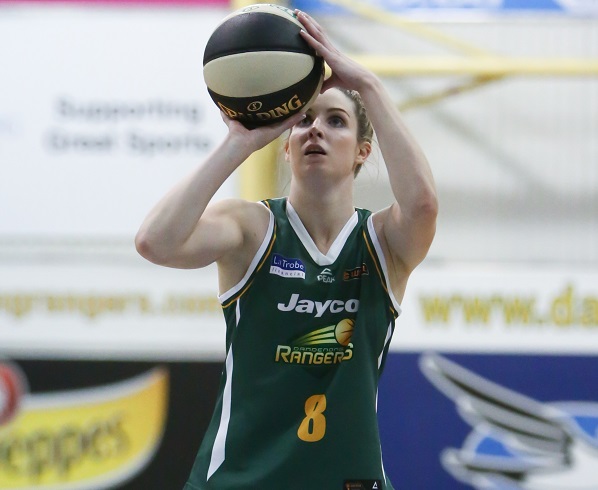 February 13, 2017 | WNBL news
Having played her 250th game last weekend as the Jayco Dandenong Rangers secured a playoff spot for 2016/17, Steph Cumming is putting together a resume as one of the more successful players in WNBL history.
She already has two Championships to her name, one in 2012 with the Rangers and another in 2015 with Townsville, has played in three Grand Finals and only missed the playoffs three times out of 11 seasons.
At 26 years of age, Cumming may only just be entering the peak of her career and with 250 games under her belt, expect the guard to finish very high on the all-time games played list by the time she calls curtains.
The longest serving current member of the Rangers, CummingÕs most recent milestone will be officially honoured by her club in their last home game of the regular season this Saturday night when they take on Perth.
In her eleventh season, the guard is averaging a team-high and career-best 16.5 points while hitting 44% from the field and 41% from three-point range to remain as one of the WNBLÕs most consistent players.
That consistency has been one of the hallmarks of CummingÕs career since her debut with Dandenong back in 2006/07.
She has largely been able to avoid any long-term injuries through her WNBL career, enabling her to play at least 20 games every season since that debut.
A two-year stint with the AIS helped develop her offensive game and by the time she returned to the Rangers in 2010/11, Cumming was averaging double-figures in scoring, a mark she has maintained every year since.
In 2012, she reached the ultimate glory when Dandenong won the WNBL Championship and she contributed 13.6 points at 46% shooting for the season.
She made the move to Townsville in 2013/14 and the change in scenery paid off as she held aloft the WNBL trophy once more in 2015 before returning to her junior club last year where she was named captain of Dandenong.
Her work at both ends of the floor has also drastically improved over time and she was rewarded last season with the WNBL Defensive Player of the Year award as she helped the Rangers to the best perimeter defence in the competition while also tallying career-highs in steals and blocks.
In 2015/16, she also bettered her game in almost every statistical area but this season has seen her take her game to another level once again, increasing her numbers from last year by almost a point, half a rebound and an assist per game.
Cumming remains as one of the competitionÕs peskiest defenders, sitting in the top 20 for total steals and the Rangers are sure to rely on her at both ends of the court as they head into a seventh consecutive post-season next week.
They cannot be sure of their playoff opponent until the end of Round 19 but still have a chance at hosting the Semi-Finals with a win over the Lynx and Dandenong will back their chances after already defeating Perth twice this season.
Cumming has been the barometer for them in their three overall meetings, recording double-doubles in the two wins while averaging 26.5 points, 11.5 rebounds and four assists but in their loss to the Lynx, she shot 0-8 from the field in a scoreless night.
As one of the WNBLÕs most consistent performers, expect the guard to bounce back and star for the Rangers again this weekend.