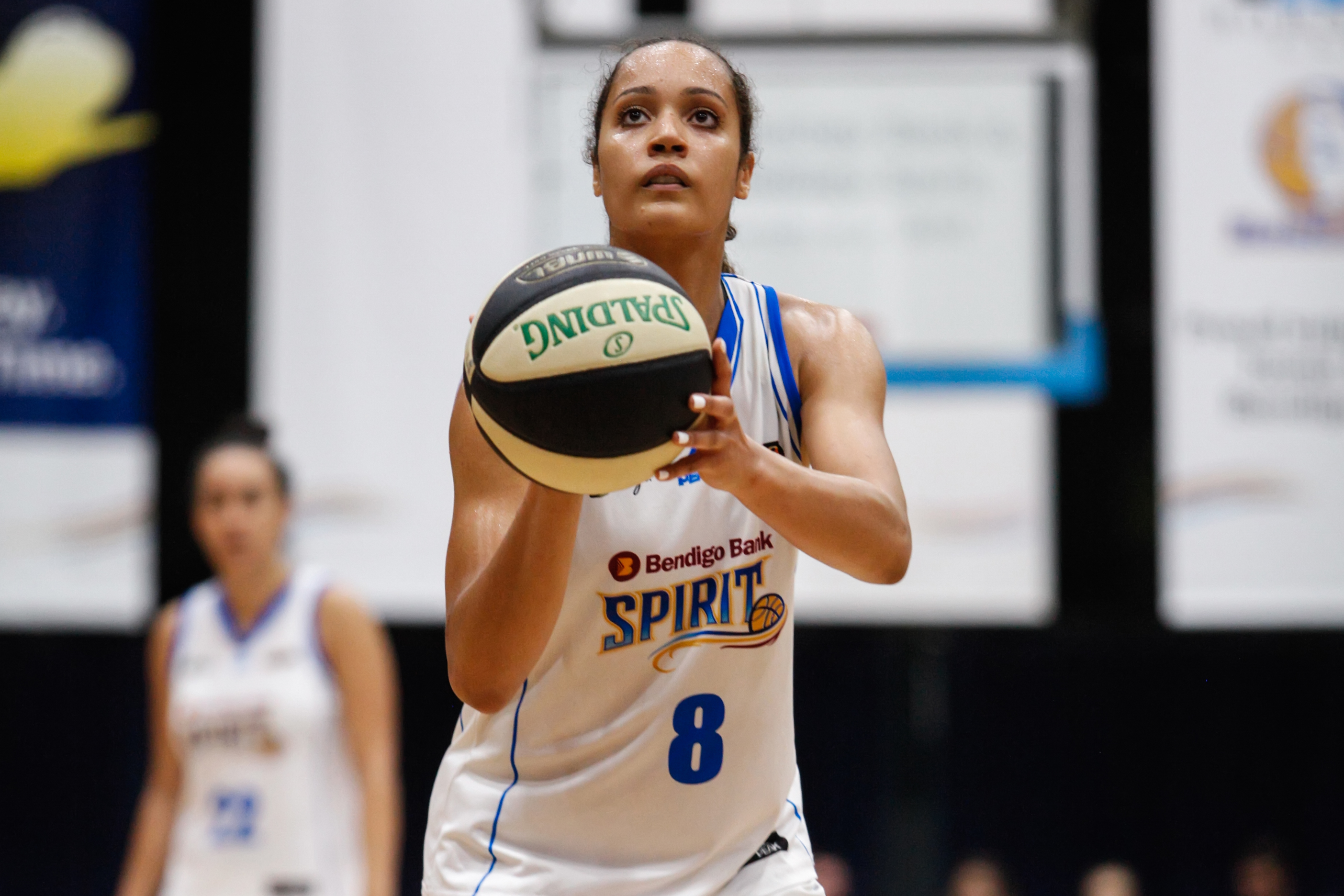 February 21, 2017 | WNBL news
While they were unable to reach the playoffs heading into the final round, the Bendigo Bank Spirit still played a major role in shaping the top four as they came out of Round 19 with two thrilling one-point victories.
Nayo Raincock-Ekunwe starred in the two wins, averaging 16 points and 8.5 rebounds while she also nailed the game-winner over Perth on Sunday to drop the Lynx down to third on the ladder and miss out on home court advantage in the Semi-Finals.
Bendigo started that contest well, opening up a six-point lead at the first break and Raincock-Ekunwe found her stroke early, tallying seven points and five rebounds in the first period five of the Spirit's initial eight points.
Perth pulled themselves back into the contest as the game wore on though and the momentum swung back and forth throughout the last term.
Raincock-Ekunwe again stepped to the fore down the stretch though, hitting two free-throws to give Bendigo a four-point lead with just over three minutes remaining.
She then answered a Tenaya Phillips three with another jumper before Sami Whitcomb put the Lynx ahead inside the final 30 seconds.
On Bendigo's final possession, they gave the ball to Raincock-Ekunwe who faced up from just beyond the free-throw line and knocked it in off glass to finish with 17 points and hand the Spirit a 73-72 victory.
The night before in Melbourne, Bendigo hung on for an 80-79 victory as the Boomers finished the game with a 10-0 flurry.
The Spirit controlled the game for the entire contest though, leading by as much as 16 points at one stage and Raincock-Ekunwe set the tone again with 12 points to half-time.
She finished with a double-double of 15 points and a game-high ten rebounds to go with three assists and a steal.
With unfinished business due to Bendigo not reaching the playoffs, Raincock-Ekunwe has hinted that she may return to the WNBL in 2017/18 and the import will be more than welcome after finishing the regular season ninth for points (15.9 per game) and fourth for rebounds (8.4).
Nayo Raincock-Ekunwe Round 19 Stats:Ê16 points on 13-25 (52%) shooting, 8.5 rebounds (2.5 offensive), 1.5 assists and a steal across two games.