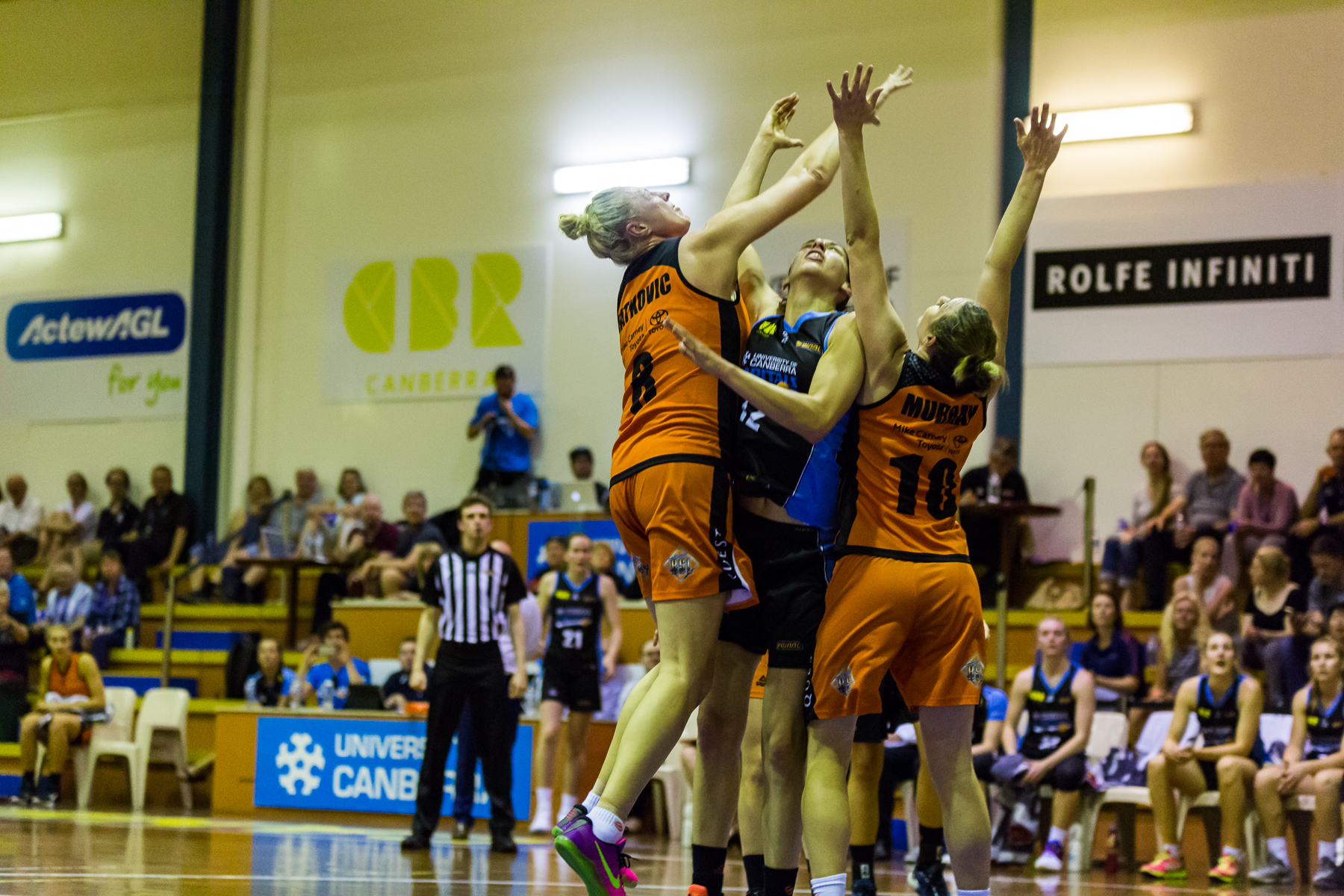 February 16, 2017 | WNBL news
Round 19 Game of the Week
JCU Townsville Fire v University of Canberra Capitals, Townsville Stadium, Saturday, 7.00pm (local time)
For Townsville and Canberra, the WNBL finals have started early with an elimination game in this weekendÕs final round.
With Sydney locked into first place and Dandenong and Perth still deciding their positions in the four, the winner of this game will make the finals, as long as the Capitals beat Adelaide on Thursday night.
If the Caps lose on Thursday, then the Fire will be safe but will need a win to claim third place.
A few weeks ago it looked like both clubs could miss the finals but some late wins and well-timed losses from opponents kept them both alive.
The Fire have received a major boost late in the season with Kelly Wilson returning to the side from injury and finding form in the past few weeks including a Player of the Week performance last round.
As a past championship winner with Bendigo, Wilson will bring a cool head to the pressure of this game.
ÒBoth teams know whatÕs at stake, itÕs a finals position,Ó Wilson said this week.
ÒBut if we can keep the form going that weÕve had the last few weeks then we know we can win, especially on our home court and thatÕs what we plan to do.
ÒIt is crazy but you get to that point in the season where if you want to play finals basketball you have to beat Canberra and thatÕs what it comes down to.
ÒWe donÕt want to rely on other teams losing to get in and if we are going to into finals on a loss then itÕs not a confidence boost for us.
ÒItÕs all about this game and like our coach Claudia Brassard said at training- our finals start this week.Ó
The Caps will be without all-round guard Abigail Wehrung who was burning hot last week with 18 points before going down with ligament damage to her ankle which ended her season.
Caps coach Paul Goriss said Wehrung would be missed but his side would fight on, especially with veteran Carly Wilson retiring whenever her clubÕs season ends.
ÒShe will be missed but the playing group remains firmly focused on our remaining games against Adelaide and Townsville,Ó Goriss said.
ÒWe wish Abbey the very best with her recovery and we know she will be cheering us on from the sidelines."
Point guards Lauren Mansfield and Kate Gaze will still be a handful for the Fire while if anyone has the skills to slow down Fire centre Suzy Batkovic it will be Caps and Rio Olympic centre Marianna Tolo.
Wilson said Mansfield would need defensive attention for every minute of the game.
ÒShe is an awesome player, she has great skills and she can either score or find their bigs on the roll so thatÕs hard to defend,Ó Wilson said.
ÒWe will go through our scout this week and whoever is matched on her be it me, Natasha Cloud or Micaela Cocks we will do our absolute best to try and stop her.Ó
The Fire will also be celebrating their annual Indigenous round, adding to the excitement of this clash.
Tickets: https://au.patronbase.com/_TVCC/Productions/1061/Performances
Live stats: http://www.fibalivestats.com/u/wnbl/311903/
University of Canberra Capitals v MAC Adelaide Lightning, Southern Cross Stadium, Thursday, 7.00pm (local time)
ItÕs the Carly Wilson Tribute game in Canberra as they prepare to say farewell to one of the leagueÕs most enduring stars.
But they donÕt want to say goodbye to Wilson or their season this weekend and will be desperate to beat the Lightning to set up a Òplay-inÓ game against Townsville Fire on Saturday night.
The Lightning have shown they are no pushovers but they will have to shut down both Mansfield at the point then former Lightning star Mikaela Ruef which will be a tough ask for the likes of Colleen Planeta and Tayla Roberts while Rio Olympic team mates Tolo and Laura Hodges will also go head-to-head.
Tickets: https://www.ticketbooth.com.au/s/?se=uc+capitals
Live stats: http://www.fibalivestats.com/u/wnbl/311900/
Live stream: https://www.youtube.com/watch?v=gE5iRh1aYJI
Jayco Dandenong Rangers v Perth Lynx, Dandenong Stadium, Saturday, 6.30pm
The Rangers believe their pre-Christmas form has returned despite losing their last four games but the Lynx wonÕt show them any leniency so close to the finals with both clubs still possibly dropping as low as fourth with a bad weekend.
On the other hand, Dandenong and Perth can still finish second as well so there is a lot to play for in the first game of a four-match night on Saturday.
Sami Whitcomb has continued to star after her WNBA signing last week but expect Steph Cumming and Aimie Clydesdale to push her closely in the backcourt while Sara Blicavs proved her ability to perform in the big games for the Rangers last year and will be a concern for the visitors.
Tickets: https://secure.ticketdesq.com/book/index.cfm?fuseaction=main&TicketDesqID=2041&OrgID=21722
Live stats: http://www.fibalivestats.com/u/wnbl/311901/
Live Stream: https://www.youtube.com/watch?v=xRvSj6kgYMg
Brydens Sydney University Flames v MAC Adelaide Lightning, Brydens Stadium, Saturday, 7.00pm (local time)
While the Flames are locked into first place and the Lightning onto the bottom, this game should still be a cracker as their regular seasons come to an end.
Sydney will be aiming to fine tune their game ahead of hosting the Semi-Final while the Lightning have continued to push the leagueÕs best sides since Christmas and they would love to finish on a win two nights after facing the Capitals.
Anneli Maley, Roberts and Planeta have all shown they can be match-winners but a Lightning upset will only come if they can lock down Leilani Mitchell, Asia Taylor and the hot-shooting Sydney Uni perimeter players.
Tickets: https://www.eventbrite.com.au/o/brydens-sydney-uni-flames-11071603487
Live Stats: http://www.fibalivestats.com/u/wnbl/311902/
Deakin Melbourne Boomers v Bendigo Bank Spirit, State Basketball Centre, Saturday, 7.30pm (local time)
The Boomers will celebrate Past Players Day on Saturday while aiming for one last win in a difficult season.
The Spirit will still want to finish as strongly as possible as well after their disappointment of losing last weekend and look for the inside power of Nayo Raincock-Ekunwe, Gabe Richards and Kelsey Griffin to make a statement against the undersized Boomers front court.
Melbourne did push the Lynx to overtime in Perth last Sunday and they are finishing strongly with late season import forward Kalisha Keane gaining confidence.
Tickets: https://www.trybooking.com/book/event?eid=211556
Live stats: http://www.fibalivestats.com/u/wnbl/311904/
Bendigo Bank Spirit v Perth Lynx, Bendigo Stadium, Sunday, 3.00pm (local time)
This game could be a pride clash or the LynxÕs last shot at claiming second spot as a loss to Dandenong on Saturday night would mean a win is necessary to host the Semi-Final.
The Spirit would love nothing more than to push the Lynx down to fourth place and end their own campaign with a victory so expect a tough battle in the paint while Spirit guards Blake Dietrick and Ash Karaitiana will have to slow down the shooting of Sami Whitcomb and the speed of former Bendigo guard Tessa Lavey.
Tickets: https://www.trybooking.com/Booking/BookingEventSummary.aspx?eid=211355
Live stats: http://www.fibalivestats.com/u/wnbl/311905/
Listen live: http://tunein.com/radio/Fresh-FM-1015-s154495/