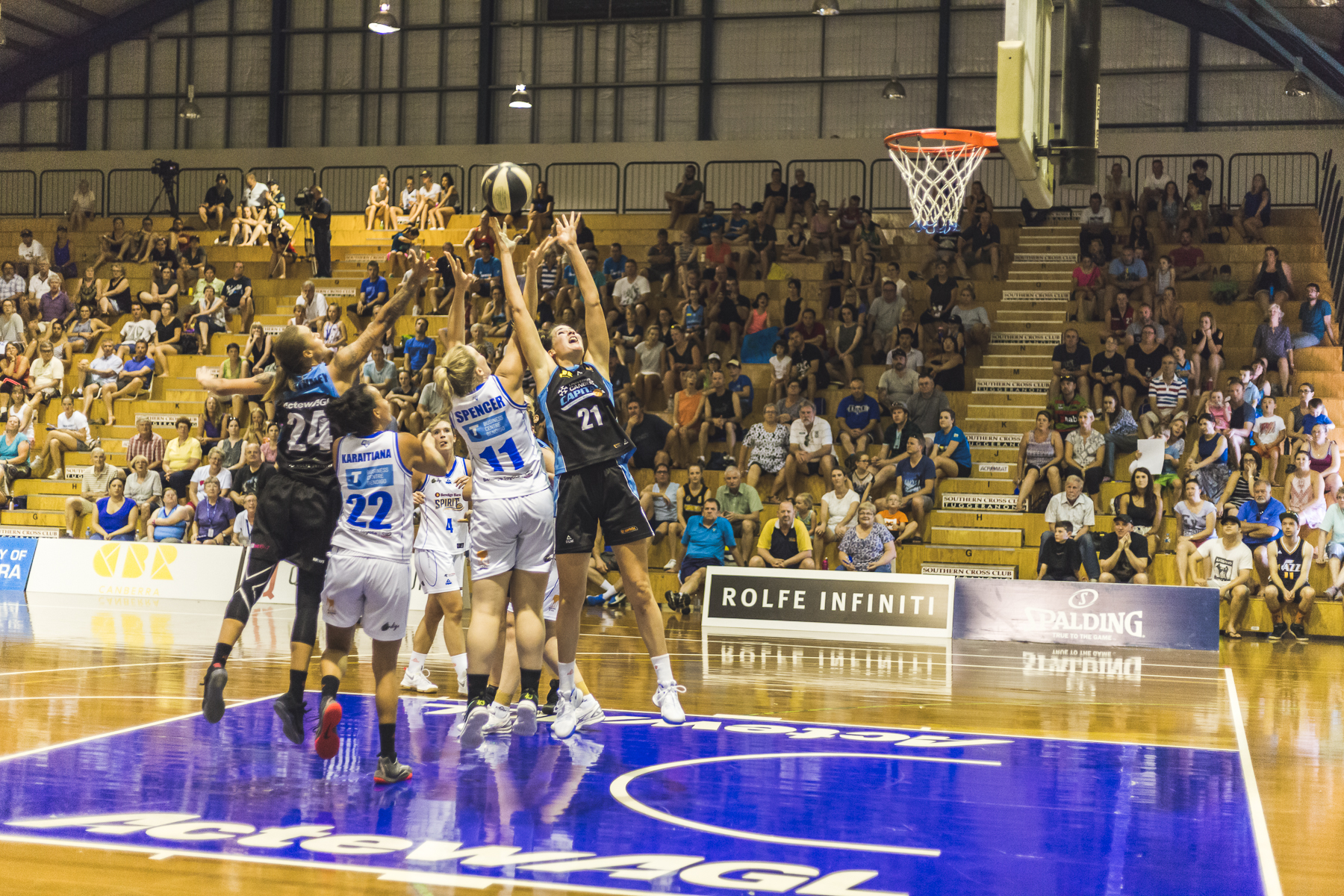 February 19, 2017 | WNBL news
The playoff positions have finally been set and all is in readiness for Game 1 of this weekendÕs Semi-Finals with the Brydens Sydney University Flames set to face Townsville Fire while the Jayco Dandenong Rangers will host the Perth Lynx.
University of Canberra Capitals 74 defeated by MAC Adelaide Lightning 76
The Lightning proved destroyers of the CapsÕ dreams as they upset the home side on Thursday night officially end their playoff chances. Adelaide took an 11-point lead into quarter time but the Capitals scratched and clawed their way back into the game over the next three quarters, tying the game up with only 1:20 left courtesy of a Lauren Mansfield three who finished with 14 points and five assists. Colleen Planeta (29 points) hit a three of her own though in response and the visitors were able to hold on for a two-point win. Alex Ciabattoni's 20 points and Laura Hodges' 18 rounded out a strong performance from the Lightning's starters while the Caps were kept afloat by Jazmon Gwathmey (16 points) and Marianna Tolo (15 points, nine rebounds, five steals, four blocks).
Boxscore:Êhttp://www.fibalivestats.com/u/wnbl/311900/
Paul Goriss, Capitals coach:Ê"Adelaide did a fantastic job, full credit to them, they've pushed every team this season and it's a great way for them to finish their season, not so great for us. I don't think we played to our potential or how we played the whole season and it's just disappointing that was the game that cruelled our playoff chances."
Chris Lucas, Lightning coach:Ê"IÕm very proud of the group, have been every game. We work as hard as every team and IÕm rapt for the girls. It was LauraÕs first win and Alex Ciabattoni had another great game, she wasnÕt involved in our first two wins either.Ó
Jayco Dandenong Rangers 81 defeated Perth Lynx 59
The Rangers will head into the finals full of confidence after dismantling Perth by 22 points on Saturday night, snapping their four-game losing streak in a match they led start to finish. The victory ultimately gave them second place on the ladder as well after PerthÕs second loss of the weekend to Bendigo on Sunday. Sara Blicavs led the way for the victors, tallying 20 points and six rebounds while Steph Cumming finished with 19 points and Nat Novosel excelled off the bench with 18 points, seven rebounds and four steals. For the Lynx, Sami Whitcomb did all she could with 17 points, but it was too little to stop a rampant Rangers outfit that held Perth to 28% shooting from the field overall.
Boxscore:Êhttp://www.fibalivestats.com/u/wnbl/311901/
Natalie Novosel, Rangers:Ê"I think this sort of performance is what we have been trying to achieve. I wouldn't say we are peaking but to have a win like that right before finals is a good sign."
Brydens Sydney University Flames 98 defeated MAC Adelaide Lightning 83
The Flames enjoyed a strong tune-up before the finals begin with a comfortable win over the Lightning on Saturday night to continue their momentum and carry a lot of confidence into the first Semi-Final this weekend. The Lightning were admirable in their final game of the 2016/17 campaign, but they could not match the balanced effort of Sydney Uni who had six players hit double-figures: Leilani Mitchell (17), Alex Wilson (15), Asia Taylor (15), Jennifer Hamson (13), Tahlia Tupaea (12) and Sarah Graham (12) while they shot 65% from the field as a team. Colleen Planeta doubled-up for Adelaide with 21 points and 12 rebounds in a strong finish to her campaign.
Boxscore:Êhttp://www.fibalivestats.com/u/wnbl/311902/
Cheryl Chambers, Flames coach:ÊÒThe more we can share the scoring around, the harder we are to scout. We took our foot off the pedal in the third quarter but we addressed that and were a lot better for the rest of the quarter.Ó
Chris Lucas, Lightning coach:ÊÒWe actually shot the ball pretty well ourselves but they shot the ball particularly well. I thought we worked hard to get back in the second half, got it back to eight points, but then Cheryl brought three of their main players in and away they went again.Ó
Deakin Melbourne Boomers 79 defeated by Bendigo Bank Spirit 80
Bendigo bounced back from last week's disappointment and ended MelbourneÕs 2016/17 campaign with a seventh loss by six points or less, capping off a frustrating season. The Spirit led by 11 points inside the final two points but a barrage from Maddie Garrick (21 points) and Monique Conti (seven points) saw them finish the game on a 10-0 run while they also scored 31-12 in points off turnovers. Bendigo hung on for the win though thanks to their work on the glass, finishing with a 44-23 rebound edge while five players reached double-figures in scoring, led by Kelsey Griffin (11 points, nine boards, six assists), Blake Dietrick (17 points) and Nayo Raincock-Ekunwe (15 points, ten rebounds).
Boxscore:Êhttp://www.fibalivestats.com/u/wnbl/311904/
Guy Molloy, Boomers coach:ÊÒIt was a great finish, credit to the team for hanging in there. We knew the interior coverage of Bendigo would be difficult but they got hot from the three-point line in the second half so it was difficult all-round defensively.Ó
Simon Pritchard, Spirit coach:ÊÒWe made it a bit more exciting, threw the ball away a couple of times. But they never got closer than two possessions and they didnÕt have any fouls either. IÕm pretty happy with the fact there was two or three rear-guard actions by Melbourne and we fended them off and continued to play well.Ó
JCU Townsville Fire 83 defeated by University of Canberra Capitals 90
The Caps bounced back from their disappointment on Thursday night to farewell WNBL legend Carly Wilson in style, notching a big win over the Fire which resigned the defending champs to fourth spot on the ladder and set a Semi-Final date against Sydney Uni. Mikaela Ruef led the way for the visitors with 24 points on 8-14 shooting while Lauren Mansfield (18 points, seven boards, seven assists) and Marianna Tolo (17 points, five rebounds, five assists) were strong contributors. Suzy Batkovic had another monster night for the Fire with 26 points, 14 rebounds and three rejections as the hosts made a late charge at the Caps but the margin ultimately proved too much to reel in.
Boxscore:Êhttp://www.fibalivestats.com/u/wnbl/311903/
Claudia Brassard, Fire coach:ÊÒI think we play better when our backs are against the wall. WeÕve had this ride all season where we become complacent, they scored 90 points on us and that is not the defence we are known for.Ó
Bendigo Bank Spirit 73 defeated Perth Lynx 72
A Nayo Raincock-Ekunwe jumper with 1.6 seconds left secured a dramatic 73-72 victory for the Spirit in the final regular season game of the 2016/17 WNBL season. In a back-and-forth affair, Raincock-EkunweÕs mid-range, bank shot jumper was the difference as an attempt from Tenaya Phillips at the buzzer missed. Due to the loss, the Lynx dropped from second to third, relinquishing home court advantage in the Semi-Finals to Dandenong. For the victors, Raincock-Ekunwe led the way with 17 points and seven rebounds, Nadeen Payne had a big second half to finish with 16 points while Kelsey Griffin contributed 13 points and nine rebounds. Sami Whitcomb wrapped up a stunning regular season with 22 points.
Boxscore:Êhttp://www.fibalivestats.com/u/wnbl/311905/
Simon Pritchard, Spirit coach:Ê"I had a time-out ready to go but we got the stop and had to keep playing so we were just playing out of our spacing and no one wanted to take a shot there for a moment. Nayo hasn't made many shots from that spotÊthis year but I can tell you she has taken so many at training, if shots were pebbles she would have enough to sink the Titanic, and at the end of the game she has hit one."
Media Links
Eamonn Tiernan looks back on the CapitalsÕ heartbreak as they fell to Adelaide on Thursday night for The Canberra Times: http://www.canberratimes.com.au/sport/act-sport/wnbl-canberra-capitals-finals-chances-end-in-heartbreak-as-adelaide-win-thriller-20170216-guehal.html
Roy Ward of The Age documents BendigoÕs incredible win on the final day of the regular season: http://www.theage.com.au/sport/basketball/wnbl-bendigo-spirit-secure-buzzerbeating-win-and-clubs-future-20170219-gug7xt.html
Ward also covered DandenongÕs big win over Perth on Saturday night: http://www.theage.com.au/sport/basketball/wnbl-dandenong-rangers-thump-perth-lynx-wait-to-find-out-finals-position-on-sunday-20170218-gufxb7.html
Megan Hustwaite looked at the momentum that Dandenong will carry into the playoffs: http://www.heraldsun.com.au/leader/south-east/sport/dandenong-rangers-enter-wnbl-playoffs-with-momentum-after-emphatic-win-over-perth-lynx/news-story/d6a022ed45c1bc1d48459fb435506192
Michael Thompson reports on the FireÕs last round loss to the Caps for the Townsville Bulletin: http://www.townsvillebulletin.com.au/sport/townsville-fire-lost-to-canberra-capitals-9083/news-story/8738092c92c92a12905aa966389deab3
Luke West of the Bendigo Advertiser covered the SpiritÕs thrilling final round: http://www.bendigoadvertiser.com.au/story/4477674/spirit-win-pair-of-one-point-wnbl-thrillers/?cs=3372
The Sydney Uni Flames are already plotting how to slow down Suzy Batkovic in the Semi-Final via Swoop: http://www.dailytelegraph.com.au/sport/swoop/sydney-uni-flames-plotting-to-keep-suzy-batkovic-quiet-in-first-wnbl-semifinal/news-story/5932e2192599a369fda1dd2fd933defe
The structure for the WNBL Semi-Finals has been set and can be found here: http://sodweb.com.au/clients/wnbllegacy/201617-semi-finals-schedule