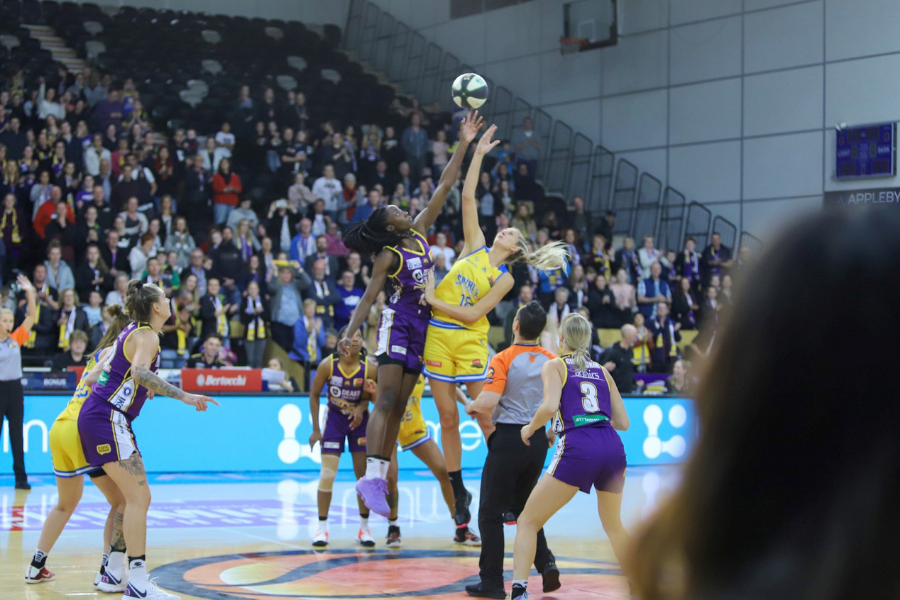 October 21, 2019 | WNBL news
Southside is off to a Flyer in #WNBL20 and the sublime early-season form of Jenna O'Hea is no coincidence.
The captain played a huge hand in Round 2 as her side edged out the Perth Lynx in overtime on Thursday night before travelling to Sydney to fan the Flames on Saturday.
"Winning games is always a good thing, to get off to a good start, and with a relatively new group and new coach to be able to win close games – I think that just brings us together a lot quicker,'' she said.
"If you drop those you can sort of start to question things. I think we're still learning a lot but to be able to grind out an overtime win so early in the season is really great for our confidence together.
"It definitely helps when you get on off the court because it's going to make things easier on the court. I think we have a lot of smart basketballers. Leilani Mitchell is one of the best, she's so calm in tight and stressful situations, she had 10 assists in both games at the weekend, she's so great to play with and brings us together."
O'Hea enjoyed a huge weekend herself with 19 points, eight rebounds, eight assists, six steals and a block against the Lynx before backing it up in Sydney (22 points, six rebounds, six assists, two steals and a block).
"Although I didn't play any pre-season games with the team we played nine games in 14 days with the Opals (at FIBA Asia Cup),'' she said.
"Our system seems to suit my style of play and Leilani is a terrific point guard, she gets it in my hands and all I have to do is shoot it which is quite nice."
Southside Flyers 97 d Perth Lynx 93
Is Round 2 too early to throw around game-of-the-season status?
Well, the Flyers and Lynx made a mighty strong case with their overtime classic at Dandenong Stadium on Thursday night.
There were highlights aplenty. Namely Southside's Aimie Clydesdale's sensational three to send the game to extra time and the breathtaking performance of Perth's Alison Schwagmeyer (34 points, 12 rebounds, three assists).
Southside had five players pass double digits, led by the big three – O'Hea (19 points, eight rebounds, eight assists), Mercedes Russell (18 points, 15 rebounds) and Mitchell (11 points, 10 assists, three rebounds).
Adelaide Lightning 86 d Townsville Fire 68
The Lightning showcased their enviable depth on the way to extinguishing the Fire and claiming win number two of the season.
Bri Turner (19 points, nine rebounds), Steph Talbot (18 points, eight rebounds), Lauren Nicholson (15 points, four rebounds), Nat Hurst (13 points, four rebounds, three assists) and skipper Nicole Seekamp (11 points, seven assists, four rebounds) filled up the stat sheet.
Back on court after a concussion, Abby Bishop hauled in 24 points and eight boards on debut for the Fire. Darcee Garbin (13 points, 10 rebounds) was the only other Fire player to score in double figures.
Southside Flyers 85 d Sydney Uni Flames 72
Southside flew to the harbour city for the second leg of their Round 2 weekend and departed with a gritty victory over the Flames.
O'Hea (22 points, six rebounds and six assists) led from the front with another captain's performance, Mitchell (14 points, 10 assists and six rebounds) was outstanding while import Russell (15 points, 11 rebounds) has settled into her new team and league perfectly.
Recruit Alice Kunek led Sydney with 17 points, eight boards and four assists, Jessica Kuster (16 points, 10 rebounds) claimed a double-double and guard Tahlia Tupea teamed 15 points with four assists and three rebounds.
Katrina Hibbert will be frustrated her side has no reward for its effort over the opening three games.
Melbourne Boomers 74 d Bendigo Spirit 70
The Boomers went 2-0 with a second win over the Spirit, the home side held their nerve late as the Spirit finished strongly.
Cayla George, for a second round, beat up on a Bendigo side missing centre Becca Tobin, topping the stat sheet with 24 points, 12 points and five assists. Import guard Sophie Cunningham (18 points, five rebounds, four assists) showed promise and Lindsay Allen (12 points, seven rebounds, six assists) was Lindsay Allen.
Veteran Kelly Wilson (18 points, seven assists, three rebounds) paced Bendigo.
UC Capitals 67 d Townsville Fire 65
It wasn't always pretty for the reigning champion but it was effective, with the UC Capitals taking their record to 2-0 with a tense win over the visiting Fire.
Kelsey Griffin tallied her standard double-double (16 points, 13 rebounds) a feat which should never be taken for granted. Kia Nurse also added 16 points, while point guard Olivia Epoupa lit up for 13 points, eight rebounds and four assists.
Marianna Tolo clocked just over 17 and a half minutes on return from injury.
Townsville had four players in double figures led by Canadian Bridget Carleton (14 points, seven rebounds) who built on her promising start to the season. Bishop (13 rebounds, 12 points) rounded out a big weekend with another double-double.
The Fire are winless after three games but their early-season form has been stronger than their record indicates.
Bendigo Spirit 91 d Perth Lynx 79
The Spirit got to bed after 1am following Saturday night's game in Melbourne but they looked far from tired in the second half, coming from behind to defeat the Lynx and bank their first win of the season.
Recruit Carley Ernst was disappointed with her output in two meetings with the Boomers but would've been satisfied on Sunday night having led her side to victory with a game-high 29 points, 16 rebounds, four assists and three steals.
Import Marte Grays (15 points, five rebounds, two assists) came alive after half time while Abi Wehrung went 5/9 for her 14 points off the bench.
For Perth, McGee-Stafford (15 points, nine rebounds) fell just short of a double-double, Nadeen Payne and Marena Whittle scored 15 points against their former side and Schwagmeyer finished with 10 points, nine rebounds and five assists but her influence was curbed.