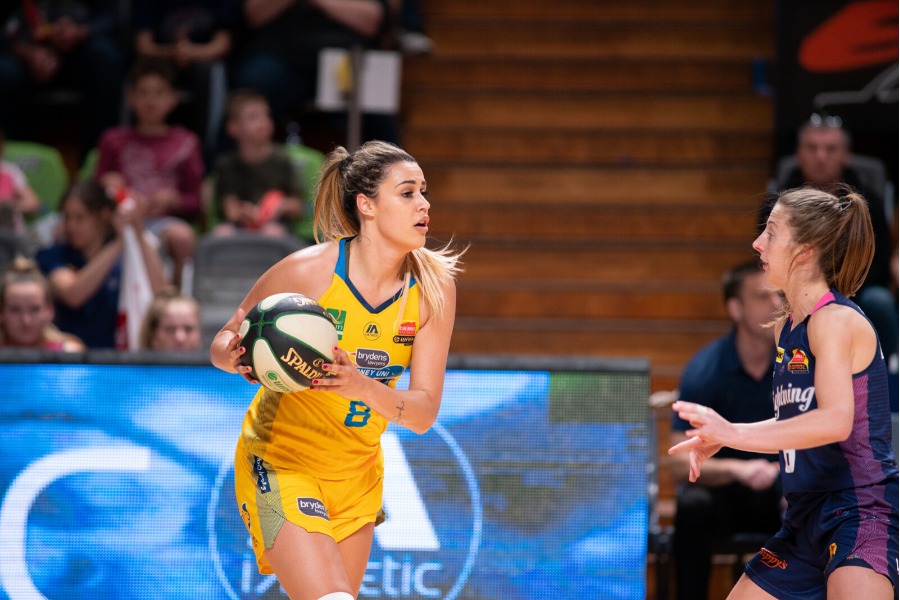 October 24, 2019 | WNBL news
Sydney Uni Flames are a chasing a major scalp in the form of the reigning Chemist Warehouse WNBL champions this round.
The Flames are 0-3 but playing better basketball than their season record indicates and coach Katrina Hibbert says her side is confident their best effort can defeat the UC Capitals on Sunday afternoon.
Sydney were unsuccessful on their Adelaide-Perth road trip in Round 1 and were defeated on their home court by early-season pacesetter Southside Flyers, 85-72, last weekend.
"We had a lot of missed opportunities last week and good looks at the basket," Hibbert said.
"I don't think the result was reflective of the quality of the game itself but they are a high-quality team and if you don't take those opportunities it will cost you.
"We're just trying to stay on course through the process, get better each week, that win's coming and hopefully it's on Sunday."
Recruits Colleen Planeta (who sunk 30 points against the Lightning in the season opener) and Alice Kunek have made big, early contributions, guard Tahlia Tupea was promising last week while import Jessica Kuster had a 16 point-10 rebound double-double against the Flyers.
Hibbert says her side is gelling together well and keen for the ultimate reward for their efforts.
"We know what we're working towards in terms of our culture and we want that success as well and it'd be nice to start with the Caps. They've got quality players of course and probably a little less depth this year than they had last year,'' Hibbert says.
"We've got Lauren Scherf playing for us and playing good minutes this year, she's stepped from that back up role into a starting role so it's a good opportunity for her and it'll be good to see her go up against her old team and see how she goes."
FRIDAY:
Melbourne Boomers v UC Capitals. Geelong Arena, 7.30pm
The undefeated Boomers and Capitals head to regional Victoria where one side will go 3-0 while the other will suffer their first defeat of #WNBL20.
Intriguing match-ups loom across the court with Boomers bigs Cayla George (24 points, 12 rebounds, five assists last round) and Ezi Magbegor coming up against Kelsey Griffin, who's registered consecutive double-doubles to begin the season, and young gun Keely Frolling. Marianna Tolo clocked nearly 18 minutes in her return last round and will have increased court time.
Energetic playmakers Olivia Epoupa and Lindsay Allen will be critical for their respective teams in a duel well worth attending and tuning in for.
SATURDAY:
Southside Flyers v Bendigo Spirit. Traralgon Sports Stadium, 5pm
The Flyers have continued the Gippsland connection Dandenong Rangers enjoyed with Latrobe City Council by taking a home game on the road to Traralgon.
This one has special meaning for captain Jenna O'Hea who was born and bred in the regional town and after a hot start, averaging 20 points, 7.3 rebounds, 5.7 assists and 3.3 steals per game, expect the Round 2 Player of the Week to have another standout performance, this time on the basketball court she grew up on.
The Spirit are high on confidence after their sensational come-from-behind win over Perth. Bendigo were holding out for a hero last Sunday and found one in Carley Ernst (29 points, 16 rebounds, four assists) who conjured a career-best display. Southside will have plans for her and have a serious defender in Mercedes Russell.
Leilani Mitchell, who dished out 20 assists last weekend, and Kelly Wilson (18 points, seven assists, three rebounds against Melbourne in Round 2) were championship team mates in Canberra last season, here they come up against each other as opponents.
Perth Lynx v Adelaide Lightning. Bendat Basketball Centre, 6.30pm
The Lynx are back home after a mammoth Round 2 road trip which ultimately netted two losses and looking to rebound against a Lightning line-up which enjoyed success over the Fire in Townsville last weekend.
Perth's up-tempo game will be bolstered by the debut of freshly-crowned WNBA champion Ariel Atkins who slots into the rotation.
Adelaide, meanwhile, will again be without star import Crystal Langhorne (knee) but fellow American Bri Turner (19 points, nine rebounds in her side's win over the Fire) has stepped up and Steph Talbot (averaging 14.3 points and 5.7 rebounds) looks invigorated back with her home club after a year with the Boomers.
Perth will wear pink, supporting Breast Cancer Care WA in a very special WNBL fixture.
SUNDAY:
Sydney Uni Flames v UC Capitals, Brydens Stadium, 2pm
The Flames will be fresh and like their chances of an upset over a Capitals side on the second leg of their weekend.
Centre Lauren Scherf moved to Sydney for opportunity, and to start, and comes up against her former team and championship team mates of #WNBL19 for the first time.
Sydney celebrate Indigenous Round with a pre-match ceremony and will wear a special singlet designed by Bruce Shillingsworth, the father of development player and University of Sydney student Serika Shillingsworth.
Townsville Fire v Melbourne Boomers. Townsville Stadium, 4pm (Fox Sports)
The Fire find themselves 0-3 and desperate to get on the board and keep in touch with the top 4.
Abby Bishop proved just why she is such a big and invaluable addition last round with solid performances against both Adelaide and Canberra, earning her selection in Team of the Week. Bishop and the consistent Darcee Garbin will be champing at the bit to come up against the Boomers and namely George and Magbegor.
Big outputs from Bridget Carleton, Tess Madgen and captain Micaela Cocks will go along way for the home side who need to quell Allen, Maddie Garrick and Sophie Cunningham.