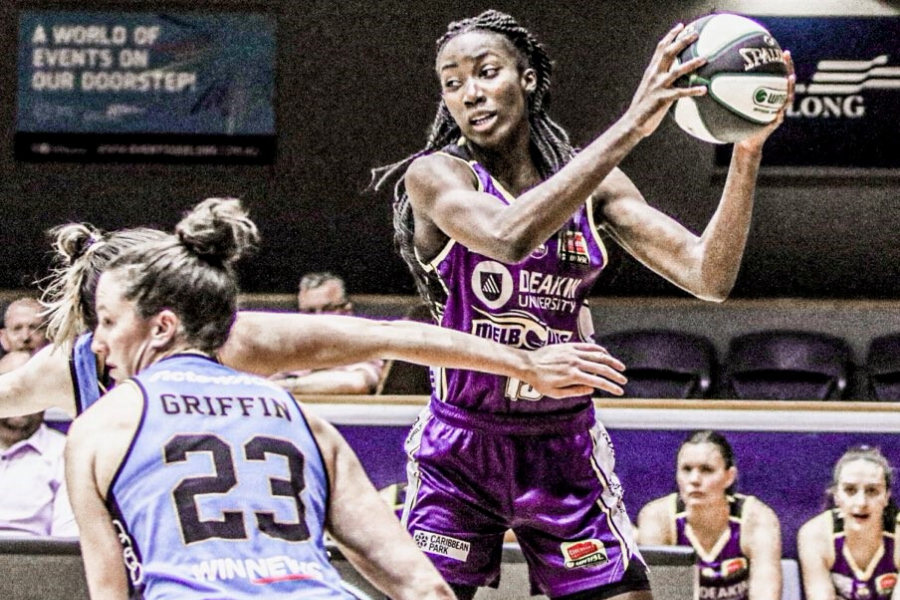 October 28, 2019 | WNBL news
Melbourne Boomers' successful Round 3 double was like chalk and cheese according to co-captain Cayla George.
The Boomers reached triple figures during their thumping victory over the UC Capitals in Geelong on Friday night then ground out another road win on Sunday, beating the Townsville Fire.
"Our game from Friday to Sunday was chalk and cheese, definitely not the style that we'd like to be playing but sometimes you've got to win ugly and that's what we did,'' George said.
"Friday night, we had a nice little glimpse of what potentially could be on our way to our best brand of basketball. There's things we could have improved on but we did shoot at a high clip.
"Then Townsville took it to us and they don't look like a team that have gone 0-4. They're bloody close to a win, I tell you. They're a talented bunch and I'm just glad we walked away with a win and they didn't get their first one against us."
The pair of wins pushed the Boomers to 0-4 to start the season and George personally is in equally hot form averaging 16 points, 10 rebounds and 3.3 assists.
The Australian Opal shot 18 points, at 80 percent, in addition to 12 rebounds, 6 assists against the Caps then backed up with 10 points and 7 rebounds against her former side.
"I'm feeling pretty good, doing whatever I need to do to help the team,'' she explained.
"Feeling pretty confident and enjoying the culture the Boomers have and the girls have bought in and on and off court it feels really good. Obviously not naïve to the fact that the season will have ebbs and flows, we're going to have quick bounce backs when we do have those down moments within games and even when we do lose."
The Boomers now wait until Monday night, for their Cup eve blockbuster with arch rival and fellow unbeaten side, Southside Flyers.
"Makes the derby game even more interesting doesn't it?'' George said.
"It's going to be a great derby, I'm excited. They've got a game Sunday so we'll be waiting for them Monday."
Melbourne Boomers 107 defeated UC Capitals 72
The Boomers couldn't have played any better and the UC Caps will hope they can't play any worse.
This Friday night tussle at Geelong Arena was won and done at half time with the Boomers ahead, 58-33, and dominating each and every facet of the game.
Lindsay Allen's 23 points (at 67 percent) was telling, George was dominant and off the bench and Monique Conti had a point for every minute she played (16 points).
For the Caps, Keely Frolling (14 points) built on her breakout campaign while reigning MVP Kelsey Griffin (12 points, 10 rebounds) notched what is becoming a weekly double-double feat.
Southside Flyers 85 defeated Bendigo Spirit 77
Sara Blicavs and her game-high 23 points, along with 2 rebounds and 1 assist, guided Southside Flyers to a hard-fought win over Bendigo in Traralgon.
The Flyers, who moved to 4-0, led the Spirit from start to finish but fought off their Victorian rival who made a charge in the second half.
Mercedes Russell (18 points, 11 rebounds) again registered a double-double, Bec Cole added 16 points, 6 rebounds and 3 assists) while Leilani Mitchell (13 points, 7 assists, 5 rebounds) was influential.
For the Spirit, Marté Grays (22 points, 9 rebounds) topped the stat sheet which also featured a solid outing from Tessa Lavey (17 points, 7 assists, 4 rebounds). Championship hero Gabe Richards scored 14 points on return to the WNBL.
Adelaide Lightning 90 defeated Perth Lynx 86
Saturday night WNBL in Perth had in all – an MVP performance from Adelaide import Brianna Turner (26 points, 17 rebounds, 2 assists) a mammoth effort from Lynx captain Katie-Rae Ebzery (22 points, 15 assists, 7 rebounds) and ultimately an overtime thriller.
Turner continues to take on extra responsibility in the absence of fellow import Crystal Langhorne (knee), while Lightning skipper Nicole Seekamp, as always, led from the front scoring 15 points and dishing out 12 assists.
The result leaves the Lightning in third spot with a 3-1 record, while the loss marked the Lynx's second in overtime, in as many rounds, and third consecutive defeat.
Perth turned pink to raise money and awareness for Breast Cancer Care WA.
Sydney Uni Flames 81 defeated UC Capitals 75
It took 3 weeks but the Flames are finally on the board in #WNBL20.
Sydney set the tone and let their intentions be known in the opening quarter. Alice Kunek has been a consistent presence for her new club and not surprisingly played a big hand in this upset with 24 points, 5 rebounds and 3 assists. Tahlia Tupea (23 points, 5 rebounds, 4 assists) was a spark and Ally Wilson added 18 points as she proudly wore the Flames special guernsey to celebrate Indigenous Round.
The Caps received contributions from Kia Nurse (21 points), Keely Frolling (19 points, 8 rebounds) and Kelsey Griffin (17 points, 6 rebounds, 4 assists) but ultimately will be disappointed with their performance and weekend.
Melbourne Boomers 80 defeated Townsville Fire 71
Melbourne brought the Fire to Townsville and nobody was hotter than play maker Lindsay Allen who lit up for 25 points, 5 assists and 3 rebounds.
The Boomers, who were 56 per cent from the field, had an answer for the home side, every time.
Boomer Ezi Magbegor scored 13 points and grabbed 5 rebounds in the win, co-captain Maddie Garrick had 11 points and 3 assists.
Abby Bishop (20 points, 6 rebounds, 3 assists) drove Townsville who were paced in the first half by Tess Madgen (18 points, 6 rebounds, 5 assists).
The Fire are playing far better than their 0-4 record indicates but are now the only winless team in the league.