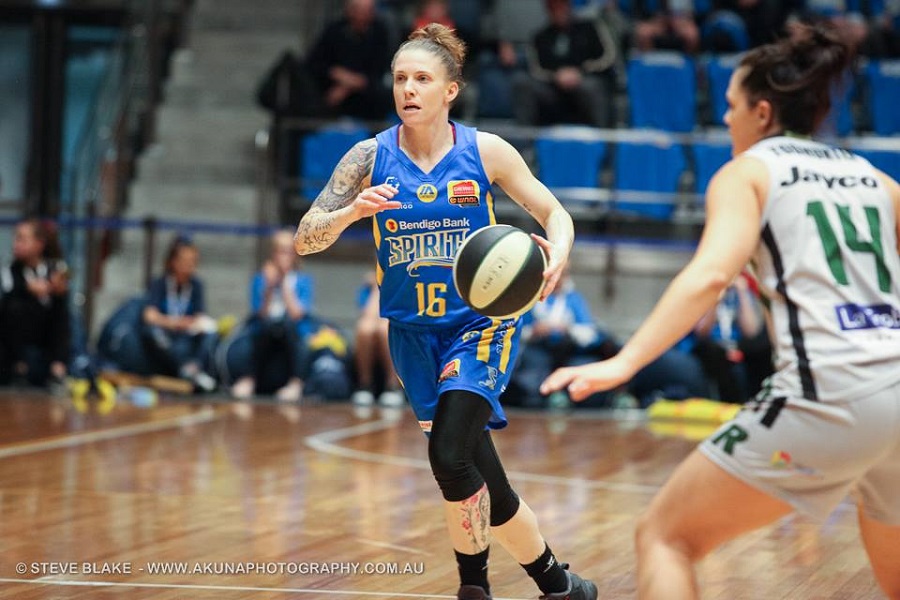 November 6, 2018 | WNBL news
Bendigo Bank Spirit's captain, Nat Hurst, was at her inspirational best in Round 4 as she led her team to a sweep of the weekend to claim Player of the Week honours.
Two wins over Adelaide Lightning and Deakin Melbourne Boomers propelled Bendigo into third place on the ladder and Hurst averaged 19.5 points, 7.5 rebounds, 1.5 assists and 1.5 steals for the round.
Against the Lightning, she defied her stature as the second shortest player on the Spirit roster to record a double-double of 14 points and ten rebounds in addition to two assists and a steal.
The Spirit set up the victory with a 17-8 run to open the game and Hurst was instrumental in the start, recording four points, two rebounds, an assist and a steal in just nine minutes.
For the game, she struggled to find her shot from inside the arc but proved damaging from the three-point line where she drained 4-8, out-scoring Adelaide by herself from long range.
Her defensive work, along with the entire Spirit team, was exceptional as well with Bendigo claiming a 70-52 win while Hurst helped keep Nicole Seekamp and Lauren Nicholson to 14 combined points on 6-17 shooting.
Two days later, the Spirit headed down to face Melbourne in a battle for third place on Melbourne Cup Eve.
Hurst was highly efficient, scoring a season-high for herself with 25 points on 9-12 shooting include 6-6 from two-point range and 4-4 from the free-throw line.
She added another three makes from beyond the arc and now leads the league in that category after four rounds while also recording five boards, an assist and two steals on Monday night.
In a close battle, the lead changed hands 15 times throughout the game and with just over eight minutes to go, Bendigo found themselves trailing by five points.
Hurst was not going to be denied though, scoring eight of the Spirit's last ten points, including two three-pointers, before Abbey Wehrung hit the go-ahead basket that would win Bendigo the game, 60-58.
Having played her entire career before this season with the University of Canberra Capitals, Hurst has fitted in seamlessly with the Spirit and despite surpassing the 250-game milestone and being 35 years of age, she continues to perform as one of the league's top guards.
Nat Hurst Round 4 Stats: 19.5 points on 13-23 (57%) shooting including 7-14 three-point shooting, 7.5 rebounds, 1.5 assists and 1.5 steals per game.