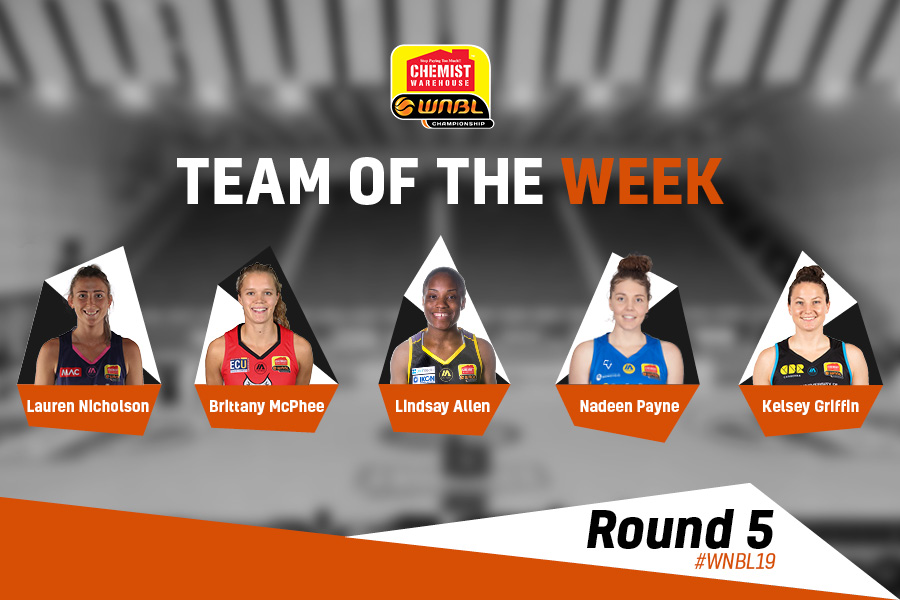 November 13, 2018 | WNBL news
Kelsey Griffin (University of Canberra Capitals)
The UC Capitals captain put on one of the performances of the season, as Canberra's inspirational leader nearly got her team over the line against the ladder-leading Perth Lynx. Griffin's outstanding performance was broadcast to a national audience as she scored 30 points and pulled down a whopping 18 rebounds.
Griffin was wreaking havoc on the glass, recording a massive 10 offensive rebounds as well. The heartbeat of the team, Griffin worked overtime on the glass and went on to shoot 11-25 from the field including a clutch three with under two minutes remaining as the Caps fell by just five points.
Kelsey Griffin Round 5 Stats: 30 points on 11-25 (44%) shooting, 18 rebounds including ten offensive, one assist, one steal and one block.
Lindsay Allen (Deakin Melbourne Boomers)
Allen did not play in last season's Grand Final but she was the difference in this season's re-match as the Boomers defeated the JCU Townsville Fire 78-70.
The WNBA guard scored 13 fourth quarter points, including a stretch where she scored 12 points in just 3:32 minutes to flip the game on its head as she finished with 9 points, six assists and three steals.
Earlier in the round on Thursday against the Flames, Allen was instrumental in the win with 16 points on 7-12 shooting to go along with five assists.
Lindsay Allen Round 5 Stats: 22.5 points on 65% shooting including 6-10 from the three-point line, 5.5 assists and three rebounds per game.
Brittany McPhee (Perth Lynx)
With five minutes to go in the third quarter of Perth's clash with the UC Capitals, McPhee had managed only two points and the Lynx had scored just 15 since quarter-time.
Out of a timeout though, the American import exploded, scoring nine points in a handful of minutes to reignite Perth's offence. Entering the fourth quarter with all the momentum, McPhee continued to pace the Lynx with another eight points as she led her side to a sixth straight win.
Brittany McPhee Round 5 Stats: 19 points on 9-18 (50%) shooting, six rebounds and one block.
Lauren Nicholson (Adelaide Lightning)
The Adelaide Lightning got out to a quick start against the Jayco Rangers on Saturday evening as Lauren Nicholson led the way with her sharp-shooting from distance and lockdown defence on Betnijah Laney.
Nicholson opened the game with a bang, hitting four threes' in the first stanza to bring the Lightning out to a 27-16 quarter-time lead and she went on to hit a perfect 6-6 from beyond the arc.
At the other end of the floor, Nicholson was outstanding on Laney as she held the Dandenong import to 4-16 shooting as Adelaide went on to claim a mammoth 99-74 victory.
Lauren Nicholson Round 5 Stats: 20 points on 6-7 shooting including 6-6 from the three-point line, four rebounds, six assists.
Nadeen Payne (Bendigo Bank Spirit)
Bendigo met Sydney Uni on Sunday and while it was a low-scoring affair and the lead had changed hands several times down the stretch, Sarah Graham tied things up with 26 seconds to go.
But in stepped Nadeen Payne. Needing to find an answer and with the shot clock running down, Becca Tobin drew a double-team while allowed Payne to cut to the basket. Tobin found her and Payne hit the lay-up- a shot that would ultimately win Bendigo the game in a 66-64 thriller. The win moved the Spirit into second spot on the ladder as Payne finished with 14 points.
Nadeen Payne Round 5 Stats: 14 points on 5-17 shooting, six rebounds and three assists.
Honourable Mentions: Nicole Seekamp (Lightning), Becca Tobin (Spirit), Rebecca Cole (Rangers).