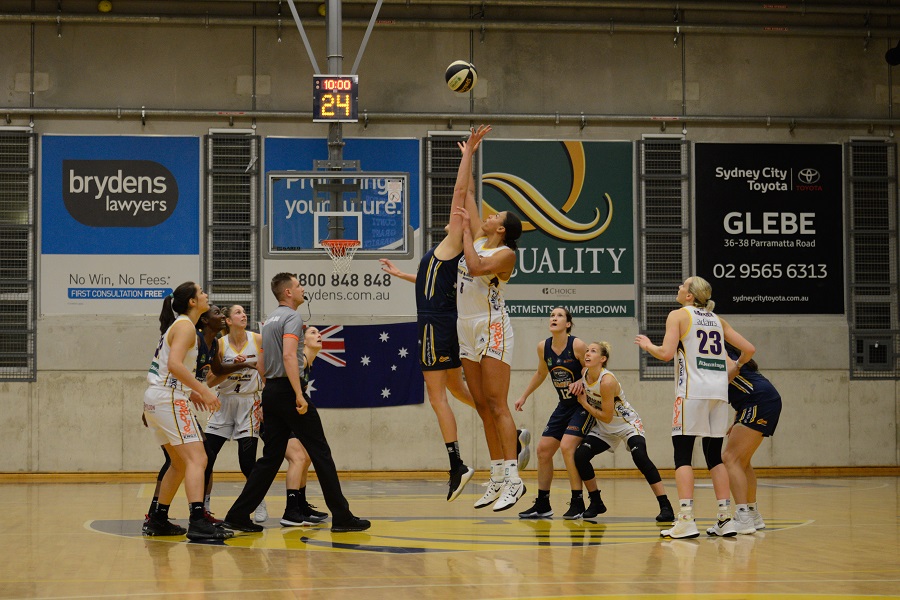 November 9, 2017 | WNBL news
ROUND 6 PREVIEW
Game of the Week
Brydens Sydney Uni Flames v Deakin Melbourne Boomers at Brydens Stadium, Saturday, 3.00pm (local time)
Sydney Uni put their top spot on the line this weekend in a double-header and if the results fall their way, the Boomers could replace them with a victory on Saturday afternoon.
Both teams will be playing two games in Round 6 but the Flames will have to recover from a clash on Thursday night while the Boomers will be hitting the court for the first time before backing up at home on Sunday.
Melbourne are still figuring things out in the absence of Jenna O'Hea but broke their losing steak on Melbourne Cup Eve thanks to a stirring performance from Elizabeth Cambage.
She was out-matched by Asia Taylor in their last meeting though, with Taylor collecting 27 points and 15 rebounds as the Flames held the Boomers to just 56 points with Jennifer Hamson's interior defence also proving crucial so Louella Tomlinson's move into the starting line-up for the visitors will play an important role on Saturday.
Melbourne's guards must also fire to keep pace with the Flames' dead-eye's in Alex Wilson, Belinda Snell and Sarah Graham as players like Maddie Garrick (11-41) and Bec Cole (2-19) are both shooting well under 30% from three-point range this season.
Sydney Uni's lack of bench production has been a concern at times in 2017/18 but Melbourne are also depleted without Courtney Duever and that should balance out the sides while a healthy Katie Ebzery could prove the difference for the defending Champs.
Tickets: https://www.eventbrite.com.au/e/brydens-sydney-uni-flames-vs-jayco-dandenong-rangers-tickets-36709636511?aff=social
Live stats: http://www.fibalivestats.com/u/wnbl/681936/
Watch: FOX Sports Australia channel 503.
Bendigo Bank Spirit v Brydens Sydney Uni Flames at Bendigo Stadium, Thursday, 7.00pm (local time)
Before they host the FOX Sports broadcast game on Saturday afternoon, the Flames head to Bendigo for the first meeting between these clubs this season.
The Spirit held off a fast-finishing Melbourne team last round to snap a three-game losing streak but in the process, lost Kelsey Griffin for the rest of the season as she requires hip surgery.
With Betnijah Laney still not 100% in her recovery from a knee injury, their front court will struggle to keep Taylor quiet with Nadeen Payne and Gabe Richards required to help do the job on her defensively.
It also opens up the potential for a player like Ebony Rolph to prove her WNBL credentials while import Rachel Banham is leading Bendigo on court and has the ability to compensate for Griffin's loss on the scoreboard.
That said, the Spirit give up 83 points per game (second worst in the league) and could be exposed by the Flames' array of offensive weapons with five players averaging double-figures in scoring.
Tickets: https://www.trybooking.com/book/event?eid=303111
Live stats: http://www.fibalivestats.com/u/wnbl/681934/
Jayco Dandenong Rangers v MAC Adelaide Lightning at Dandenong Stadium, Friday, 7.30pm (local time)
Meeting for the second time in two rounds, the Lightning will be keen to get the Rangers back after Dandenong won a thriller by two points in overtime on November 2.
The Rangers trailed by as much as 17 points in that game but received major boosts from Tayla Roberts (16 points, six rebounds) and Laia Palau (nine points, four boards, seven assists) off the bench while Steph and Sara Blicavs continue to put in consistent performances.
Kayla Pedersen impressed in her job on Abby Bishop while Ruth Hamblin also struggled to impact the paint but Aimie Clydesdale was a bright spot for the Lightning and will return to her old stomping ground for the first time this weekend.
While Adelaide sit second coming into this round, their one-game lead over fifth placed Dandenong puts them in a precarious position as they aim to end a two-match losing streak.
Tickets: http://www.dandenongbasketball.com.au/
Live stats: http://www.fibalivestats.com/u/wnbl/681935/
JCU Townsville Fire v Bendigo Bank Spirit at Townsville Stadium, Saturday, 7.00pm (local time)
While Bendigo's depleted front court will be severely tested on Thursday night, things do not get any easier on Saturday when they head north to take on Townsville and the forward duo of Suzy Batkovic and Cayla George.
Between them, Batkovic and George have tallied seven double-double this season to help them win three of their past four games but the improved play of Kelly Wilson in 2016/17 has also been a major contributor.
She sits sixth in the competition for assists with 4.3 per game and is shooting a career-best 49% from the field while providing the likes of Sydney Wiese and Mia Murray open looks.
However, Bendigo can take confidence from Townsville's history as the second worst offensive team in the league this season, averaging only 71.3 points.
If someone like Ashleigh Spencer can produce on the scoreboard alongside the usual suspects, the visitors may have enough firepower to match the hosts.
Tickets: https://whatson.townsville.qld.gov.au/events/community-events/jcu-townsville-fire-v-bendigo-spirit
Live stats: http://www.fibalivestats.com/u/wnbl/681938/
Perth Lynx v University of Canberra Capitals at Bendat Basketball Stadium, Saturday, 6.30pm (local time)
Perth have had a rare chance for a breather coming into this clash, having not played since November 2, although the Caps will have also enjoyed a week's break as they desperately aim to get back on the winners list.
Suffering seven straight losses, the Capitals have been let down by their second halves in recent weeks. In Round 4 against Townsville, they gave up a five-point half-time lead to lose by 15 while last round in a double-header against the Flames, they lost the final term 14-23 in the first meeting before finishing -11 in the second half of the second game to fall by eight.
The speedy duo of Sami Whitcomb and Courtney Williams will be a threat to run the visitors off their feet again this weekend and the Caps will be missing Rachel Jarry who has suffered another concussion concern while Nat Hurst is also fighting to be fit after an ear infection.
Canberra must also put time in to Alice Kunek who has scored 20+ in each of her past three home games with Keely Froling potentially the player to shut her down but Jordan Hooper will need a big game as well to answer Kunek and Kayla Standish, having averaged just 8.9 points since scoring 18 and 19 in her opening two games this year.
Tickets: http://www.ticketmaster.com.au/Perth-Lynx-tickets/artist/2165336
Live stats: http://www.fibalivestats.com/u/wnbl/681937/
Deakin Melbourne Boomers v MAC Adelaide Lightning at State Basketball Centre, Sunday, 2.30pm (local time)
Round 6 culminates in Melbourne as the Boomers face the Lightning for the first time this season but the second game of the weekend for both clubs.
The hosts are 2-2 this second on the second leg of a back-to-back while Adelaide have fared no better, sitting at 1-2 including a devastating 42-84 loss to Townsville last round.
They simply looked tired in that game but will have had no time to recuperate with this being their third consecutive match on the road in the past week so will have to dig deep against a Boomers team that will aim to land the knock-out blow as quickly as possible.
The clash under the rim between 2011 and 2015 MVP's, Cambage and Bishop, will be a fascinating mini-battle and could be the deciding factor in Sunday's result.
But the Boomers will need to find more avenues to the basket apart from their dominant centre as the Lightning average 7.3 points more contest than the home side as well as almost three more makes from beyond the arc.
Tickets: https://www.trybooking.com/book/event?eid=272971
Live stats:  http://www.fibalivestats.com/u/wnbl/681939/