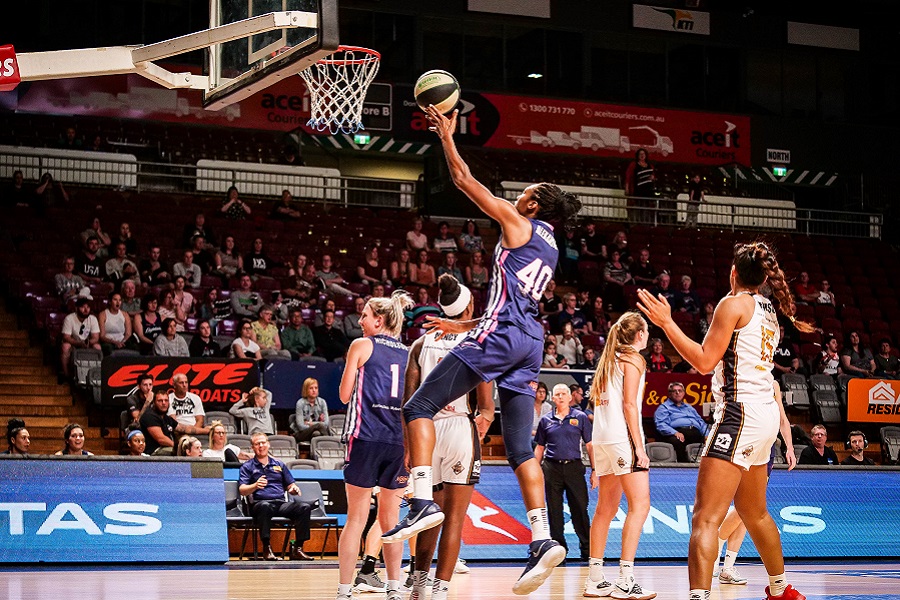 November 19, 2018 | WNBL news
Claiming another round sweep, including a second defeat of Townsville in as many weeks, Melbourne are now on a four-game winning streak while the UC Capitals got back on the winner's list quickly to keep the pressure on top side Perth.
Bendigo Bank Spirit 65 def. by Jayco Rangers 81
A much-improved defensive performance from the Rangers snap a four-game losing streak and hand Bendigo their first defeat at home for the season. Restricting the Spirit to 31% shooting, Dandenong gained a 27-9 advantage in points off turnovers while also converting 20 fast break points as Betnijah Laney (18 points), Bec Cole (16 points, five assists, two steals), Tessa Lavey (16 points) and Kayla Pedersen (12 points, 12 rebounds) controlled proceedings. Cassidy McLean (11 points) and Louella Tomlinson (10 points, six boards) were shining lights off the bench for Bendigo.
Boxscore: http://www.fibalivestats.com/u/wnbl/913502/
Simon Pritchard, Spirit head coach: "We weren't assertive enough, 44 points is far too many in the first half and because our offence is not operating efficiently at the moment…we didn't score nearly enough points."
Adelaide Lightning 77 def. by JCU Townsville Fire 79
Coming into this game with a question mark due to injury, Suzy Batkovic put in a phenomenal performance to lead Townsville to victory as they overcame a ten-point half-time deficit. She recorded nine points, five rebounds and four assists in the final quarter to finish with 26 points, 14 boards, seven assists and three blocks. Batkovic also set up Tess Madgen (13 points on 3-3 three-point shooting) for what proved to be the game-winning three-pointer inside the final ten seconds while Zitina Aokuso and Laurin Mincy combined for 25 points off the bench. Adelaide were led by Kayla Alexander who collected 16 points, 14 rebounds and three steals off the bench as well.
Boxscore: http://www.fibalivestats.com/u/wnbl/913503/
Chris Lucas, Lightning head coach: "We definitely got fatigued but that is not an excuse. I thought our ball movement was fine, sometimes it wasn't getting moved through fatigue. That ball movement is the strength of our group."
Claudia Brassard, Fire head coach: "We didn't know all week whether Suzy would be able to take the floor or not but she's tough and she wanted to play. She was obviously great but we also got some great contributions across the group which is what we're looking for."
Perth Lynx 69 def. by Deakin Melbourne Boomers 89
Lindsay Allen (26 points, five assists) set the tone and the rest of the Boomers followed as they snapped Perth's six-game winning streak while stringing together three victories of their own. Eight Melbourne players hit the scoreboard and seven drilled three-pointers as the Boomers out-scored the Lynx by 33 from beyond the arc. Cayla George (16 points, nine rebounds) and Maddie Garrick (13 points, two steals) also impressed while Chelsea D'Angelo recorded her first points in the league. Asia Taylor top-scored with 20 points for Perth in a frustrating night for the ladder-leaders.
Boxscore: http://www.fibalivestats.com/u/wnbl/913501/
Andy Stewart, Lynx head coach: "The way we played defence wasn't us, and that was something that the coaches put in place, and it took the girls out of what they normally do. We've been a team that creates enormous levels of discomfort for the opposition, and we gave them no discomfort."
Guy Molloy, Boomers head coach: "I'm really pleased for Ash as our rotation of wing player was restricted and she is more naturally a four-man so she had to step up. I was pleased for her and I was pleased for Chelsea D'Angelo, who scored her first WNBL points tonight. Two of our emerging players did very well."
Deakin Melbourne Boomers 79 def. JCU Townsville Fire 75
In control for most of the game, Melbourne pushed out to a 19-point lead in the third quarter before a 24-16 final term saw Townsville almost pull off a miracle comeback. With the game tied inside the last 30 seconds, Lindsay Allen (21 points, six assists) found Kalani Purcell (nine points, 15 rebounds, four assists, two steals) for a lay-up before Maddie Garrick (15 points) sealed the win from the charity stripe. Micaela Cocks led the fightback for Townsville with 19 points and Ally Malott was important with 14 points off the bench but Cayla George (17 points, ten rebounds) helped hold them off as the Boomers claimed their fourth straight victory.
Boxscore: http://www.fibalivestats.com/u/wnbl/913506/
Guy Molloy, Boomers head coach: "I'm full of praise for the team because we've had six games in 16 days and flew to and from Perth before this game. We were in control with five minutes to go but you could tell fatigue was an issue. Townsville are too good of a team to give half a chance to, we were kind of lucky to get out of it in the end."
Claudia Brassard, Fire head coach: "We're definitely playing lots of better basketball and that shows. We've got multiple contributors on the scoreboard, but we just need to string together 40 minutes of defence."
University of Canberra Capitals 77 def. Jayco Rangers 65
Kelsey Griffin set up the win for the UC Caps, scoring 21 of her 25 points in the first half before going on to shoot 10-14 from the field and collecting eight rebounds and two assists as well. She was aided by Kia Nurse's 18 points and 14 from Lauren Scherf while Leilani Mitchell had five points, seven boards, three assists and three steals off the bench. The Rangers mounted a late charge via 29 combined points from Rachel Jarry and Betnijah Laney but it was to no avail.
Boxscore: http://www.fibalivestats.com/u/wnbl/913505/
Paul Goriss, Caps head coach: "We want to be high-scoring because we've got multiple shooters and scorers, but if we lock down defensively like we did, the game's easy for us."
Larissa Anderson, Rangers head coach: "Really, really angry at our first half. You can't come out against a team like Canberra – I mean Kelsey [Griffin] ripped us a new you-know-what in the first half."
Brydens Sydney Uni Flames 55 def. by Bendigo Bank Spirit 67
The walking wounded Flames were gallant once again but came up empty as a four-point third quarter doomed them. Missing starters Alex Bunton and Belinda Snell, Tahlia Tupaea stepped up with 13 points and six assists and Amanda Johnson scored 11 points but Becca Tobin (11 points, nine rebounds, three assists) and Nat Hurst (11 points, six rebounds) ran over the top of them. Marena Whittle (nine points) and Louella Tomlinson (seven points, nine boards, two blocks) added to Sydney Uni's pain as they helped Bendigo gain a 24-7 edge in points off the bench.
Boxscore: http://www.fibalivestats.com/u/wnbl/913504/
Karen Dalton, Flames assistant coach: "They were like a rudderless ship without their leaders out there."
Media Links
Anthony Pinda of the Bendigo Advertiser reported on the Spirit's first home loss of the season: https://www.bendigoadvertiser.com.au/story/5762481/wnbl-bendigo-spirits-home-court-success-comes-to-end/?cs=2443
Reece Homfray of the Adelaide Advertiser covered the Lightning's feeling of bitter disappointment following their thrilling loss to Townsville: https://www.adelaidenow.com.au/sport/basketball/adelaide-lightning-left-bitterly-disappointed-by-twopoint-loss-to-townsville/news story/3182892d422d0ce31539c520f0487fe5
Trent Slatter of the Townsville Bulletin looked at the game from the other side as Suzy Batkovic willed her team to victory: https://www.townsvillebulletin.com.au/sport/suzy-batkovic-inspires-townsville-fire-to-7977-comefrombehind-road-win-over-adelaide-lightning/news-story/e86034941dc96daf266d8d4a107d411f
Roy Ward of the Sydney Morning Herald analysed Steph Talbot's injury that saw her miss both Melbourne's games for the weekend: https://www.smh.com.au/sport/basketball/boomers-sweat-on-talbot-ahead-of-fire-showdown-20181117-p50gom.html
Ward was then there on Sunday for The Age to cover the Boomers' win over Townsville: https://www.theage.com.au/sport/basketball/desperate-melbourne-boomers-douse-fire-s-late-charge-20181118-p50gtp.html
Slatter also backed up to look at Townsville's loss on Sunday: https://www.townsvillebulletin.com.au/sport/townsville-fire-fall-short-of-fourth-quarter-comeback-in-7975-wnbl-road-loss-to-melbourne-boomers/news-story/24e372c595c240a9c64ae11f0167cb16
David Polkinghorne reported for The Canberra Times as the Caps' got back to form against Dandenong: https://www.canberratimes.com.au/sport/basketball/canberra-capitals-scherf-dandenong-rangers-aside-20181118-p50gr4.html
Injuries and a poor second half have kept the Flames from getting on the winners list for another week wrote Amanda Lulham for The Daily Telegraph: https://www.dailytelegraph.com.au/sport/swoop/sydney-uni-flames-still-chasing-first-points-of-wnbl-after-ninth-straight-loss/news-story/ce6a555f0c4f70e597cb6e310d7f228d