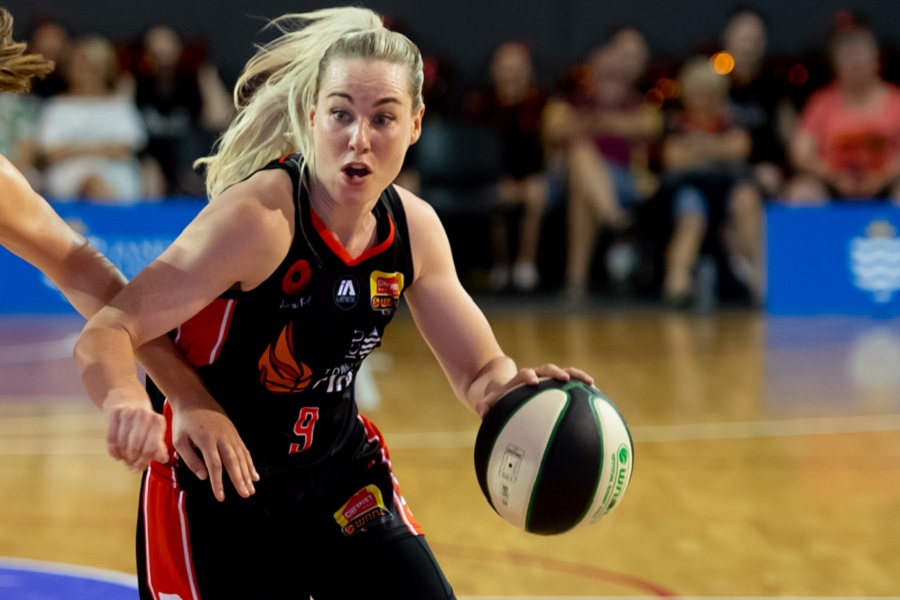 November 27, 2018 | WNBL news
In an incredible game that saw massive stat-lines from Becca Tobin and Suzy Batkovic, a record-breaking Tess Madgen performance has seen the JCU Townsville Fire guard earn Player of the Week for Round 7.
Madgen collected 14 assists to go with 15 points, three rebounds and three steals with that assist tally setting a new benchmark for 2018/19 while also equalling the career-record for most assists by a current player.
Perhaps even more impressive, Madgen tallied her 14 assists without a turnover as she played a near-flawless game in over 40 minutes of court time.
As the Spirit opened up a narrow margin at half-time, Madgen was instrumental in keeping Townsville close with four assists in the opening term and she then hit the scoreboard herself in the second period, scoring seven points.
Madgen enjoyed some rest to begin the fourth quarter but immediately made an impact when she got on the floor inside the last seven minutes.
With Bendigo up 69-64, the Chemist Warehouse Opal assisted on four of the Fire's last seven scores including finds for Zitina Aokuso and Ally Malott.
Madgen then helped Townsville get the lead momentarily with another assist to Malott before she hit Suzy Batkovic with a pass from out of bounds following a time-out that eventually sent the game into overtime.
In that extra period, she tallied her 14th assist by helping Malott to three more points before Madgen helped clinch the 89-82 victory from the free-throw line.
Tess Madgen Round 4 Stats: 15 points on 4-9 shooting and 6-6 shooting from the free-throw line, three rebounds, 14 assists and three steals without a turnover.