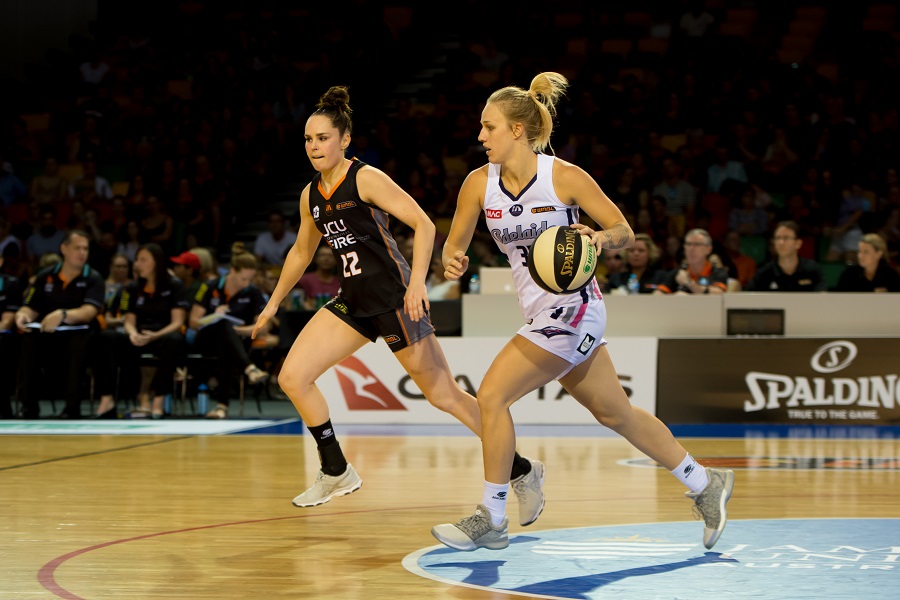 November 16, 2017 | WNBL news
Game of the Week
MAC Adelaide Lightning v JCU Townsville Fire at Titanium Security Arena, Saturday, 2.30pm (local time)
While they sit two wins inside the top four at the start of Round 7, Adelaide enter this weekend having won just one of their past four games which included a 42-point thrashing at the hands of Townsville less than two weeks ago.
Conversely to Adelaide, the Fire are in their best form of the season having won four of their past five and they are now making a charge for top spot on the ladder.
In their last meeting, the Lightning did look tired from a heavy schedule and back at home, Townsville will not be expecting a repeat of their Round 5 thrashing.
However, their bench is performing well in recent weeks with Micaela Cocks, Darcee Garbin, Mia Murray all hitting double-digits in scoring over their last two games and with that sort of offence throughout their roster, the Fire will be very difficult to stop.
In addition, Suzy Batkovic and Cayla George easily outplayed Ruth Hamblin and Abby Bishop during their last encounter and that Adelaide front court also surrendered 44 points to Liz Cambage last round.
They will be keen for a big game on Saturday afternoon and if the two can perform well, it frees up Colleen Planeta who has been consistent all season with 10.6 points and a block per game.
Natalie Novosel has also impressed for the Lightning, sitting second in the league for assists with 5.5 per game and her ability to create, alongside the speed of Aimie Clydesdale, will make for an interesting battle against Townsville's import back court of Sydney Wiese and Laurin Mincy who were not truly tested back in Round 5.
Tickets at the door.
Live stats: http://www.fibalivestats.com/u/wnbl/681941/
Bendigo Bank Spirit v Perth Lynx at Bendigo Stadium, Friday, 7.00pm (local time)
Bendigo were gallant in two games last weekend but they desperately need to figure out the defensive end of the floor without Kelsey Griffin after giving up 99.5 points over two games in Round 6, 24 points above the league average.
The most efficient offensive team in the competition, Perth will provide even more headaches for them on Friday night.
A good weekend could see the Lynx rocket back into the top four after starting the season 1-3 but they will be on the road for the first time in almost a month.
The on-court chemistry between Sami Whitcomb (12 points, two steals last weekend) and Courtney Williams has been the main catalyst, with Williams shooting 6-6 from the field in the last quarter for 26 points overall to help Perth defeat the Caps in Round 6.
They are sure to have an entertaining shootout with Bendigo point guard Rachel Banham while Alice Kunek and Kayla Standish will not be able to relax at the defensive end with Betnijah Laney sure to give everything she has to return the Spirit to the winners list.
Tickets: https://www.trybooking.com/book/event?eid=303111
Live stats: http://www.fibalivestats.com/u/wnbl/681940/
Deakin Melbourne Boomers v University of Canberra Capitals at State Basketball Centre, Saturday, 3.00pm (local time)
The Boomers looked at their ominous best with Jenna O'Hea back in the line-up in Round 6, taking care of two top-four teams in the Flames and Lightning.
They will now be setting themselves for a tilt at top spot and will go into this clash as favourites with the Capitals on an eight-game losing streak.
Coach Paul Goriss has lamented the mental lapses that his side suffers and their starting five simply has not been able to produce which will make things difficult when they look to contain O'Hea and Liz Cambage this weekend.
Maddie Garrick and Brittany Smart cannot be forgotten either after they combined for 6-15 three-point shooting in Round 6 while in their previous meeting, Bec Cole had 11 points, five rebounds, five assists and three steals to lead them to a 29-point win.
The Boomers should also have a big crowd behind them as they will be honouring the Maddie Riewoldt Foundation in this game and raising money by encouraging everyone to wear purple.
Tickets: https://www.trybooking.com/book/event?eid=272971
Live stats: http://www.fibalivestats.com/u/wnbl/681942/
Watch on FOX Sports Australia channel 503.
Perth Lynx v Brydens Sydney Uni Flames at Bendat Basketball Centre, Sunday, 1.00pm (local time)
Following a hectic schedule that saw the Flames play six games in just over two weeks, they will have enjoyed a week off before heading to Perth for this clash while the Lynx will be playing their second game of the round.
Sydney Uni should be pleased with their performances over that stretch, finishing with a 4-2 record while their losses came by a total of 11 points and they have already defeated Perth once this season, back in Round 1.
In that meeting, Jennifer Hamson and Asia Taylor controlled the paint with 20 points apiece and Belinda Snell knocked down five three-pointers although Williams gave a preview of how damaging she can be, recording 26 points and ten rebounds.
This match could provide an opportunity for a player like Alex Ciabattoni or Amanda Dowe to be the surprise packet the home side needs as the Flames' biggest weakness is their bench while Kunek averages 20 points at home compared to just 9.6 on the road.
Tickets: http://www.ticketmaster.com.au/Perth-Lynx-tickets/artist/2165336
Live stats: http://www.fibalivestats.com/u/wnbl/681943/
Jayco Dandenong Rangers v Bendigo Bank Spirit at Traralgon Sports Stadium, Sunday, 2.00pm (local time)
Two teams whose playoff chances have been severely hit by injuries face off on Sunday in an opportunity for both teams to breathe some life into their 2017/18 campaign.
Dandenong have lost Sara Blicavs after she ruptured her ACL, tore her meniscus and fractured her knee in a sickening injury last Friday night and this will be the first time they hit the court without their star.
Bendigo have had a couple of weeks to sort themselves out in the wake of Griffin's absence which could give them the edge as these teams meet for the first time this season.
It will likely be a low-scoring affair on Sunday but if Steph Blicavs and Carley Mijovic can knock down their shots, it should be enough to tip the hosts over the edge while Kayla Pedersen's form is also a concern for Bendigo as she has tallied five double-doubles in nine games.
Tickets: http://www.dandenongbasketball.com.au/
Live stats:  http://www.fibalivestats.com/u/wnbl/681944/