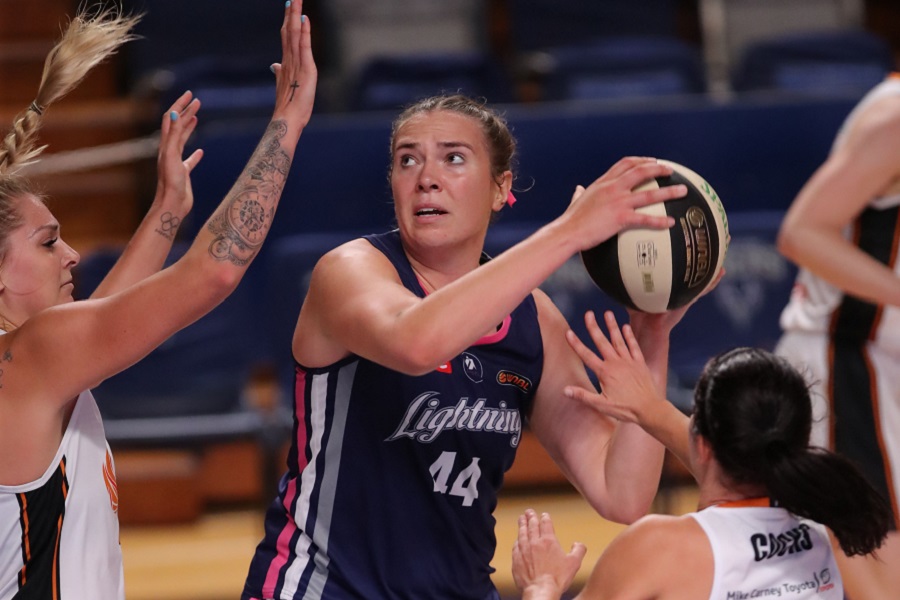 November 20, 2017 | WNBL news
The JCU Townsville Fire have moved to the top of the table after another clinical performance against the Lightning while Perth Lynx have staked their claim for the Championship on the back of a fifth consecutive win.
Bendigo Bank Spirit 59 def. by Perth Lynx 83
The Lynx used a 21-4 run in the third quarter and tallied 22 offensive rebounds for 23 second chance points to run away from the Spirit and earn their first road win of the season. Sami Whitcomb (22 points, three steals) starred as well as Alex Ciabattoni (15 points) and Amanda Dowe (five points, 12 rebounds) off the bench while Gabe Richards had 14 points and 13 boards for the hosts who were missing Kelsey Griffin and Betnijah Laney.
Boxscore: http://www.fibalivestats.com/u/wnbl/681940/bs.html
Simon Pritchard, Spirit coach: "We again gave up too many points and there just wasn't enough competition early with rebounds and 50-50 contesting. We have to play harder and again, there's too many times where we're not moving to support each other to make a play."
MAC Adelaide Lightning 78 def. by JCU Townsville Fire 101
Six Townsville players hit double-figures as they thrashed the Lightning for the second time in less than a fortnight to move back to the top of the ladder. Micaela Cocks had 17 points off the bench while Suzy Batkovic (23 points, 14 rebounds) and Cayla George (16 points, 13 rebounds) had double-doubles and Kelly Wilson added nine points and 12 assists. Abby Bishop finished with 24 points and 13 boards for Adelaide who also lost the season series against Townsville.
Boxscore: http://www.fibalivestats.com/u/wnbl/681941/
Chris Lucas, Lightning coach: "Catch up basketball is really tough to play and I thought we did a really good job in the first quarter-and-a-bit, then made some really poor decisions offensively and they got on a 8-0 run. This is a new team and we're rebuilding, I'm not going to use that as an excuse but it's a bit of a reality."
Claudia Brassard, Fire coach: "Over the past three weeks, we've done a much better job of finding our offensive rhythm against some different defensive looks. With different threats right across the floor, it is hard for teams to focus on one particular player because we have different players putting up their hands and getting the job done."
Deakin Melbourne Boomers 96 def. University of Canberra Capitals 66
Melbourne made it four on the trot while handing the Caps a ninth consecutive loss as they won every quarter behind Liz Cambage's 32 points and 11 rebounds. Maddie Garrick and Bec Cole combined for 29 points while Kalani Purcell recorded five points, 12 boards and five assists. For the Caps, Mistie Bass battled hard ​ with 12 points and Lauren Scherf scored 11 off the bench.
Boxscore: http://www.fibalivestats.com/u/wnbl/681942/
Guy Molloy, Boomers coach: "I think we defended well for the most part but to Canberra's credit the third quarter became an exercise in trading baskets. There were a couple of letdowns but we picked it up quickly in the fourth and got on with it."
Paul Goriss, Caps coach: "They are playing well and are a tough team. Today was one of our better games over four quarters but we had patches where we weren't great and it's disappointing the end result doesn't reflect how close the game was."
Jayco Dandenong Rangers 80 def. Bendigo Bank Spirit 70
Trailing by four points at the final break, a 19-4 fourth quarter saw Dandenong get over the line against Bendigo in Traralgon. Tessa Lavey scored 12 points in the opening term and finished with 19 points while Steph Blicavs also added 19 to answer the front court duo of Betnijah Laney (who returned from concussion with 17 points, four rebounds and four assists) and Gabe Richards (14 points, 11 boards).
Boxscore: http://www.fibalivestats.com/u/wnbl/681944/
Larissa Anderson, Rangers coach: "We found a group that really pulled it together and kept them to four points in the final quarter – and that was really the ball game. We showed a lot more discipline offensively than we have, and that helped us make the most of those defensive stops."
Perth Lynx 83 def. Brydens Sydney Uni Flames 71
Perth officially announced their Championship contention with a fifth straight win, taking care of the 2016/17 Champs in the process. Courtney Williams paced them with a near triple-double of 26 points, ten rebounds and seven assists but Alice Kunek, Kayla Standish, Sami Whitcomb and Alex Ciabattoni off the bench all hit double-figures to support her. Those efforts countered Asia Taylor's big game of 31 points and nine rebounds while Carly Boag was efficient for the visitors with 18 points on 7-8 shooting who were missing Belinda Snell.
Boxscore: http://www.fibalivestats.com/u/wnbl/681943/
Andy Stewart, Lynx coach: "I'm absolutely rapt. We've gone from sitting eighth to then sitting in seventh for a while, to then sitting in sixth, to sitting in fifth and now we're sitting in fourth. The effort and attitude of the girls has been outstanding."
Cheryl Chambers, Flames coach: "Snelly was a late withdrawal and I don't think we adjusted offensively to the loss. Perth played really well, we can't take away from that. They are very good at home. But we had our opportunities."
Media Links
Luke West filed a report on the Spirit's Friday night loss for the Bendigo Advertiser: http://www.bendigoadvertiser.com.au/story/5064521/spirit-endures-another-tough-night-in-83-59-loss-to-perth/?cs=4783
Reece Homfray reported on the Lightning's second consecutive heavy defeat at the hands of Townsville for the Adelaide Advertiser: http://www.adelaidenow.com.au/sport/basketball/townsville-fire-too-hot-for-adelaide-lightning-in-wnbl-contest/news-story/0225dc231ac321cc75052de9fea809b7
Roy Ward covered Melbourne's comfortable victory on Saturday afternoon for the Sydney Morning Herald: http://www.smh.com.au/sport/basketball/wnbl-melbourne-boomers-bounce-canberra-capitals-to-claim-fourthstraight-win-20171118-gzo625.html
Ward also wrote about Dandenong's win on Sunday for The Age: http://www.theage.com.au/sport/basketball/wnbl-dandenong-rangers-dig-deep-to-find-winning-formula-against-bendigo-spirit-20171119-gzoeae.html
Craig O'Donoghue analysed the Lynx's fifth straight win as they make their charge up the ladder for The West Australian: https://thewest.com.au/sport/basketball/perth-lynx-into-wnbls-top-four-after-83-71-win-over-sydney-flames-ng-b88664914z
Amanda Lulham of The Daily Telegraph reported on Belinda Snell's absence for the Flames: http://www.dailytelegraph.com.au/sport/swoop/sydney-flames-lose-competition-lead-after-loss-to-perth-lynx/news-story/545d9773b402d1754d79f641fabff737
Catch up on all the news around the league via the Basket Case podcast here: https://www.spreaker.com/show/basket-case
You can also listen to Megan Hustwaite's WNBL podcast here: https://itunes.apple.com/au/podcast/the-wnbl-show/id1292447514?mt=2#episodeGuid=85fa7997-cdbf-463a-ba63-6880c78e48f9