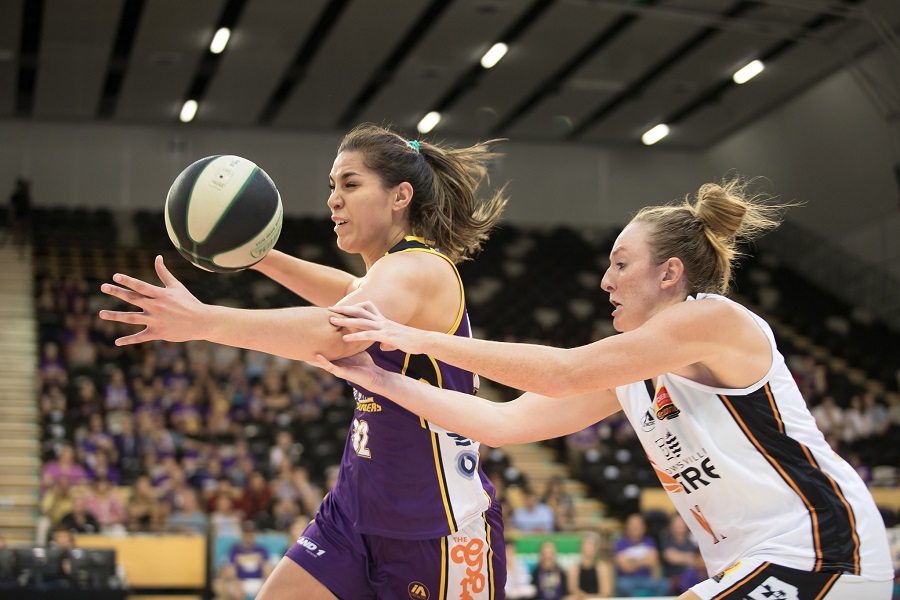 November 28, 2018 | WNBL news
Image via Michelle Couling Photography.
Broadcast Game of the Week
Deakin Melbourne Boomers vs. JCU Townsville Fire at State Basketball Centre, Saturday, 3pm (local time)
The third and final meeting of the regular season between Melbourne and Townsville will be broadcast on FOX Sports and SBS this weekend after fans were treated to a thriller between the sides just a fortnight ago.
Despite a furious comeback from the Fire with a 24-16 final term, they fell to Melbourne 75-79 in that clash and have lost the season series after an earlier defeat at the hands of the Boomers in Round 5.
In Round 6, Townsville's front court could not contain the home side as Cayla George recorded one of her best games with 17 points, ten rebounds and three blocks while Kalani Purcell tallied nine points and 15 boards off the bench.
Adding to the Fire's woes, the Boomers now have Ezi Magbegor back on court and that will make life tougher for Suzy Batkovic and Darcee Garbin.
Ally Malott could prove important though, having found her place within the Townsville line-up in recent weeks. She nailed some big shots against Bendigo last weekend in an overtime victory while also playing a crucial role in their near-comeback last time these sides met.
In addition, Tess Madgen is coming off a Player of the Week performance, tallying 14 assists which is an equal career-best for any current player in the league.
However, she will not find the going easy against sharp-shooter Maddie Garrick or Lindsay Allen who is doing her MVP candidacy no harm with three consecutive Team of the Week appearances.
Watch: FOX Sports Australia channel 503 and SBS.
Tickets: https://whatson.townsville.qld.gov.au/events/community-events/jcu-townsville-fire-v-bendigo-spirit
Live stats: https://www.fibalivestats.com/u/wnbl/913515/
JCU Townsville Fire vs. Bendigo Bank Spirit at Townsville Stadium, Thursday, 7pm (local time)
Before they head to Melbourne on Saturday, the Fire host Bendigo for the second time in less than a week after they fought out a nail-biter last round.
Eventually falling in overtime, the Spirit still received significant input from Abbey Wehrung (19 points) and Nadeen Payne (17 points, eight rebounds) while Becca Tobin (26 points, 19 rebounds, four blocks) had an incredible battle with Batkovic (25 points, 16 boards).
That clash in the paint could again decide the outcome on Thursday night but Bendigo will be desperate for revenge and they need a win to hold their spot in the top four while keeping their closest rivals, including Townsville, at bay.
The Fire will be up and about though and could see a big crowd behind them as they not only celebrate their Hoops for Troops night with an Army-inspired uniform but potentially witness Batkovic breaking the all-time WNBL scoring record.
She needs only 19 points to surpass Rachael Sporn and move into the number one spot and with an average of 20 points per contest (first in the competition), the six-time MVP is closing in fast.
Tickets: https://whatson.townsville.qld.gov.au/events/community-events/jcu-townsville-fire-v-bendigo-spirit
Live stats: https://www.fibalivestats.com/u/wnbl/913512/
Jayco Rangers vs. Adelaide Lightning at Dandenong Stadium, Friday, 6.30pm (local time)
Another two teams that met recently, the Rangers hosted Adelaide in Traralgon last weekend where they continued their undefeated run in country Victoria over the past few years.
That victory saw them leapfrog the Lightning on the ladder and keep them in touch with the top four so Adelaide will be desperate to reply on Friday night and keep themselves in the top-four conversation as well.
Bec Cole torched them for 20 points and now sits sixth in the league for scoring while Rachel Jarry had a double-double of 12 points and 13 rebounds to alleviate the pressure under the ring for Kayla Pedersen.
Adelaide have brought Kayla Alexander into their starting line-up for some height and a concerted effort from the entire team saw them score 15 second-chance points despite Alexander going scoreless.
She is unlikely to have another poor night shooting the ball and in combination with Nia Coffey and Collen Planeta, who are both threats from the perimeter as well, they will play a key role in reversing last week's result.
Sending best wishes to Steph Blicavs as well who is on the mend after surgery will see her to miss two meetings against her old club.
Tickets: https://wnblround8.in-tix.com/
Live stats: https://www.fibalivestats.com/u/wnbl/913513/
Perth Lynx vs. University of Canberra Capitals at Bendat Basketball Stadium, Friday, 6.30pm (local time)
When these sides last faced off in Round 5 it was a top of the table clash and nothing has changed in the past three weeks.
Perth, sitting first with a 7-2 record, host the UC Caps who are just one win behind them while both teams have also won three of their past four games.
Despite their solid form, the UC Caps cannot afford to slip-up on Friday night and they must shoot better than their 32% effort from when they last faced Perth.
They scored only 65 points as a result, 13 below their season average, and shot 6-27 on three-pointers to be out-scored by 12 from beyond the arc with Alison Schwagmeyer and Katie Ebzery causing headaches at both ends of the floor.
Kelsey Griffin did all she could to keep them in it, recording 30 points and 18 rebounds but Asia Taylor will be hell-bent on not seeing a repeat of that this weekend. Their clash will be worth the price of admission alone.
Tickets: http://www.ticketmaster.com.au/Perth-Lynx-tickets/artist/2165336
Live stats: https://www.fibalivestats.com/u/wnbl/913514/
Brydens Sydney Uni Flames vs. Bendigo Bank Spirit at Brydens Stadium, Saturday, 5pm (local time)
The Flames' season went from bad to worse last weekend with a tenth consecutive defeat while also losing Ally Wilson to a dislocated knee.
They will be hoping to get Alex Bunton back to help negate the influence of Tobin- otherwise the likes of Shanae Greaves and Lara McSpadden will have their work cut out for them in containing one of the top imports of the season.
Sydney Uni will have had a week to regroup after their biggest loss of the year and they are also catching Bendigo on their second game of the round after they visit Townsville on Thursday.
They must find some offence without Wilson though to match the likes of Payne and Nat Hurst while coming off the bench, Marena Whittle could exploit the home side's lack of depth.
Tickets: https://www.eventbrite.com.au/e/flames-v-spirit-saturday-1st-december-5pm-tickets-50470283978?aff=erelexpmlt
Live stats: http://www.fibalivestats.com/u/wnbl/913516/
Live Stream: https://www.foxsports.com.au/live
Adelaide Lightning vs. University of Canberra Capitals at Titanium Security Arena, Sunday, 3pm (local time)
The second game of the weekend for both clubs, Adelaide may have their backs against the wall against the second-placed Caps although traveling on the 'Doomsday Double' could fatigue the visitors and give the Lightning a real chance.
Adelaide's results may not be a true reflection of their season as they only average three points less than the Caps per game and own the equal second-best defence in the league.
The difference-maker has been three losses by four points or less for the Lightning while the Caps have claimed four victories with a margin of seven points or less, including a win over Adelaide in Round 2.
Griffin had 21 points in that contest while Nurse (14 points, ten rebounds) and Lauren Scherf (12 points, ten rebounds) helped the Caps record a whopping 21-3 advantage in offensive rebounds which led to 18 second chance points.
Free Entry.
Live stats: http://www.fibalivestats.com/u/wnbl/913517/