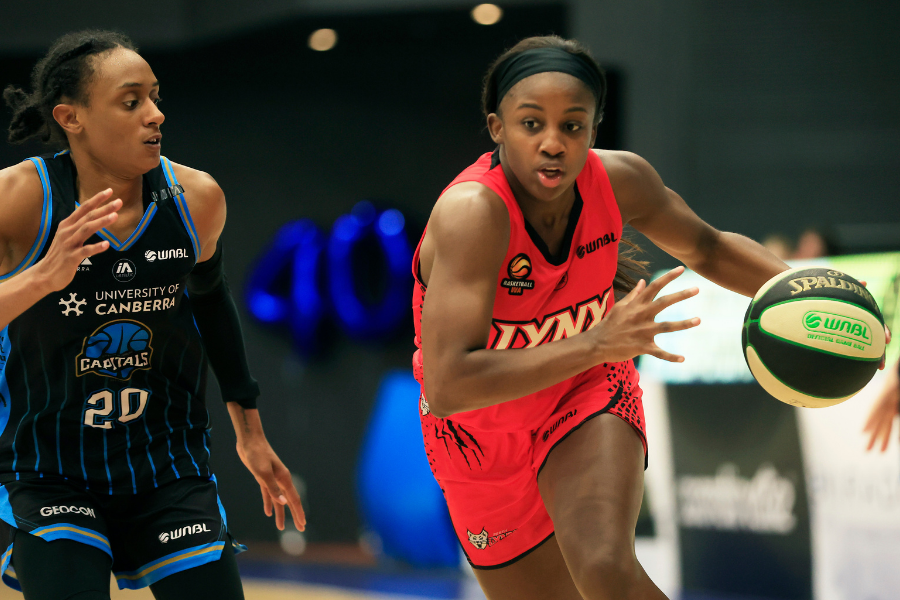 January 20, 2022 | WNBL news
2022 has already dealt the majority of the competition a tricky hand, however round eight looks to be a sight for sore eyes, with eight games set to launch a hectic WNBL week (touch wood). The competition welcomes back the Bendigo Spirit and the Sydney Uni Flames who are yet to claim their maiden victory for the season.
WNBL Media preview the round.
Perth Lynx v UC Capitals
Selkirk Stadium. Wednesday 7:30 pm local. Kayo Freebies.
It's only been a few days since the Lynx and Caps first met, and what a game it was. Kelly Wilson created her own 400 club however Perth dampened her milestone match and claimed victory. The Caps will be sure to put some time into Marina Mabrey, after she dominated in round seven, hitting 27 points, four assists and six rebounds the last time they met and earning herself player of the week. The Lynx are making up for lost time winning two of their three matches last round while the Caps' last win came in round five and they'll be itching to halt the Lynx momentum and retain their position above them on the ladder.
Note: Caps' Kelsey Griffin is showing no sign of slowing down, averaging 29 minutes, 15 points and eight rebounds per game.
Sydney Uni Flames v Adelaide Lightning
Brydens Stadium. Thursday 6:30 pm local. Kayo.
The Lightning is sitting atop the WNBL ladder, hold a three-game winning streak and face the winless Flames on Thursday night. Adelaide's Alanna Smith and Steph Talbot have been causing havoc on the court while the Flames will be hoping that Shyla Heal and Keely Froling can pick up where they left off before their season was significantly interrupted by covid.
Note: The Flames have come close and have suffered some heartbreaking losses, letting solid leads slip away. Can they stay strong and put together a four-quarter game?
Bendigo Spirit v Townsville Fire
Bendigo Stadium. Friday 5 pm local. Kayo.
The Spirit has been out of action since pre-Christmas, so will welcome the return to the competition on their home deck. Captain Tessa Lavey has been keeping match fit, kicking off the AFLW season with the Richmond Tigers and will now have the challenging start of juggling her two worlds. A Maddie Garrick and Loz Nicholson head-to-head will be exciting to watch as the Fire continue their quest to back up their 2020 grand final form.
Note: She may be the Spirit's most influential player, Anneli Maley's hot form before the extended break earned herself a call up to the Australian Opals camp squad. Can she pick up where she left off?
UC Capitals v Southside Flyers.
Selkirk Stadium. Friday 7:30 pm local. Kayo.
If the Caps claim a win earlier in the round, they'll be riding the wave of confidence as they face the championship-winning team in the Flyers. The Flyers will be without Sara Blicavs as she completes her health and safety protocols period, however, with Bec Cole averaging 18 points a game and Abby Bishop, 15 and nine rebounds, the Flyers should be able to fill the gap.
Note: Watch how the pros do it. A match-up of the WNBL veterans is set, with Kelsey Griffin and Abby Bishop both key features of their team lineups.
Melbourne Boomers v Townsville Fire.
Melbourne Sports Centre. 5 pm local. Fox/ABC.
The Boomers seem to be the most dangerous team in the competition, as they doubled down on the in-form Lynx over the weekend, however, the 2020 grand finalists won't hand over the baton that easy. Monique Billings has been a key feature of the Fire squad, averaging 16 points and nine rebounds per game this season, while Sug Sutton has also put a solid season together. The Boomers' core five players in Mitchell, George, Magbegor, Madgen and Allen have gelled their game plan together and have become a destructive lineup to come up against.
Note: A Lindsay Allen and Sug Sutton match-up is one to keep an eye for.
UC Capitals v Bendigo Spirit.
National Convention Centre. Sunday 1 pm local. Kayo.
The last time they met the Caps cracked triple-figure points and claimed the win however the game was fierce, dramatic and everything you would want in a game. The match-up is clear, Maley and Sykes will both have fond memories of their first encounter. Maley top-scored hitting 38 points and a whopping 20 rebounds while Sykes also dominated, contributing 33 points to the win.
Note: Win or lose, every game that the Spirit play is feisty, if there's one thing we can be sure of, this game will have some punch.
Sydney Uni Flames v Perth Lynx.
Qudos Bank Arena. Sunday 3:30 pm local. Kayo Freebies.
Perth is ferocious and Sydney's flame is dim, however, things can turn around quickly in the world of basketball. The Flames will need their experience to stand tall, with the likes of co-captains Lauren Mansfield and Keely Froling contributing big numbers to take on those of Marina Mabrey, Lauren Scherf and Darcee Garbin. Flames' Kalani Purcell is currently averaging seven rebounds per game and if she can stand tall and hold her ground under the ring, then she may be key to stopping the Lynx attack.
Note: Scherf is averaging 15 points and nine rebounds this season and may rub salt in the wound for her ex-club the Flames.
Adelaide Lightning v Southside Flyers.
The Lights. Sunday 5:30 pm local. Kayo.
The Lightning found a burst of desperation in their last two-point win over the Lynx, and the Flyers will be no easy feat. They'll both be counting on wins earlier in the round to carry some form of momentum into the Sunday afternoon game, although with both teams carrying a wealth of experience, it'll sure be a quality game to cap off the round. Steph Talbot is currently averaging 13 points, 11 rebounds and five assists per game and with Bec Cole averaging 18 points, they'll provide a masterclass match-up.
Note: If Adelaide achieves wins from both their games this round, their winning streak could extend to five which would be a first for the season.