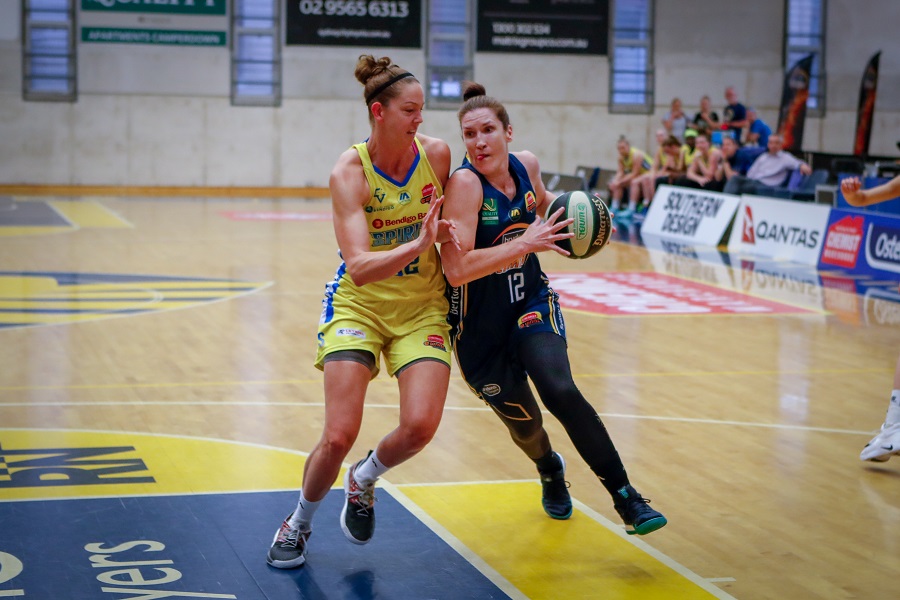 December 2, 2018 | WNBL news
Image via Brydens Sydney Uni Flames.
In the Round 8 recap, the Flames are on the winner's list in 2018/19, Adelaide swept the weekend to stay in the top-four conversation, Melbourne leap-frogged the Caps into second spot and Suzy Batkovic became the league's all-time leading scorer.
JCU Townsville Fire 93 def. Bendigo Bank Spirit 51
An historic night for Townsville saw them claim their second biggest defeat ever against the Spirit as Suzy Batkovic moved into first position on the all-time WNBL scorer's list, surpassing Rachael Sporn. Batkovic was dominant all night, recording 24 points, 12 rebounds, three blocks and shutting Becca Tobin out of the game while Micaela Cocks (17 points on 6-8 shooting) and Ally Malott and Zitina Aokuso (22 points, eight rebounds combined off the bench) also impressed. With a big lead, Alex Fowler was able to make her Townsville debut as well, becoming the 108th player in club history. For the Spirit, Louella Tomlinson (15 points, seven rebounds three blocks) was a rare bright spot.
Boxscore: http://www.fibalivestats.com/u/wnbl/913512/
Suzy Batkovic, Fire: "I'm sure it will mean more to me when I retire but there's no doubt I'm still proud of the record. I think it would be easier if I wasn't dislodging Rachael – she's such a good person and I was so fortunate to play with her at the Athens Olympics – so it's hard to take that from her."
Simon Pritchard, Spirit coach: "Our defence just needs an incredible amount of work. We're not on the same page; we've hit a brick wall with our communication and rotations and we've got to work through it better than what we are at the moment."
Jayco Rangers 80 def. by Adelaide Lightning 86
The Lightning claimed the season series against Dandenong, bouncing back from a loss last week to also snap a three-game losing streak. Following a high-octane first half that saw over 100 points tallied, both teams knuckled down defensively and ensured nothing would come easy down the stretch. Adelaide's five-point lead at three-quarter time ultimately proved enough although the Rangers did close within two before the visitors held them scoreless for the final two minutes. Nia Coffey paced the Lightning with 18 points, Kayla Alexander finished with a double-double of 12 points and 11 rebounds and Steph Blicavs returned to the court with seven points off the bench. That helped to counter Carley Mijovic's big night of 26 points, nine boards and two steals while Betnijah Laney was sorely missed by Dandenong.
Boxscore: http://www.fibalivestats.com/u/wnbl/913513/
Larissa Anderson, Rangers head coach: "They're bloody tough, they've got scoring ability everywhere and we lost one of our best scorers just before the game. Everyone had to rotate out of position but I'm very proud of our effort tonight."
Perth Lynx 88 def. University of Canberra Capitals 84
The top two teams on the ladder coming into this meeting, there was no love lost at the end of a physical and, at times, rough game. Perth pulled themselves out of a 13-point hole at quarter-time, utilising a 33-18 second term before holding on down the stretch as the Caps closed within a possession on four separate occasions in the last period. Alison Schwagmeyer top-scored with 22 points and Asia Taylor had 21 up against Kia Nurse (17 points, nine rebounds) and Kelsey Griffin (14 points, 14 rebounds) while Chemist Warehouse Austalian Opals Lauren Mansfield (nine points, three assists) and Leilani Mitchell (16 points, three assists) battled off the bench.
Boxscore: http://www.fibalivestats.com/u/wnbl/913514/
Andy Stewart, Lynx head coach: "It's a total commitment to that game style that we're trying to run. The girls just stayed with it, I love it."
Deakin Melbourne Boomers 73 def. JCU Townsville Fire 67
Melbourne swept the season series against Townsville with a third victory on Saturday afternoon but it was another hard-fought victory as they stumbled late and the Fire never surrendered. Leading by as much as 18 points late in the third quarter and taking on a side missing Suzy Batkovic with neck soreness, the Boomers only scored 12 points in the final term. However, time was against Townsville in their comeback despite the best efforts of Ally Malott (17 points), Micaela Cocks (14 points) and Zitina Aokuso (12 points, 10 rebounds). For the victors, four players hit double-figures and nine scored, led by Steph Talbot (16 points) and Maddie Garrick who get them going early before finishing with 15 points while Cayla George did a bit of everything with 11 points, eight rebounds, six assists, five steals.
Boxscore: http://www.fibalivestats.com/u/wnbl/913515/
Guy Molloy, Boomers head coach: "We looked tired at training during the week so I was concerned coming into the game. Credit to the girls that they did more than enough to get the win, we had patches of really good D but other patches when we looked very tired."
Claudia Brassard, Fire head coach: "We'll take a split of the weekend. Melbourne is a really tough team, they have lots of scorers but I thought we did a good job of fighting and staying in the game."
Brydens Sydney Uni Flames 85 def. Bendigo Bank Spirit 64
Entering the game at potentially their lowest point without starters Ally Wilson and Alex Bunton as well as owning a 10-game losing streak, the Flames put all that behind them in a stunning display to claim their first win of 2018/19. Brittany Smart (22 points, seven assists), Tahlia Tupaea (16 points, six assists) and Shanae Greaves (eight points, three steals) set the tone, scoring Sydney Uni's first 19 points as they went on a 21-9 run to open the game. From there, they never looked back, moving in front by 31 points at one stage before the Spirit won the final quarter thanks to Becca Tobin (20 points) and Nadeen Payne (15 points). The Flames were sensational though, recording 20 assists as a team thanks in part to Belinda Snell (11 points, seven rebounds, four assists, two steals, three blocks) and out-scoring their opponents by 24 from beyond the arc as Sarah Graham (14 points) nailed four three-pointers.
Boxscore: http://www.fibalivestats.com/u/wnbl/913516/
Cheryl Chambers, Flames head coach: "I'm so pleased for the girls, they've been working hard for a win and we've been so close so many times. We had lots of contributors."
Megan Moody, Spirit assistant coach: "Disappointing for us, more so in the way we're performing at the moment. We just did not play hard enough, we didn't match the intensity with Sydney."
Adelaide Lightning 91 def. by University of Canberra Capitals 83
Going in opposite directions coming into this weekend, Adelaide put the noise of off-field issues behind them to claim a sweep of Round 8 while handing the Caps consecutive losses. In a back-and-forth affair early, the lead changed hands nine times before half-time with six points the biggest margin for either team. However, the Lightning moved in front on a Kayla Alexander (17 points, 13 rebounds, three blocks) jumper on the first possession of the third quarter and from there, they were never headed as Nicole Seekamp (24 points, five assists) and Lauren Nicholson (11 points while holding Kia Nurse to ten points) starred while Colleen Planeta made it six players in double-figures with ten points off the bench. Kelsey Griffin again did all she could for the Caps with 23 points and 12 boards while Kelly Wilson moved into third on the all-time assists list with 11 dimes to go with 13 points.
Boxscore: http://www.fibalivestats.com/u/wnbl/913517/
Chris Lucas, Lightning head coach: "We've now put three consistent games together and that's what I've asked of the players."
Paul Goriss, Caps head coach: "We gave up way too many points. We just were not where we needed to be defensively, we broke down, we weren't really aggressive and assertive."
Media Links
Trent Slatter of the Townsville Bulletin recapped the Fire's historic night on Thursday: https://www.townsvillebulletin.com.au/sport/suzy-batkovic-leads-fire-to-commanding-9351-win-over-bendigo/news-story/6fff516f99e47e6a36fd892c9a66cb2e
Roy Ward discussed Melbourne's win over Townsville on Saturday for The Age: https://www.theage.com.au/sport/basketball/melbourne-boomers-slip-slide-but-still-douse-fire-20181201-p50jlh.html
Luke West analysed the Spirit's horror weekend for The Bendigo Advertiser: https://www.bendigoadvertiser.com.au/story/5788264/horror-interstate-double-leaves-spirit-6-6-in-wnbl/?cs=13346
Rob Greenwood of the Adelaide Advertiser took a look at the Lightning's big win over the Caps on Sunday: https://www.adelaidenow.com.au/sport/adelaide-lightning-secures-upset-victory-a-week-after-revealing-it-may-fold-due-to-financial-woes/news-story/69dca74791d412b40d5f60a50e929fb2
It was 11th time lucky for the Flames wrote Amanda Lulham for the Daily Telegraph: https://www.dailytelegraph.com.au/sport/swoop/sydney-uni-flames-win-first-game-of-wnbl-season-as-opal-alex-bunton-heads-to-the-surgeon/news-story/8d201e42154d9107d303ae81745f14ae