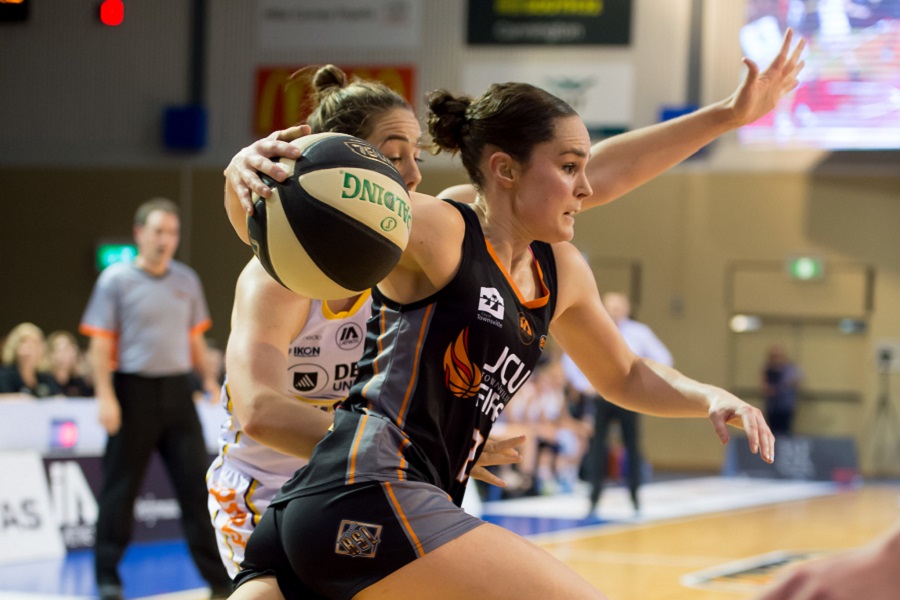 November 27, 2017 | WNBL news
Photo courtesy of Townsville Fire.
There is a three-way tie at the top of the ladder with the JCU Townsville Fire joining Perth Lynx and Sydney Uni Flames following their successful weekends.
Jayco Dandenong Rangers 62 def. by Perth Lynx 74
Perth were given a real scare on the road before securing a sixth consecutive win, out-scoring Dandenong 12-4 to finish the game. Courtney Williams (21 points, seven rebounds, five assists) and Sami Whitcomb (14 points, seven boards, three assists) enjoyed the fast pace of the contest while Alice Kunek added 14 points. Steph Blicavs led the home side with 17 points but they shot just 32% as a team including 3-21 from deep.
Boxscore: http://www.fibalivestats.com/u/wnbl/681946/
Kayla Pedersen, Rangers: "Our defence was good but offensively we didn't get into the flow and then at the end we got a bit desperate and took some desperate shots and didn't convert."
Courtney Williams, Lynx: "We just stayed persistent- that was a tough, tough, ugly win tonight. It was out of control at times, an ugly one but that's the kind of game that tests your team, you have to keep fighting and that's what we did."
JCU Townsville Fire 73 def. Deakin Melbourne Boomers 66
In a battle for top spot on the ladder, Townsville prevailed against a feisty Boomers side who were missing Liz Cambage due to suspension. The Fire scored seven of the last nine points to escape as Darcee Garbin shot 6-10 off the bench for 18 points and nine rebounds while Suzy Batkovic tallied 17 points and 16 boards. Melbourne were out-scored by 12 in points off turnovers and by 11 in second chance points although Ash Grant (11 points) and Kalani Purcell (five points, 11 rebounds, six assists) provided bright spots.
Boxscore: http://www.fibalivestats.com/u/wnbl/681945/
Claudia Brassard, Fire coach: "I think every time we've played against Melbourne it's been a bit of a grind. I thought we played really well in that last minute with three offensive rebounds and that sealed the game for us. Just that effort and intensity down the stretch was really good."
Guy Molloy, Boomers coach: "I thought our execution was really good for a lot of the game and late in the game it becomes an exercise in hustle where they got key offensive rebounds. I'm just disappointed at the end that their effort went up a level and ours stayed the same. Other than that, there were lots to smile about."
University of Canberra Capitals 80 def. by Bendigo Bank Spirit 83
Trailing by ten points at quarter-time and by as much as 15 at one time, Bendigo fought back to defeat the Caps despite having 17 less field goal attempts! Efficiency was the key as Betnijah Laney had 23 points on 10-14 shooting, Nadeen Payne had 18 points on 7-10 and Gabe Richards added 15 points! For the Caps, Ezi Magbegor stood out with 16 points off the bench but they will be disappointed to not have converted on 20 assists and just seven turnovers through the contest.
Boxscore: http://www.fibalivestats.com/u/wnbl/681947/
Paul Goriss, Caps coach: "I think the belief, trust and camaraderie is still there. No one is second guessing themselves, the belief is there but it's just getting over that hump and we've got to find a way to close out some games. In the fourth quarter we just seemed to dry up."
Jayco Dandenong Rangers 49 def. by MAC Adelaide Lightning 70
The Lightning won every quarter to take care of the Rangers in convincing fashion while also securing the season series against them! Nicole Seekamp paced Adelaide with 15 points while Natalie Novosel and Colleen Planeta had 14 each and Abby Bishop collected six points, 12 rebounds and four assists despite having a rough shooting night. Steph Blicavs' 14 points gave Dandenong something to smile about as they dropped their second straight for the weekend.
Boxscore: http://www.fibalivestats.com/u/wnbl/681948/
Steph Blicavs, Rangers: "We talk about things we want to do before the game, what we want to do on defence and what plays we want to get through but we just have little lapses. This is our do or die time now, if we don't turn it around now we won't make it."
Perth Lynx 84 def. JCU Townsville Fire 79
Perth completed a near flawless weekend to move and well truly into Championship contention while also drawing level with the Flames and Fire at the top of the ladder. In a classic content, the lead changed hands 13 times but never exceeded seven points as Townsville fought until the final siren courtesy of Laurin Mincy (16 points), Suzy Batkovic (14 points, 12 rebounds) and Mia Murray (13 points off the bench). Perth's back court got the job done once again though with Sami Whitcomb tallying 27 points on 5-8 three-point shooting with six rebounds and five steals while Courtney Williams recorded 22 points, two assists and two blocks.
Boxscore: http://www.fibalivestats.com/u/wnbl/681949/
Andy Stewart, Lynx coach: "We started 0-3, we were sitting 1-4 and flat on the bottom. That was a great game – that was probably our best game that we've played, I think."
Deakin Melbourne Boomers 89 def. by Brydens Sydney Uni Flames 101
The final game of the Cluster Round looked set to be another tight finish with Sydney Uni only leading by a point at three-quarter time. However, a barrage of three-pointers from Belinda Snell (28 points) and Alex Wilson (24 points) saw them combine for 15 points in the final term to out-score Melbourne and clinch the victory that keeps them in the race for top spot. Asia Taylor starred once again with 29 points and Katie Ebzery combined six points with ten assists to counter Liz Cambage's 22 points as well as 28 points off the bench from Louella Tomlinson and Brittany Smart.
Boxscore: http://www.fibalivestats.com/u/wnbl/681950/
Guy Molloy, Boomers coach: "It just feels like we lost our way a little bit over the last week or so. We've got a lot to play for so I'll have to address those things with… the team during the week."
Cheryl Chambers, Flames coach: "We found some form finally. My girls gelled back together and played great defence. Snelly and Alex and Asia were all fantastic. I couldn't ask more of them."
Media Links
Trent Slatter of the Townsville Bulletin reported on the Fire's Thursday night victory: http://www.townsvillebulletin.com.au/sport/townsville-fire-edge-out-boomers-7366-in-wnbl-blockbuster/news-story/17dfa16735cd82156ad37d91a34d2a92
Craig O'Donoghue penned this feature for The West Australian on Courtney Williams who honours her best friend's memory whenever she steps on the court: https://thewest.com.au/sport/basketball/lynx-star-courtney-williams-honours-late-friend-in-perth-stint-ng-b88669227z
O'Donoghue also wrote about Perth's seventh straight victory from the weekend: https://thewest.com.au/sport/basketball/sami-whitcomb-fires-perth-lynx-to-top-of-wnbl-ladder-ng-b88671876z
Roy Ward covered the Rangers' home loss on Thursday night for The Age: http://www.theage.com.au/sport/basketball/dandenong-rangers-demand-offensive-discipline-before-wnbl-cluster-round-clash-20171124-gzs802.html
Ward then wrote about Dandenong's continued shooting woes and Bendigo's victory from Saturday afternoon in the Cluster Round for the Sydney Morning Herald: http://www.smh.com.au/sport/basketball/dandenong-rangers-continue-offensive-woes-as-skipper-calls-for-do-or-die-effort-20171125-gzsvol.html
Caden Helmers of The Canberra Times wrote about the woes of the Caps as they slumped to a tenth straight loss: http://www.canberratimes.com.au/sport/act-sport/wnbl-canberra-capitals-left-to-rue-another-fade-out-against-bendigo-spirit-20171124-gzsihi.html
Amanda Lulham finished off the round with this scribe of the Flames' victory over the Boomers: http://www.news.com.au/sport/wnbl-sydney-uni-flames-beat-melbourne-boomers-10189/news-story/0b4ff726502f5683a968aa5e1831c1eb
Catch up on all the news around the league via the Basket Case podcast here: https://www.spreaker.com/show/basket-case
You can also listen to Megan Hustwaite's WNBL podcast here: https://itunes.apple.com/au/podcast/the-wnbl-show/id1292447514?mt=2#episodeGuid=85fa7997-cdbf-463a-ba63-6880c78e48f9