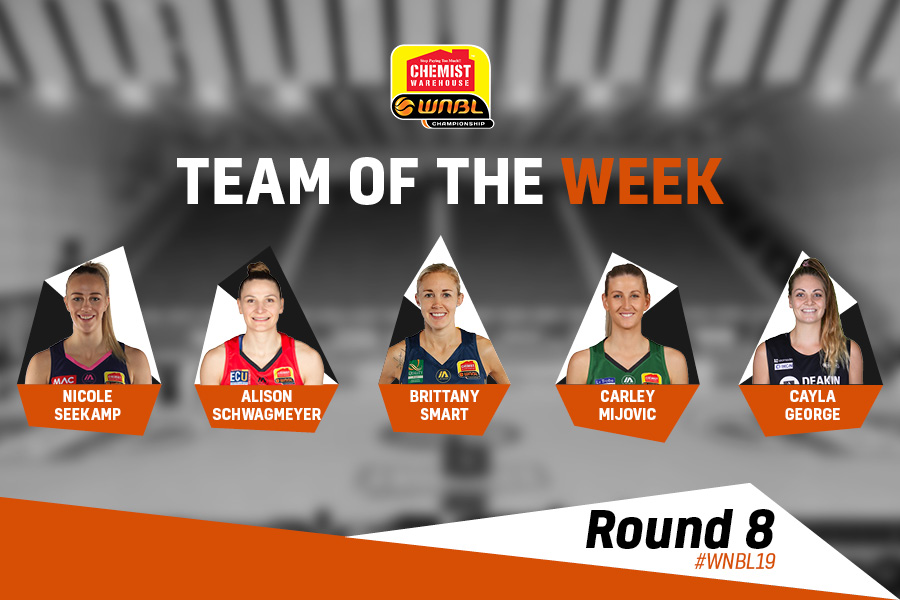 December 4, 2018 | WNBL news
The Round 8 Team of the Week features four fresh faces as Carley Mijovic, Alison Schwagmeyer, Nicole Seekamp and Britt Smart have all been named to the WNBL team of the week for the first time this season while Deakin Melbourne Boomers' Cayla George has earned her second nod within the last three weeks. 
Cayla George (Deakin Melbourne Boomers)
On Saturday afternoon, George stuffed the stat-sheet in another crucial win for the Boomers. With Ezi Magbegor still easing her way back into the line-up, George held down the centre position for much of the game and was a defensive force against her old side, coming up with five steals.
George also continued to showcase her ability to distribute the ball as she clocked up six assists in an all-around excellent performance.
Cayla George Round 8 Stats: 11 points, 8 rebounds, 6 assists and 5 steals.

Carley Mijovic (Jayco Rangers)
In Friday night's home match-up against the Lightning, Mijovic led the way for the Rangers with 13 first quarter points to give her side an early lead.
Showcasing her talents both inside and outside, Mijovic drained three three-pointers on her way to tallying a game-high 26 points and did all she could to help cover the absence of Betnijah Laney in a narrow defeat for the Rangers.
Carley Mijovic Round 8 Stats: 26 points on 10-19 shooting, 9 rebounds, 1 assist and 2 steals.
Brittany Smart (Brydens Sydney Uni Flames)
The Flames finally broke their 2018/19 duck, coming up with a rousing 21-point win over the Spirit.
Smart was instrumental for Sydney Uni, as they finally registered a win on the season after 10 previous attempts as she recorded 22 points on 8-10 shooting including 3-4 from distance.
In addition, Smart had seven assists which led to 18 points and she did this all without a turnover to also claim Player of the Week honours.
Britt Smart Round 8 Stats: 22 points on 8-10 shooting including 3-4 from three, 5 rebounds, 7 assists and 1 steal.
Alison Schwagmeyer (Perth Lynx)
The Caps got the jump on Perth in another top of the table meeting in Round 8 but their comeback was paced by a scintillating second quarter from Schwagmeyer who dropped 11 points for the term.
She went on to finish with 22 points, including 3-5 from three to go along with five rebounds, three assists and two steals as the Lynx ran out 88-84 winners to maintain a buffer on top of the ladder.
Schwagmeyer is proving herself as one of the league's top guards with 15.4 points per game and could be regarded as a quiet achiever with the likes of Asia Taylor and even Brittany McPhee taking the spotlight.
Alison Schwagmeyer Round 8 Stats: 22 points on 8-14 shooting, 5 rebounds, 3 assists and 2 steals.
Nicole Seekamp (Adelaide Lightning)
The Lightning walked away from their double-header weekend with a hugely important 2-0 record and Nicole Seekamp was one of Chris Lucas' key players.
Beginning the round against Dandenong, Seekamp did not set the world on fire but had an important nine points, five rebounds, six assists and two steals in their narrow victory.
She then dominated back at home on Sunday against the Caps, putting up 24 points on 8-15 shooting along with five boards and five assists. She also tallied eight points in the final quarter as the Lightning held off a late charge and they now sit just a game outside the top four on the ladder.
Nicole Seekamp Round 8 Stats: 16.5 points on 11-23 shooting including 4-7 from three, 5 rebounds, 5.5 assists and 1.5 steals per game.
Honourable Mentions: Kayla Alexander (Adelaide Lightning), Kelsey Griffin (UC Capitals), Asia Taylor (Perth Lynx), Belinda Snell (Brydens Sydney Uni Flames), Suzy Batkovic (JCU Townsville Fire), Ally Malott (JCU Townsville Fire).