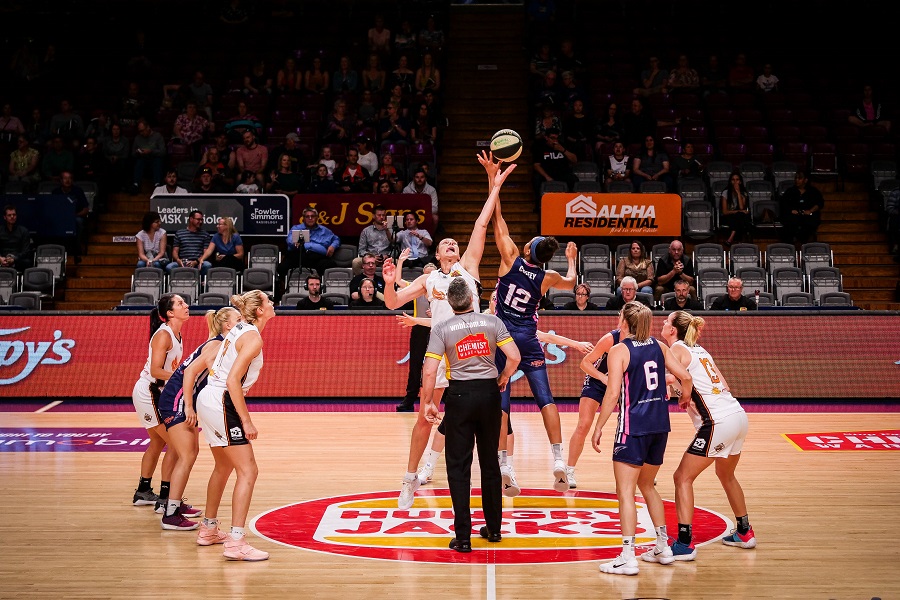 December 6, 2018 | WNBL news
Reminder: Adelaide Lightning def. Brydens Sydney Uni Flames on Wednesday night, 82-72, to begin Round 9.
Broadcast Game of the Week
Deakin Melbourne Boomers vs Brydens Sydney Uni Flames at State Basketball Centre, Saturday, 3pm (Local time)
The Boomers will host the Flames this Saturday, a team coming into the game with hopefully some added confidence after claiming their first win last weekend although they were brought back to Earth on Wednesday night with a loss to Adelaide.
Melbourne are continuing to roll, having won four of their last five games and now sit in second place on the ladder.
They have dealt with injuries but look to be back to full strength with Ezi Magbegor on the floor, albeit in limited minutes, and are now heading towards knocking off Perth from top spot.
Sydney Uni have had no such luck though and could now be without Alex Bunton for the rest of the season as her knee issues persist.
Without her, Shanae Greaves will again take on a heavy load and their front court could be exposed by the likes of Magbegor, Cayla George and Jenna O'Hea.
Coming off a Player of the Week award, Brittany Smart will lead the Flames against her old side and she was impressive when the teams last met, recording 17 points and ten rebounds.
Alongside Tahlia Tupaea, her back court battle against Maddie Garrick and Lindsay Allen will also be a difficult ask but if they can find their range, the Flames have the talent to keep pace with Allen who is averaging 18 points per game and Garrick who is shooting 37% from long range.
The Boomers drained 17 three-pointers in their win over Sydney Uni earlier this season but Tupaea will be celebrating her 100th game to hopefully give a bit of life to the visitors.
Tickets: http://bit.ly/2E0vYrG
Watch: Fox Sports Australia Channel 505 & SBS
Live stats: http://bit.ly/2SttaYa
Perth Lynx vs Bendigo Bank Spirit at Bendat Basketball Centre, Friday, 6:30pm (Local time)
After a horror Round 8 for the Spirit in which they lost two games by a combined 63 points, things do not get any easier as they travel to face the top of the table Lynx.
Following Adelaide's victory on Wednesday night, Bendigo have now fallen out of the top four and Townsville continue to nip at their heels which means they need to arrest their three-game losing streak as quickly as possible.
These sides boast two of the top three defences in the league but the Spirit fell away from what had been working so well and it is up to Simon Pritchard to get them back on track this weekend.
The visitors will also need to reverse the result from the last time they met when Perth succeeded by five points with Asia Taylor putting up 26 points and nine rebounds to answer Louella Tomlinson's 16 points, eight rebounds, three assists and three blocks.
Tickets: http://bit.ly/2E0bC1O
Live stats: http://bit.ly/2KSOZgR
JCU Townsville Fire vs Adelaide Lightning at Townsville Stadium, Friday, 7pm (Local time)
Wrapping up a hectic week, Adelaide visit Townsville after already playing Sydney Uni this round while this game will mark four games in eight days for the Lightning.
They have been spectacular during the stretch though, winning all three games so far to move into the top-four and another victory on Friday night will further the gap between them and the contending Fire.
With the health of Suzy Batkovic up in the air, it could be the perfect time for Chris Lucas' team to strike against the coach's old side but Batkovic has been able to bounce back from her neck and nerve issues previously so you cannot count her out until tip-off.
The duo of Nicole Seekamp and Lauren Nicholson have been on fire at both ends of the court this season and especially during this recent winning streak which puts the pressure on Micaela Cocks and Mikhaela Donnelly to not only keep them quiet but find some offence as well.
Tickets: http://bit.ly/2BPrVgc
Live stats: http://bit.ly/2FVVQaL
University of Canberra Capitals vs Bendigo Bank Spirit at National Convention Centre, Sunday, 2pm (Local time)
Coming off a disappointing weekend which saw them lose consecutive games and drop second place to Melbourne, the Caps will receive a huge boost with the return of Marianna Tolo.
The 2017 Robyn Maher Defensive Player of the Year has recovered an ACL injury 12 months ago while during her rehabilitation from that injury, she suffered a torn meniscus which pushed her return date back.
The Caps host Bendigo on their second game of a double-header and having returned from Perth on Friday night, fatigue could play a factor for the road team.
Coach Pritchard has played with his starting five in recent games with Becca Tobin and Tomlinson alternating roles but whoever comes off the bench will have to face up against Tolo which will be a challenge.
The starter will then have to deal with Kelsey Griffin, who leads the competition for rebounds with 12.3 per game and sits second for scoring with 19.4 points so the front court battle will be a determining factor.
Tickets: http://ow.ly/VJ2230mcucr
Live stats: http://bit.ly/2EcstiC
Jayco Rangers vs Perth Lynx at Dandenong Stadium, Sunday, 3pm (Local time)
For the first time since November 30, the Rangers are back on court and they will be well-rested against a Lynx side that will have travelled from Perth after a game on Friday night.
Last time these sides met, the Lynx were comfortable 25-point victors with a 21-6 third quarter damning Dandenong.
Four Rangers players hit double-figures but they could not contain Asia Taylor and Brittany McPhee who combined for 44 points and 15 rebounds.
While they will be on the road on Sunday, Perth should have no worries as they are undefeated away from home with a 4-0 record while the Rangers are only 2-3 at home.
Sitting two games outside the top four, Dandenong must keep winning to stay in touch and the health of Betnijah Laney will play a major part in their chances after she was a late out last weekend.
Tickets: http://bit.ly/2PiZlqY
Live-stream: https://www.foxsports.com.au/live
Live stats: http://bit.ly/2BPG5xW