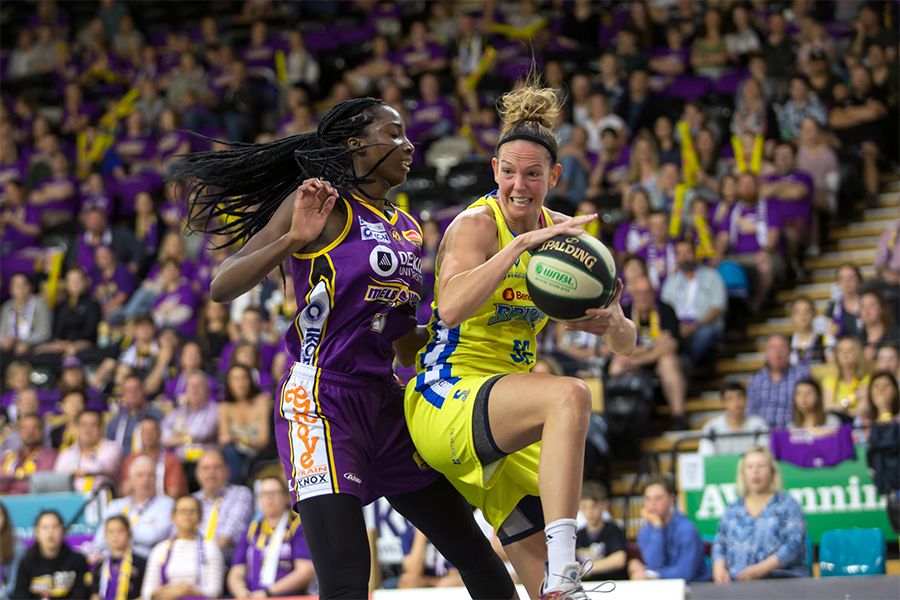 October 15, 2018 | WNBL news
All four road teams found success in the opening round of 2018/19, meaning the four teams that missed the playoffs last season currently make up the top four.
Brydens Sydney Uni Flames 78 def. by University of Canberra Capitals 97
Despite having a few key players missing, the Caps sent a message in the opening game of the season with a 21-point victory. They scored the opening ten points of the game with Kelsey Griffin starting a new era in the nation's capital with the first basket before going on to finish with eight points, seven rebounds, four assists and two steals. Kia Nurse (26 points) showcased her impressive stroke with four three-pointers, Lauren Scherf added 22 points on 8-11 shooting and Kelly Wilson (nine points, eight boards, 11 assists) flirted with a triple-double to help the Caps lead by as much as 31 points at one stage. For the Flames, Alex Bunton made a successful return to the WNBL with 27 points to top-score and Brittany Smart collected 16 points off the bench.
Boxscore: http://www.fibalivestats.com/u/wnbl/913474/bs.html
Paul Goriss, Caps head coach: "[Nurse] is only going to get better. For me as a coach, it was like winning the Lotto when her agent called and said she wanted to come to Australia. She plays with a smile on her face, but underneath that she's a deadly assassin."
Perth Lynx 66 def. by MAC Adelaide Lightning 78
Out-scoring the home side 38-20 through the second and third quarters, the Lightning proved too strong for Perth as Nia Coffey showed she is a real talent. The import finished with 19 points, 15 rebounds and three assists while displaying impressive athleticism and speed up and down the floor that will be hard to contain this season. She was complemented by Colleen Planeta (16 points), Lauren Nicholson (15 points) and Nicole Seekamp (14 points) while Adelaide utilised 20 offensive rebounds to finish with 15 second chance points. Trailing by as much as 21, Asia Taylor (16 points) tried to pull the Lynx back in the final term but the visitors had an answer every time. Alison Schwagmeyer also impressed off the bench for Perth with 15 points, three assists and three steals.
Boxscore: http://www.fibalivestats.com/u/wnbl/913475/bs.html
Andy Stewart, Lynx head coach: "They had 20 offensive rebounds and we took 21 defensive rebounds. If we keep giving up that sort of possession rate, it's pretty hard to win a game. On a consistent basis they were first to the ball."
Deakin Melbourne Boomers 72 def. by Bendigo Bank Spirit 82
The third consecutive road team to claim victory, Bendigo were the surprise of Round 1. They shocked the Boomers with a 19-1 run to begin the second quarter and their hustle and determination to get to the rim gave them a big enough buffer that Melbourne were unable to recover from. Marena Whittle top-scored with 21 points in her debut for the Spirit and Nadeen Payne and Nat Hurst were integral as they combined for 28 points. Import Becca Tobin was outstanding at both ends of the floor, recording 15 points, nine rebounds, five steals and three blocks in a confidence-boosting performance for Bendigo. Melbourne did cut the deficit to six in the third term as Steph Talbot (20 points) came alive but the Boomers may need another week or so to come together with their four Opal stars having missed the entire pre-season.
Boxscore: http://www.fibalivestats.com/u/wnbl/913476/bs.html
Simon Pritchard, Spirit head coach: "What you saw was the benefit of team work as that was our ninth game together. Marena was particularly good in physical situations tonight – she gives us a little crunch that we lost with Kelsey Griffin going."
JCU Townsville Fire 68 def. by Jayco Dandenong Rangers 73
Completing a weekend of road victories, Dandenong spoiled the Fire's party on the day they unveiled their Championship banner. Townsville were flying early on the back of that momentum and took a seven-point lead into half-time after Suzy Batkovic (20 points, 16 rebounds) scored 13 in the opening term. The Rangers mounted a serious challenge with a 23-13 third quarter though, setting up a thrilling finish. There was just a point the difference with three minutes remaining as Casey Samuels (16 points) ensured the game would go down to the wire but Rachel Jarry and Betnijah Laney (16 points, 12 boards, five assists) each split a pair of free-throws. Micaela Cocks then missed a three-point attempt for the home side and Jarry (11 points, seven rebounds) pulled down the defensive board before sealing the win from the charity stripe.
Boxscore: http://www.fibalivestats.com/u/wnbl/913477/bs.html
Suzy Batkovic, Fire: "We got off to a good start but we lost our way during the second half and Dandenong capitalised. The ball got stuck in our hands and we couldn't get anything to drop. But we've lost season openers before and still gone on to win the championship so we'll see what happens."
Media Links
Chris Dutton of The Canberra Times covered the UC Capitals' big win on the opening night as they announced themselves as a 2018/19 contender: https://www.canberratimes.com.au/sport/basketball/the-caps-are-back-kia-nurse-leads-canberra-to-demolition-of-flames-20181012-p509bt.html
Chris O'Donoghue of the West Australia looked at Perth's Round 1 loss: https://thewest.com.au/sport/basketball/perth-lynx-lose-78-66-to-adelaide-in-wnbl-season-opener-ng-b88990220z
Roy Ward analysed Bendigo's upset win over the Boomers for The Age: https://www.theage.com.au/sport/basketball/bendigo-spirit-upset-boomers-in-wnbl-season-opener-20181013-p509gt.html
Ward also reported on Dandenong's upset against the reigning Champions for The Age: https://www.theage.com.au/sport/basketball/rangers-cause-a-boilover-after-beating-fire-in-townsville-20181014-p509m2.html
Trent Slatter wrote on the Fire's rusty start for the Townsville Bulletin: https://www.townsvillebulletin.com.au/sport/rusty-start-for-townsville-fire-in-7368-loss-to-dandenong-rangers/news-story/dea5c73e73f02413f809d6196bede7ad
Photo Credit: Michelle Couling Photography