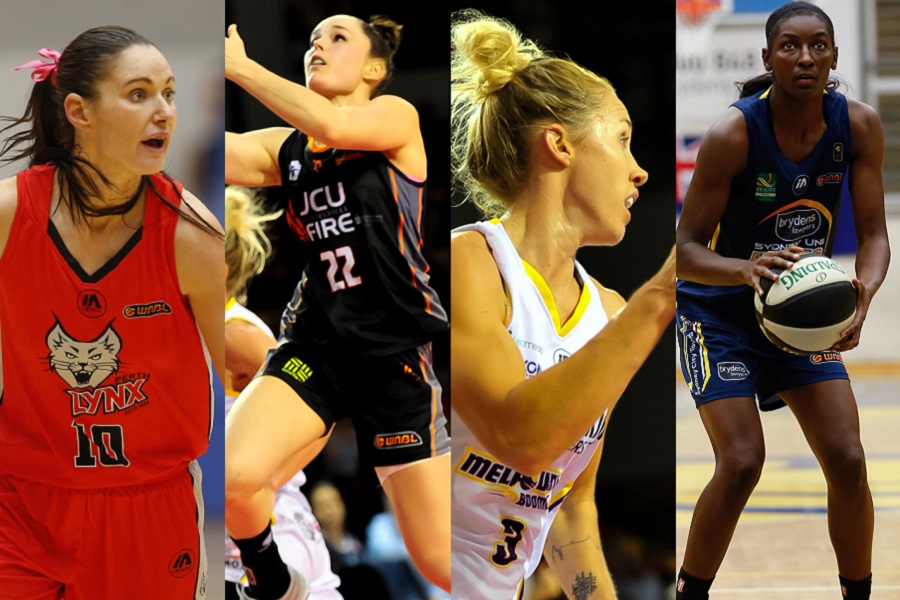 December 26, 2017 | WNBL news
The final four is set for the 2017/18 playoffs but find out which teams can still change positions on the ladder ahead of the last round of the regular season.
Perth Lynx: 15-4, First
To Come: UC Capitals (A), Townsville (A)
Will Finish: First
On the back of 14 consecutive wins, Perth can now take it easy in the last round as they cannot be budged from first place.
They will be wary of losing momentum heading into the Semi-Finals but have officially taken the season series against every other team so should be full of confidence. Their approach to a clash against a potential Grand Final opponent in Townsville on Sunday will be intriguing.
JCU Townsville Fire: 13-6, Second
To Come: Sydney Uni (A), Perth (H)
Can Finish: Second-Third
Thrashing the Caps and Bendigo across Round 12, Townsville are in the prime position for a top-two finish but still need at least one more victory this weekend.
Their clash with Sydney Uni on Friday night will decide the season series with a win enough to cement second place but if they were to lose both games in Round 13, they would drop to third and miss out on home court advantage. Perth have nothing to play for in terms of the regular season on Sunday which should give the Fire an edge at home where they have won six of their last seven but if the Flames sweep the weekend, Townsville will still drop to third regardless of the outcome against Perth.
Brydens Sydney Uni Flames: 12-7, Third
To Come: Townsville (H), Bendigo (A)
Can Finish: Second-Third
Sydney Uni were seriously threatened by Adelaide last weekend but they got the victory in overtime to sew up a finals spot. They face another challenge in Round 13 though with a clash against Townsville potentially deciding home court advantage in the Semi-Finals.
A win gives them the head-to-head advantage over the Fire but if they then slip up against Bendigo and only split the weekend, they could stay third if Townsville recover to defeat the Lynx on Sunday. A loss to Townsville also means they will finish third but with an almost identical team to last year, the Flames' finals experience will be a concern for the other playoff teams as they aim to defend their 2017 Championship.
Deakin Melbourne Boomers: 11-9, Fourth
To Come: Dandenong (H)
Will Finish: Fourth
Round 12 loomed as a make or break weekend for the Boomers and they could not get past a determined Lightning side before the loss of Liz Cambage and Bec Cole made a trip to Perth even more difficult.
Luckily for them, a Sydney Uni win over Adelaide means they cannot be budged from fourth spot which also gives them more time to ensure Cambage and Cole are healthy for the playoffs. Looking ahead, they will need to win a game on the road to the Lynx in order to make the Grand Final though which is currently the most difficult task in the competition.
MAC Adelaide Lightning: 10-10, Fifth
To Come: Bendigo (H)
Will Finish: Fifth
The Lightning came agonisingly close to setting up a thrilling final round as they defeated Melbourne before falling to the Flames in overtime. Had they won that game, they would have still been relying on Melbourne to fall to Dandenong in Round 13 but as it stands, they will just miss out on their first finals appearance since 2012-13 and finish in fifth place regardless of what happens this weekend.
Jayco Dandenong Rangers: 7-13, Sixth
To Come: Melbourne (A)
Can Finish: Sixth-Seventh
On a six-game losing streak, Dandenong's struggles to end the season were compounded last weekend by a lack of offensive production. They scored just 47 in a loss to Bendigo before falling to the Caps with a total of just 59 points and now, without the season series against Canberra, they could fall to seventh place in the last round.
Taking on Melbourne who cannot move from fourth spot on Saturday night, the Rangers may be benefited by the Boomers who could rest a couple of their starters in the lead-up to the playoffs.
University of Canberra Capitals: 6-14, Seventh
To Come: Perth (H)
Can Finish: Sixth-Seventh
Thanks to their strong defensive performance against Dandenong last weekend, the Caps now own the season series against the Rangers which means an upset win against Perth in Round 13 could see them move into sixth place at season's end.
The Lynx may already be looking ahead to the playoffs which could give the Caps the edge but they have lost by an average of 16 points to Perth in two previous encounters.
Bendigo Spirit: 4-15, Eighth
To Come: Adelaide (A), Sydney Uni (H)
The Spirit snapped a five-game losing streak with a stunning defensive performance against Dandenong last round, holding them to two points in the final term and just 47 overall.
They crashed back to Earth though with their biggest ever defeat in Townsville and being on the road again to Adelaide this Friday night could take its toll before they face a Flames team that could still be fighting for second place on Sunday.