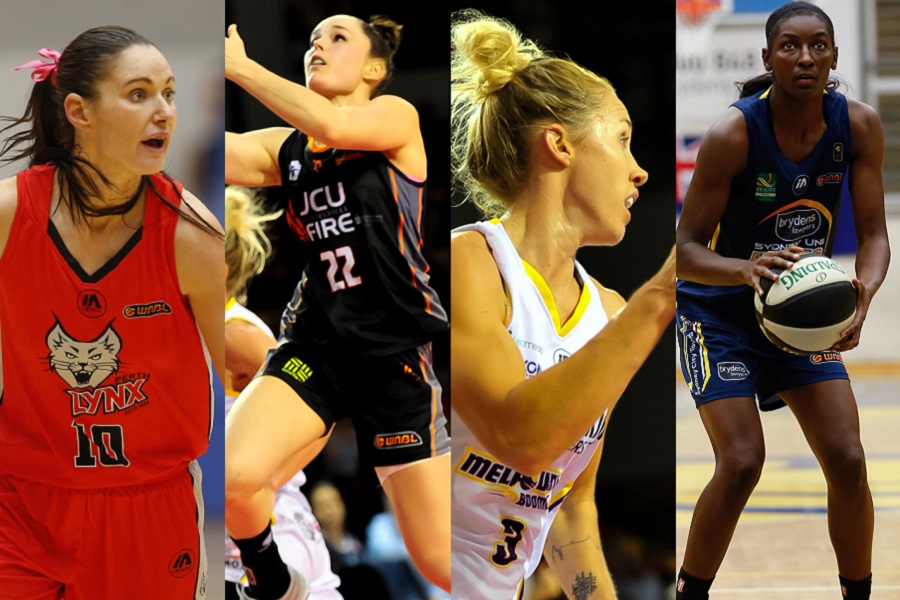 December 12, 2017 | WNBL news
With only three rounds remaining in the WNBL regular season, take a look at each team's run home in the battle for the top four.
Perth Lynx: 12-4, First
To Come: Adelaide (H), Melbourne (A), Melbourne (H), UC Capitals (A), Townsville (A).
The Lynx created history last weekend, winning a club record 11th straight game to move one win clear on top of the ladder. Their two clashes to come against Melbourne will decide first place but if they can succeed in both meetings, they will be able to relax during Round 13 with home court advantage through the playoffs sewn up.
Their victory over the Flames in Round 9 ensured Perth now own the season series against every other club with the opportunity to clinch against Adelaide and Melbourne to come in the next two weeks.
Deakin Melbourne Boomers: 11-6, Second
To Come: Perth (H), Adelaide (A), Perth (A), Dandenong (H)
Two wins in Round 9, including a two-point thriller over Adelaide, has moved Melbourne into second spot on the ladder and they now own a one-game edge over Townsville.
Their remaining two clashes against Perth will decide whether they can sneak back into first place but they cannot feel safe yet as a couple of losses could still drop them out of the top four as they do not own the season series against Townsville nor Sydney Uni.
JCU Townsville Fire: 10-6, Third
To Come: Dandenong (H), UC Capitals (A), Bendigo (H), Sydney Uni (A), Perth (H).
A loss to Adelaide last Thursday night dropped Townsville down a peg and they may now need to rely on a couple of surprise losses for Melbourne or Perth to jump back into the top two.
With only two games against top-four teams to come, their spot in the finals still looks good though and they already own the season series against Adelaide although the Rangers have proved to be their bogey team, defeating them in two previous meetings this season.
Brydens Sydney Uni Flames: 9-7, Fourth
To Come: Dandenong (A), Bendigo (H), Adelaide (H), Townsville (H), Bendigo (A).
The Flames are hanging on to a playoff position, having split Round 9 with a win over the Caps preceding a loss to Perth. That defeat at the hands of the Lynx means they lost the season series against them which does not bode well for the Semi-Finals as it is a first vs. fourth match-up but for the moment, Sydney Uni will just be focused on reaching the post-season.
With only one game to come against a top-four team, they will back themselves to be able to hold off the Lightning and potentially still overtake Townsville for third place.
MAC Adelaide Lightning: 9-7, Fifth
To Come: Perth (A), UC Capitals (A), Melbourne (H), Sydney Uni (A), Bendigo (H)
Falling to the Boomers by just two points last weekend on a Liz Cambage game-winner could haunt Adelaide as a win would have moved them above Sydney Uni on the ladder while also keeping the season series against the Boomers alive.
They do own the series against Sydney Uni though which means if the playoffs were to start today, they would be in. The Lightning probably need to win at least one game against Perth (on the road) and Melbourne (at home) in the next two rounds while a clash against the Flames on December 23 could be a make or break meeting.
Jayco Dandenong Rangers: 7-9, Sixth
To Come: Sydney Uni (H), Townsville (A), Bendigo (A), UC Capitals (H), Melbourne (A)
Consecutive losses in Round 9 have made things tough for Dandenong but the injuries that are piling up will make things even harder. A double-header this weekend could be the end of the Rangers' chances unless they can at least split the round as two losses would end even any mathematical hope for last year's Runners-Up.
Bendigo Spirit: 3-12, Seventh
To Come: UC Capitals (H), Sydney Uni (A), Dandenong (H), Townsville (A), Adelaide (A), Sydney Uni (H).
The Spirit are now officially out of the playoff race but are playing for pride after a couple of massive losses in Round 9 including their biggest ever defeat in club history. On a three-game losing streak, they will be aiming to snap that against the Caps before they face three top-four sides in their last five games.
University of Canberra Capitals: 3-13, Eighth
To Come: Bendigo (A), Adelaide (H), Townsville (H), Dandenong (A), Perth (H).
The Caps finally ended their own losing streak in Round 9, taking care of Dandenong in a thriller by three points to end a run of 13 consecutive defeats. Their three victories of the season have come against Bendigo, Adelaide and the Rangers and they play all three teams once more to finish off 2017/18 which will give them confidence.