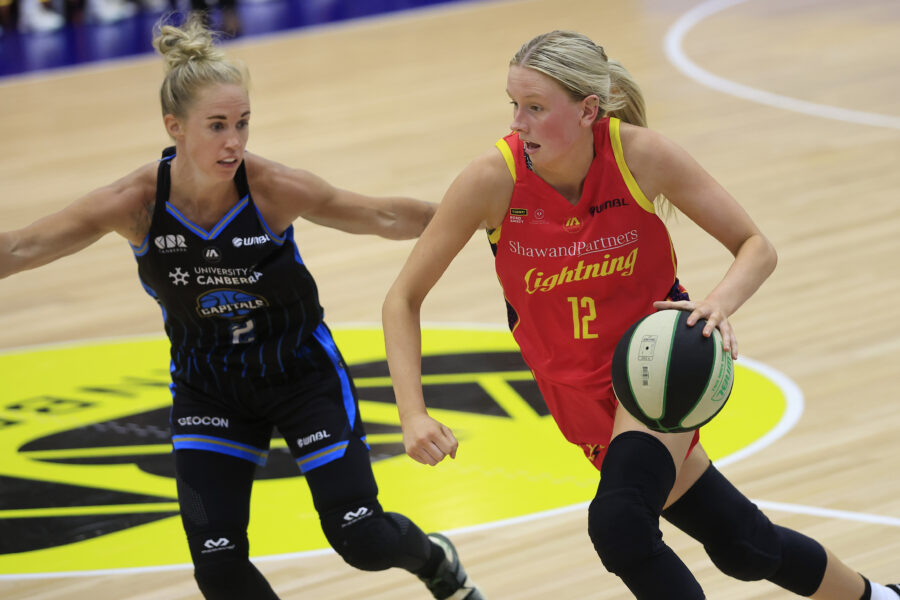 December 21, 2021 | WNBL news
By Megan Hustwaite
SAM Simons has dreamed about what she experienced on Sunday for much of her life.
Growing up watching the Adelaide Lightning play and idolising their biggest and brightest stars, the 20-year-old achieved a long-term goal when she was part of the team's win over the UC Capitals.
Simons, who debuted against Townsville in Round 1, was a key in the Lightning's first win of the season scoring 12 points off the bench.
"Growing up in Adelaide I watched the Lightning my whole childhood so it was pretty cool to get my first win in the Lightning jersey,'' she said.
"When Mia Murray played for the Lightning, she was definitely the player I looked up to. She played for Forestville as well so that was a big one for me. And, of course Laura Hodges, she was equally great off the court and as kids we had a bit to do with her."
Simons comes from strong basketball stock.
Her mum was courtside at the National Convention Centre on Sunday watching her daughter play in the league she once competed in.
Sharon (Nee Washington) represented North Adelaide, Noarlunga, Coburg, Bulleen and Dandenong during her career.
Dad Andy played 58 games in the NBL with Adelaide, St Kilda and North Melbourne Giants and has carved out a successful coaching career.
"Mum's really proud. She obviously played in the WNBL and she was my coach growing up for a long time and taught me a lot. It's pretty cool for me watching me play back in Australia," Simons said.
"Dad's always in my corner, which is really nice. We did a lot of work together during Covid last year, we had a local school gym we could go to every day which was nice."
One of many Aussies to play for the Gaels, Simons was at college at St Mary's before returning home when the pandemic first hit. She decided to remain in Australia playing NBL1 with Forestville Eagles this season before beginning her WNBL career.
Her Round 3 performance, of 12 points (5-of-5 from the field) in just under 18 minutes court time, showcasing what coach Adelaide Chris Lucas has given her license to do in #WNBL22.
"Chris always talks to me about coming in and making an impact on the game and always having a scoring mindset. So that's what I did,'' she explained.
"I took my opportunities and shots when they came and on Sunday they fell which was nice."
Simons and the Lightning now have some time off before Christmas ahead of preparations for their Round 4 clash with Melbourne Boomers on December 30 at Lightsview Community Centre.
There will be a Christmas reunion with partner Jack Purchase when his Perth Wildcats come to South Australia to take on the Adelaide 36ers on December 28.
Simons says as young players both at the start of their respective national league careers they have a solid understanding of each other.
"It's really cool because we both understand each other's careers and the sacrifices we need to make as well as supporting each other."
The Lightning has a round four bye before facing the Melbourne Boomers at home on the 30th of December.