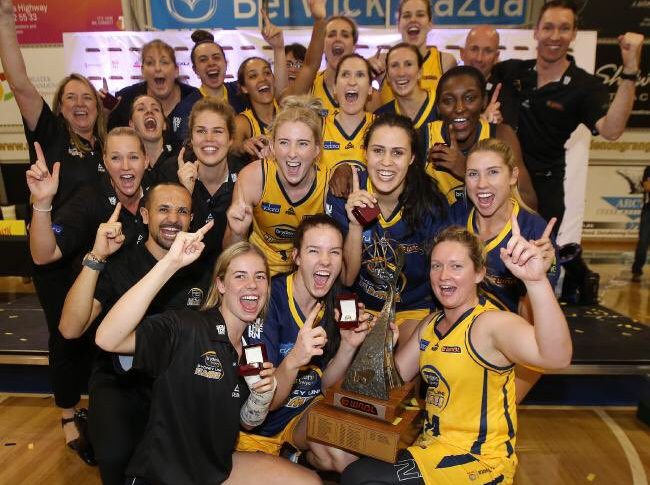 April 6, 2017 | WNBL news
BRYDENS SYDNEY UNI FLAMES
Wins – 18
Losses Ð 6
Standing Ð Champions
2015/16 result Ð 13 wins, 11 losses, 5th
THE GOOD
The most dominant team in the competition following the Christmas break, the Flames snapped a string of six consecutive Grand Final losses when they defeated Dandenong in the two-game series to clinch the Championship. Coach Cheryl Chambers was immense in her first season at Sydney Uni and deservedly won Coach of the Year, leading the club to 12 straight wins to finish the year. They recorded a 42-point thrashing of Townsville in Game 1 of the Semi-Finals while scoring 111 points- both WNBL post-season records and their ability to perform in clutch situations was proven time and again with an overall record of 9-3 in games decided by six points or less. Asia Taylor was a brilliant off-season acquisition, averaging 16.2 points (sixth in the competition) and 7.6 rebounds (eighth) per game and she combined well in the front court with the league leader in blocks, Jennifer Hamson. Belinda Snell was inspirational in Game 2 of the Grand Final series, scoring 13 points in the third quarter toÊhelp claim the title and she shot 41% from deep for the season while Alex Wilson (11.5 points per game) has developed into one of the strongest offensive players in the league. Combine those stars with a number of star important role players like Lauren Nicholson, Shanae Greaves and Tahlia Tupaea and you have the recipe for a Championship team.

THE BAD
While it is hard to nit-pick a Championship winning team and Sydney Uni did suffer through their fair share of injuries to start the season, their two losses in Round 1 and a 7-5 record at the end of Round 10 was not the ideal start. The Flames also committed the second most amount of turnovers per game with 16 per contest.
STANDOUT PERFORMER
Not in Sydney UniÕs plans for 2016/17 as we headed into the season, an injury to Tupaea opened the door for the Flames to get Leilani Mitchell and the rest is history. An All-Star, Mitchell (16 points, 3.8 rebounds, six assists per game) finished fourth in the MVP voting and second in the Defensive Player of the Year voting while leading the league in assists and being named Player of the Month for January before capping it all off with a Finals MVP. Her ability to control the tempo of the floor was exemplary and she came up in the clutch, hitting the game winner against the Caps in Round 16 while her one-two punch with Tupaea was too much for Dandenong to handle in the Grand Final.
Next Year
TEAM NEEDS
The Flames have re-signed Alex Wilson and Belinda Snell was already contracted which will power their offence next season but the return of Mitchell, Taylor and Hamson is up in the air. Finding an import to replicate the quality of Taylor will not be easy while Tupaea will also need to step up with the likes of Lauren Nicholson rising underneath her to cover Mitchell if she does not return.
LIKELY IMPROVEMENT
One of the young stars to come out of the 2016/17 season, Nicholson proved to be a very valuable addition to the Flames. She played 19 games for five points and 2.5 rebounds per contest while shooting a highly efficient 48% from the field and 42% from the three-point line. She showed no fears of the big stage, scoring nine points on 3-4 shooting in Game 1 of the Grand Final before backing up with a very important seven points, seven rebounds and two steals in Game 2. Nicholson is now playing for Launceston in the SEABL and is averaging a double-double through the first two weeks.
GRADE Ð 10/10