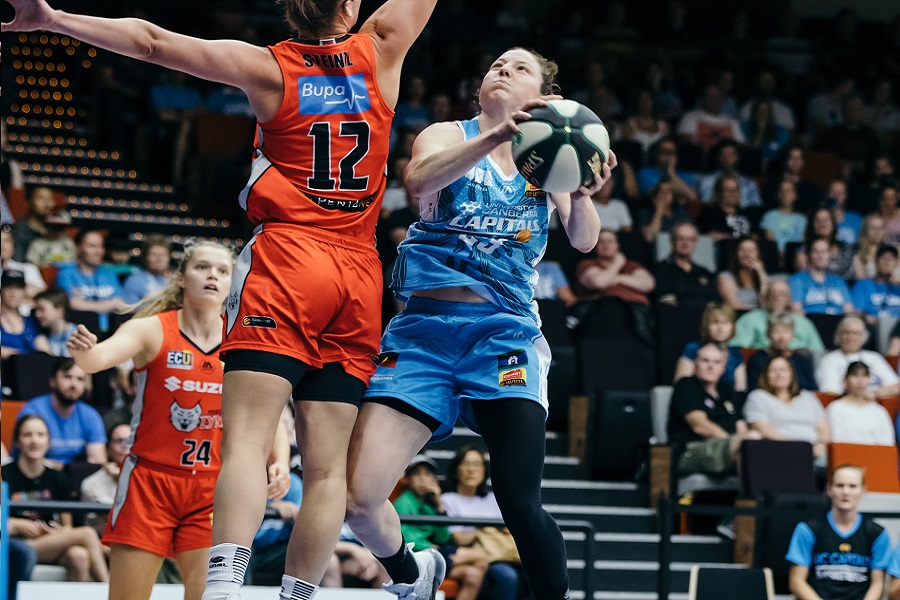 January 24, 2019 | WNBL news
Written by Liam Ellison.
UC Capitals (16-5) v Perth Lynx (13-8)
When: 7.00pm (AEDT), Friday 25 January
Where: AIS Arena
Broadcast: Fox Sports Channel 503
FORM
The in-form team of the league, the UC Capitals are coming into this contest on the back of a nine-game winning streak.
After integrating Marianna Tolo into the line-up, the Caps have been on fire and their current streak included a run of six wins by an average margin of 33 points.
With a 9-1 home-record, the Caps will be hard to topple at the AIS Arena on Friday night with many tipping them as Championship favourites.
After a brilliant first half of the season, Perth come into the finals having won just four of their last ten games and while falling out of the playoffs was never a serious threat, they have dropped from first to fourth on the ladder.
After giving up a 21-point lead against the Lightning last weekend, coach Andy Stewart will need a quick turnaround from his chargers as they come up against the ladder-leaders but they have gotten the better of the UC Capitals twice in 2018/19.
 THE STARTING FIVE BATTLES
FRONT-COURT: 
Kelsey Griffin vs. Asia Taylor
Two of the WNBL's top scorers will go head-to-head in this series with fireworks expected. Griffin and Taylor have had some fierce battles this season and neither will take a backwards step when they come face-to-face on Friday night. In their first meeting, Griffin had 30 points and 18 rebounds in a loss and in the re-match, Perth prevailed again as Taylor had 21 points and nine boards against Griffin's 14 and 14.
In their most recent clash just over a month ago, the UC Capitals won by 32 points as Griffin starred with 27 points and 15 rebounds and it is her ability to crash the glass and get to the lane at the offensive end that will be Taylor's biggest challenge.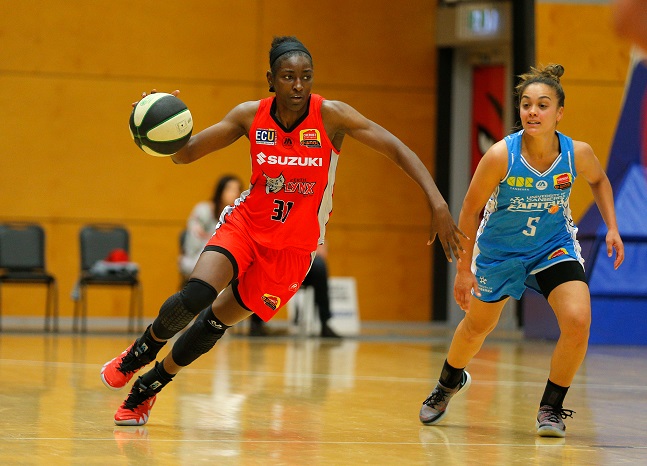 Marianna Tolo vs Kayla Steindl
The pillars of both teams, Tolo holds a significant 9cm height advantage over Steindl but the Perth forward has held her own with an average of 5.9 rebounds compared to Tolo's 5.5 in only five minutes more per contest.
Adding to Steindl's arsenal is her ability to hit the three with 35 makes at 34% this season and she will be aiming to pull Tolo away from the ring. The Capitals' centre's rim protection is a concern for the visitors though as is her experience in pressure situations and finals games.
Kia Nurse vs Brittany McPhee
Another star match-up takes place between two of the league's most prolific wing scorers in Nurse and McPhee. Both star imports, Nurse has impressed in her first season, putting up 17.6 points per contest while showcasing her ability from deep, shooting 37%.
McPhee started the season just as impressively but has dropped off as the regular season wound down. McPhee amassed three Team of the Week awards in the first five rounds but had just two points a fortnight ago against Melbourne, helping to drop her point production to 13.2 per game.
BACK-COURT:
Kelly Wilson vs. Katie Ebzery
Two of the league's best back-court contingents face off in this Semi-Final series and the point-guard battle holds particular importance.
Kelly Wilson has led the league in assists this season while Australian Opal Ebzery remains one of the league's most dangerous guards.
With so many options, Ebzery's points production has shrunk to 8.7 this season but she has the ability to knock down big shots when needed and is still hitting 38% from the field. She is a composed point guard as well but that will be tested coming up against seasoned veterans in Wilson and Leilani Mitchell. 
Leilani Mitchell vs. Alison Schwagmeyer
The queen of the spin-move, Schwagmeyer may have some more highlights in store for the playoffs as she takes her place in the loaded Lynx back-court.
Alison Schwagmeyer of the @PerthLynx was spinning and winning as she claims the iAthletic Power Play for Round 3 as voted by the fans! #WNBL19

Shop for all your @ChemistWhouse WNBL iAthletic merch and apparel here: https://t.co/FJoj7HAsuq #WNBL19 pic.twitter.com/S6c5tC84uT

— WNBL (@WNBL) November 1, 2018
She has the ability to go on runs, exemplified by her 12-point second quarter against Adelaide last weekend but she went on to finish with 19 points for the game and will need a more consistent effort against the UC Capitals. Schwagmeyer will also have a tough task chasing around Mitchell, who has found some ominous form in the past month- named Player of the Week in Round 14 while earning two Team of the Week nods.
BENCH:
With the UC Capitals bringing Tolo back into the fold, Lauren Scherf has moved to the bench. While she was averaging 12.3 points and 6.6 rebounds before Tolo's return, Scherf remains a strong presence in the team's second unit alongside Keely Froling. They could expose Perth's forwards with the likes of Maddi Allen needing to perform while another match-up to keep an eye on will be rising star Maddi Rocci coming up against Opal Lauren Mansfield.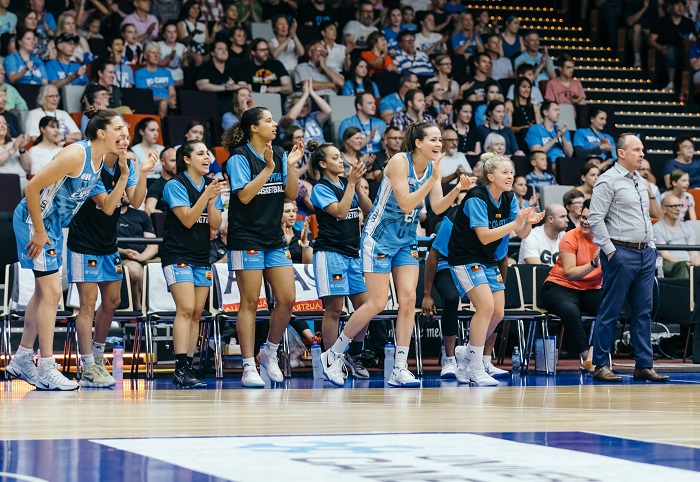 PREVIOUS MEETINGS:
Perth won the regular season series between the two clubs,2-1. Home-court advantage proved integral in the three match-ups though, with the road team being unsuccessful on every occasion.
Interestingly, Perth won their two home games by just six and four points while the Capitals blew the Lynx out of the water in the nation's capital, prevailing by 32. However, the Caps' finals games will be played at AIS Arena, not the National Convention Centre where most of their games have been played this season.
THE STATS:
–Kelsey Griffin averages 23.7 points and 15.7 rebounds per game against the Lynx this season.
–UC Capitals come into the series on a nine-game win streak while the Lynx have won just four out of their last ten.
–UC Capitals average the most points per game in the WNBL with 85.2, compared to Perth's 78.8.
–UC Capitals boast a 9-1 record at home this season.
OVERALL
The UC Capitals come into this game on a nine-game winning streak but were pushed to double-overtime last week against Bendigo in a game in which their focus may have already been on the playoffs.
Perth must be at their best defensively to shut down the Caps' array of offensive weapons and their bench must also step up to match the home side's impressive depth.
"Our defence propels our offence, if we can get stops, if we can get rebounds, it really propels our offence," explained Alison Schwagmeyer after their one-point loss to the Lightning.
"They're (UC Capitals) loaded with talent, but they're also people. And people can make mistakes, they can crack under pressure, miss shots and make poor decisions. And that's what we'll be aiming for," added Perth coach Andy Stewart.