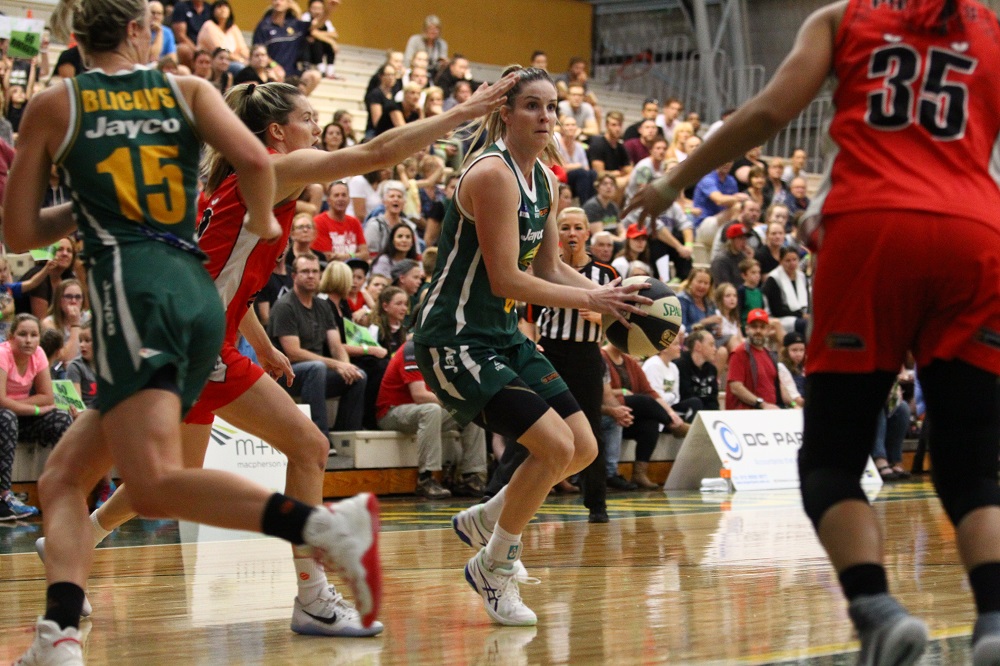 March 5, 2017 | WNBL news
The 2016/17 WNBL Grand Finalists have been decided with the Brydens Sydney University Flames sweeping the JCU Townsville Fire in their Semi-Final while the Jayco Dandenong Rangers won the first ever Game 3 in league history to defeat the Perth Lynx and book their place alongside the Flames.
Game 2 Semi-Final
JCU Townsville Fire 61 defeated by Brydens Sydney University Flames 76
The Flames clinched their Semi-Finals series with a sweep of the defending champs although they were made to work for the win with Townsville bouncing back from a disappointing performance in Game 1. Sydney Uni have strong contributions across the board though with every starter reaching double-figures in scoring while Tahlia Tupaea collected 18 points and ten rebounds off the bench. The Fire were within four points with just over three minutes remaining but 16 turnovers compared to the FlamesÕ four proved costly while Suzy Batkovic (14 points, 17 rebounds) fouling out in the dying moments signalled the end of their 727-day reign as WNBL Champions.
Boxscore:Êhttp://www.fibalivestats.com/u/wnbl/577306/
Claudia Brassard, Fire coach:ÊÒItÕs a hard pill to swallow. We wanted it so badlyÐ and youÕre invested in this teamÐ you seeing them doing the work at training and practicing every day to get better. We desperately wanted to defend our title, but it wasnÕt to be.Ó
Cheryl Chambers, Flames coach:ÊÒWeÕre ecstatic, weÕll enjoy it for a little while but we have to get to the point where we are ready to play next week. Townsville are a great team and they just keep coming. I was proud of the girls because we could have flatlined there and we got into some foul trouble but others stepped up, it was great.Ó
Game 2 Semi-Final
Perth Lynx 91 defeated Jayco Dandenong Rangers 71
The Lynx ensured there would be an historic first ever Game 3 in the WNBL thanks to an incredible performance from Sami Whitcomb who collected 41 points, nine rebounds and four assists including 8-12 shooting from beyond the arc. It was a career-best output for Whitcomb while also the highest individual score in a WNBL Semi-Final and the equal-tenth highest scoring effort of all time. Off the bench Ruth Hamblin was also superb, dropping 14 points and pulling in five rebounds to help fend off Dandenong who were led by Steph CummingÕs 30 points and seven boards. With just two points the margin heading into the final term, Perth ran away with a 28-10 final term as Whitcomb scored 15 points to set up the deciding game on Sunday.
Boxscore:Êhttp://www.fibalivestats.com/u/wnbl/577307/
Andy Stewart, Lynx coach:ÊÒWe came out hard, we made a few adjustments and we got a high percentage of scores out those adjustments. TheyÕre not the sort of adjustments youÕd normally make late in the season, but we thought weÕd have to go thereÐ it worked.Ó
Larissa Anderson, Rangers coach: "There were a few things I was disappointed in, but at the end of the day it took a pretty sensational effort by Sami. "I'm disappointed though because we didn't play her the same way we have been.Ó
Game 3 Semi-Final
Jayco Dandenong Rangers 81 defeated Perth LynxÊ63
The Rangers then joined the Flames in the WNBL Grand Final, with a convincing victory on Sunday over the Lynx. Apart from a slight lead that Perth held early in the piece, Dandenong led at every change and by as much as 21 points in the first half, before holding off numerous runs from their rivals in the last two quarters. Steph Cumming paced the victors with 22 points but it was their full-court, pressure defence, that helped them secure the win. While she ended with 20 points, Sami Whitcomb was held in check in the first half and it was that ability to curb her influence that enabled the Rangers to build an advantage that they would not relinquish. Dandenong had four players score in double-figures and 31 bench points in a solid team performance.
Boxscore:Êhttp://www.fibalivestats.com/u/wnbl/577309/
Larissa Anderson, Rangers coach:Ê"There was a lot of flying in three days and that's what I was worried about, most stressed about, after Friday night's game. I couldn't be more proud of this lot- we knew they would fight back but they learned from Friday night. It's been a great journey together over the last two seasons."
Andy Stewart, Lynx coach: ÒWe had a really, really poor start. They came at us hard and we didnÕt defend it well. We surged again, but we just couldnÕt bridge that early margin that we set up for ourselves.Ó
Media Links
Trent Slatter of the Townsville Bulletin covered the end of the FireÕs WNBL Championship reign: http://www.townsvillebulletin.com.au/sport/local-sport/flames-sweep-fire-out-of-wnbl-finals/news-story/7d52ee9fba708af91889bfe56a5da5a7
Suzy Batkovic spoke to Slatter of her heartbreak after dropping out of the finals race: http://www.townsvillebulletin.com.au/sport/fire-captain-suzy-batkovic-shares-heartbreak-after-semifinal-exit/news-story/ccc501cdfade473aacd2a5d8e7fa22ec
Four simple words have inspired Sydney UniÕs Alex Wilson writes Amanda Lulham for Swoop: http://www.dailytelegraph.com.au/sport/swoop/sydney-uni-flames-guard-alex-wilson-inspired-by-four-words-ahead-of-wnbl-semifinal-against-townsville/news-story/ff05fe64509626a377ffd3e541a9ac16
The West Australian analysed Sami WhitcombÕs incredible Game 2 performance: https://thewest.com.au/sport/basketball/whitcomb-keeps-lynxs-wnbl-season-alive-ng-b88405395z
Megan Hustwaite then covered DandenongÕs series clinching win in Game 3 for Leader Newspapers: http://www.heraldsun.com.au/leader/south-east/sport/dandenong-rangers-beat-perth-lynx-to-setup-wnbl-grand-final-showdown-with-sydney-uni-flames/news-story/31f9dfb8d6a8fbea17f2f84e2e96334f
Roy Ward also covered the RangersÕ victory for The Age: http://www.theage.com.au/sport/basketball/dandenong-rangers-use-dance-and-defence-to-make-wnbl-grand-final-over-perth-lynx-20170305-gur0js.html
Shayne Hope of PerthNow says Andy Stewart will look to lighten the load on Sami WhitcombÕs shoulders next season: http://www.perthnow.com.au/sport/wnbl-finals-perth-lynxs-title-shot-over/news-story/53fa3666b4fcd5c6e3f42c29e503f638
Boti Nagy reports that the Adelaide Lightning are looking at three stars in Abby Bishop, Cayla George and Steph Talbot for next season: http://www.adelaidenow.com.au/sport/basketball/lightning-sets-sights-on-adelaide-olympic-trio-abby-bishop-cayla-george-and-stephanie-talbot-to-build-wnbl-revival/news-story/bd5ccf7e6421af946187a0cc2b61fcf8
The WNBL announced Marianna Tolo from the Caps as the 2016/17 Robyn Maher Defensive Player of the Year: http://sodweb.com.au/clients/wnbllegacy/defensive-player-year-marianna-tolo/
Monique Conti will return to the Deakin Melbourne Boomers next season: http://sodweb.com.au/clients/wnbllegacy/conti-ready-wnbl-action-boomers/