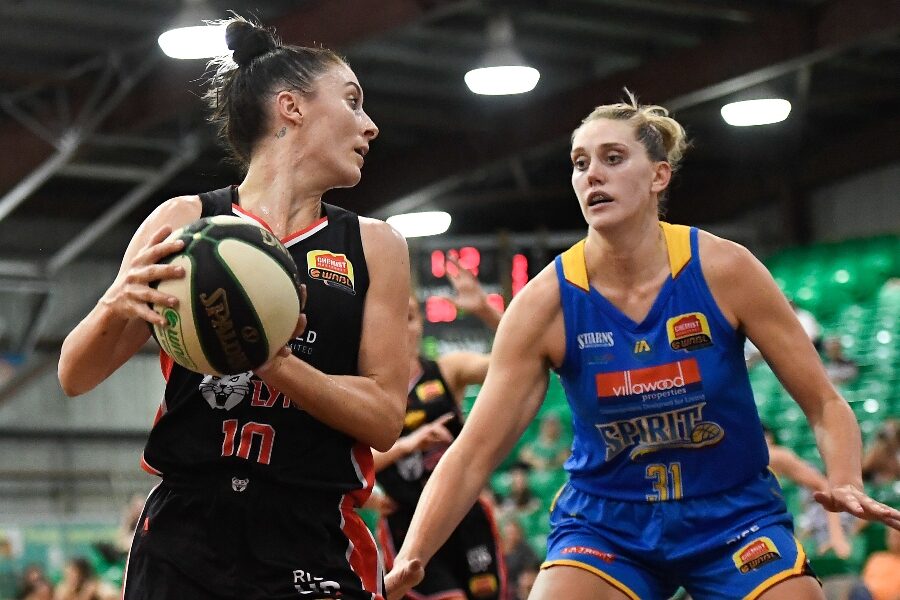 November 18, 2020 | WNBL news
Katie Ebzery showed the benefit of having a rare rest in the hectic 2020 Chemist Warehouse WNBL season, by providing the offensive spark to propel Perth Lynx to a drought breaking 78-65 win over Villawood Properties Bendigo Spirit in Mackay on Wednesday.
Ebzery was rested from Monday's game with Deakin Melbourne Boomers because coach Ryan Petrik was concerned about her workload.
The Opals guard finished with 24 points in 26 minutes, hurting Bendigo inside and outside, making three of her five three-point attempts.
She poured in 13 points in less than three minutes of the second quarter to help Perth come from behind to lead by seven at halftime.
Both teams entered the game with a 0-3 record.
The contest was effectively settled in just under 16 minutes across the middle two quarters, when Perth outscored Bendigo 37-10 to turn a four-point deficit into a 23-point three-quarter time lead.
Bendigo, who led by one at quarter time, were outscored 24-8 in the third quarter, as Ebzery continued her rampage with good support from her teammates.
In the frontcourt, Darcee Garbin finished with 14 points and 10 rebounds, and Alex Ciabattoni, who was also rested on Monday, added 12 points.
"It wasn't the best start for us or myself but we had some grit and really fought back and ended up getting the W," Ebzery said.
"Darcee played really well and Kayla (Steindl) is always a steadying support as well, Ciabattoni is really hitting her straps at the moment.
"We're a very new team we've got a lot of young ones as well, so all we can hope for is improvement every game."
Bendigo salvaged some respect in the final quarter, racking up ten unanswered points and outscoring Perth 21-11 for the term.
It was the Spirit's smallest losing margin of the season, but they have yet to finish within single digits of any opponent.
Forward Carley Ernst was superb in a losing side, scoring a game-high 28 and stuffing the stat sheet with 10 rebounds, three steals and two blocks.
"They hit shots and we missed a lot, we had a lot of open shots," Ernst said.
"They played better today, had a bit more energy.
"We've to have a bit of guts about us right from the start instead of waiting to get 20 down and then have a bit of guts about us."
Ernst was the only player in double digits for Bendigo, who shot just 33 per cent from the field and finished 12 behind in the rebound count.
Adrian Warren is a freelance contributor to WNBL.com.au
Perth Lynx 78 (K Ebzery 24, D Garbin 14, A Ciabattoni 12)
Villawood Properties Bendigo Spirit 65 (C Ernst 28, T Lavey 9, C Paalvast 7)