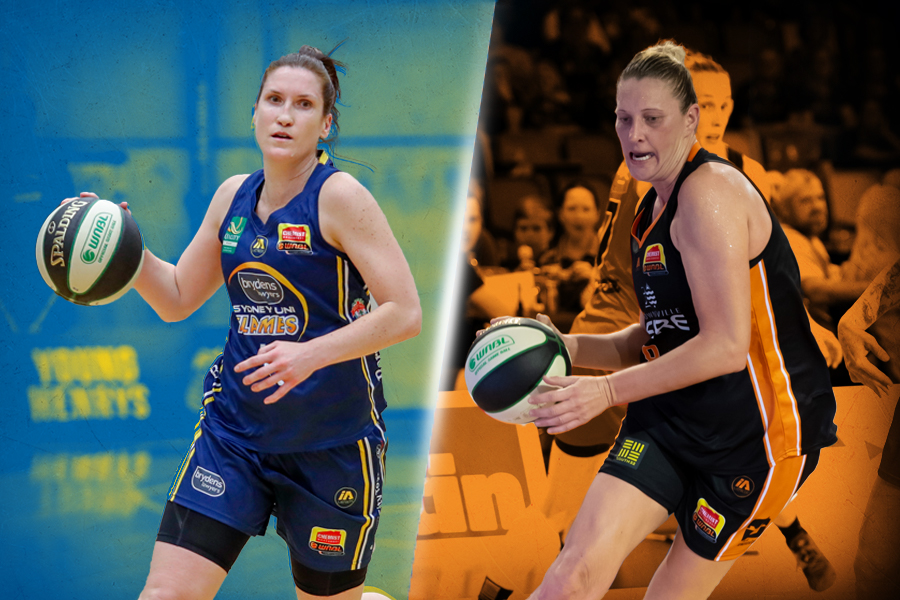 January 16, 2019 | WNBL news
By Liam Ellison.
The decorated careers of two of the league's greatest ever players are coming to a close with Suzy Batkovic and Belinda Snell set to play their final game this weekend.
Fittingly, the two WNBL legends will face off in the final round of the regular season as the JCU Townsville Fire host the Brydens Sydney Uni Flames on Saturday night.
Batkovic and Snell have a long history of playing both with and against each other, dating all the way back to their time at the Australian Institute of Sport (AIS).
"I remember the many battles that Suzy and Lauren Jackson would have at training, that was always fun to watch those two go at it," Snell reminisced.
"They were very competitive… and Suzy wouldn't hold back."
Making up one of the most talented groups to ever grace the AIS, the team of Batkovic, Snell, Jackson, Penny Taylor and Kristen Veal went on to achieve the unthinkable by winning the 1999 WNBL Championship.
"That Championship is one of my fondest memories," said Batkovic.
"A lot of us went through the Olympics together, we played a lot of hoops and we were really successful together."
"I don't think at the time we realised how special it was that we won the WNBL championship," added Snell.
"Looking back now, it's incredible that we were able to do it at that age. I feel very honoured to have been a part of that with Lauren, Penny, Suzy, and Kristen. I know our 20-year reunion is coming up!"
While Batkovic and Snell left the AIS a year later, it did not take long before the two found themselves on a Championship winning team again as the pair claimed the trophy in 2001 with the Sydney Panthers.
Both players continued to find success both at home and abroad with Snell returning to the top of the podium in 2017 with the Flames while Batkovic helped create a dynasty in Townsville as they won back-to-back titles in 2015 and 2016 before winning the Championship again in 2018.
Snell made four All-Star Teams, the equal-fifth most in league history, while Batkovic has seven All-Star awards, just one behind Rachael Sporn's record.
Batkovic stands on her own with six MVP's though, two more than Jackson, and while no other player has ever won three consecutive MVP awards, Batkovic has achieved that feat twice.
"She's the best left-hand centre going around… she's lethal," Snell said of Batkovic.
"She's able to spread the floor and obviously she's such a powerful player inside."
When Batkovic was asked about Snell's strengths, she was equally as glowing.
"God, she could shoot the ball. From a young age, the first thing I noticed was her shooting.
"Snelly was always very strong, she was willing to get in there and fight for a rebound. Her IQ for the game is great, some of the passes she makes are just incredible. She's an all-around great player.
"I remember one Olympics (London 2012) she hit that ridiculous half-court shot to get us to overtime against France, that was a particularly awesome moment."
"It was a complete blur, the crowd just went crazy," Snell reminisced.
"It was just an incredible moment. I remember Abby Bishop getting the rebound and I dribbled up and just launched it, I couldn't believe it. It's a moment I'll always remember."
With Batkovic and Snell's careers coming to an end, the last few weeks have given them a chance to reflect.
"I'm so honoured to have played a sport that I've loved since I was eight years old. I really consider myself lucky to have played with so many amazing athletes," said Snell.
Batkovic echoed her sentiments.
"I'm so grateful for everything that basketball has given me over the years, from playing overseas, all around the world, playing in the Olympics, playing in Australia. I've seen so much, I'm extremely thankful for that. The journey has been incredible.
"I'm proud of what I've done. There's no way I could have done it without my family- my mum, brother, sister-in-law, three nephews. Even when I was playing in Europe, my family would make sure they'd come over and visit. I don't think I could have survived certain points without my family."
Looking towards the future, Snell has already flagged her interest in entering the coaching realm once the season is complete but at this stage, Batkovic remains undecided.
"Whatever it may be, I want to be passionate about what I choose to do after basketball," she said.
"I'm a passionate person… that's a part of my personality. Whatever I choose to do, I want to do it well."
All-Time Stats (as of January 16)
Belinda Snell:
Past Clubs (15 Seasons)
AIS – 1998-2000
Sydney Panthers/Flames – 2000-12
Bendigo Spirit – 2014-16
Sydney Uni Flames – 2016-19
Major Achievements
3x WNBL Champion: 1999, 2001, 2017
4x WNBL All-Star: 2001, 2004, 2005, 2012
WNBL Leading scorer: 2005 (20.3 points per game)
Holds record for highest individual score of 54 points in 2005 against Perth
League's all-time leader in three-pointers made (724)
Fourth all-time for points scored (4,749)
Fourth all-time for assists (1,100)
Equal second for finals played (29)
Equal-tenth for steals (423)
Equal-15th for blocks (201)
Career averages: 14.8 points, 40% FG, 36% 3PT FG, 6.1 rebounds, 3.4 assists and 1.3 steals per game.
Suzy Batkovic:
Past Clubs (16 Seasons)
AIS – 1996-1999
Sydney Panthers -1999-2001
Townsville Fire – 2001/02
Sydney Flames – 2009/2010
Canberra Capitals – 2010/11
Adelaide Lightning – 2011-13
Townsville Fire – 2013-19
Major Achievements:
5x WNBL Champion: 1999, 2001, 2015, 2016, 2018.
7x WNBL All-Star: 2010, 2012, 2013, 2014, 2016, 2017, 2018
6x WNBL MVP: 2012, 2013, 2014, 2016, 2017, 2018
All-time WNBL scoring leader (5,829)
4x leading scorer: 2010, 2012, 2013, 2016.
4x leading rebounder: 2002, 2012, 2013, 2014
Equal second for finals played (29)
Second all-time for rebounds (2,972)
Third all-time for blocks (443)
Equal-tenth for steals (423)
Career averages: 16.9 points, 46% FG, 8.6 rebounds, 1.7 assists, 1.2 steals and 1.3 blocks per game.