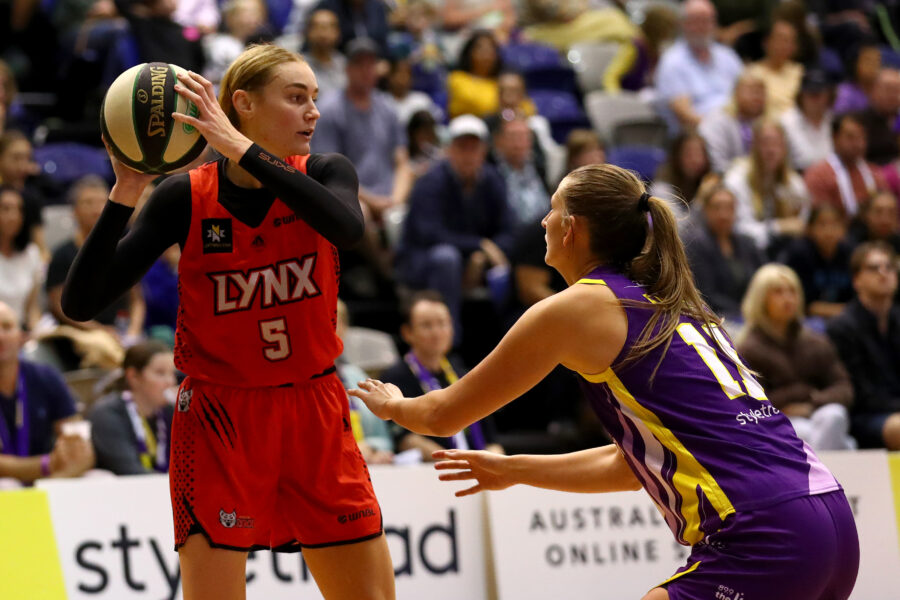 April 4, 2022 | WNBL news
Perth and Melbourne have one championship to their names in their respective WNBL histories.
That will change this week.
After winning game 1 in Melbourne at the weekend, the Lynx return to their home court on Wednesday night and can wrap up the series by winning 2-0.
View this post on Instagram
The Boomers can snare a win in WA and send the best-of-three Grand Final series to a decider back in Victoria where one team will win their second-ever title.
Tanya Fisher and Sharin Milner hold a special piece of history as Grand Final MVP award winners in Perth and Melbourne's respective 1992 and 2010-11 championships.
Megan Hustwaite spoke to the former players.
Perth was known as the Breakers when they defeated the Dandenong Rangers, in their very first WNBL season, to claim the 1992 championship.
Tom Maher had come west to lead the team, after helming Nunawading Spectres powerhouse era of the 1980's. Two years later, he would coach the Opals at Oz 1994 then to Australian basketball's first Olympic medal at the 1996 Atlanta Games.
Maher's wife Robyn, already an out-and-out star of the WNBL and international women's basketball, joined the Perth team which already boasted superstar Michele Timms.
The Breakers were bursting with talent, any player could step up on any given day and on the final day of the 1992 season it was local product Tanya Fisher.
"We had a very talented team. I got my points on the board early in the Grand Final by taking advantage of the fact that Dandenong had to try and shut down five of us all the time so one of us was always going to slip the gate," she said.
"When Tom took over, if you survived pre-season that year you deserved to win a Grand Final because it was torrid. It was the first time we'd been subjected to that level of testing and physical scrutiny."
Since 2014, the player adjudged most valuable in the Grand Final (and as of 2015-16 best-of-three Grand Final series) has received the Rachael Sporn Medal.
Sporn was Grand Final MVP twice during the Adelaide Lightning's dominance through the mid to late 1990s.
But, thirty years ago Tanya Fisher was given a silver, engraved peanut tray for her efforts in the Grand Final.
"I've dug it up and I might have to bring it to the game," she laughed.
NEARLY two decades after coaching Perth to its first title, Maher guided Bulleen Boomers to their history-making inaugural championship.
And while he had a mix of seasoned veterans and a crop of exciting young talent, including players who would go on to represent the Opals at Olympic campaigns in years to come, Maher believed the Grand Final against Canberra rested on the shoulders of the smallest player on court.
Milner knew the decider would be her last WNBL game she just didn't know what her coach had in store for her until the day before the game at Parkville.
"We had 5 Opals players on our roster (Liz Cambage, Jenna O'Hea, Rachel Jarry, Elyse Penaluna, Hanna Zavecz) and I was coming into the game thinking I'd play my usual general role running the point," she recalled.
"Then the day before Tom said 'You know we need you to get 20 tomorrow if we're going to win?'
"And I thought 'wow for someone averaging 4 points a game, that's a pretty big call!'
"In hindsight of course they were going to sag off me when you've got Liz in the form she was in then we had Jenna, Rachel, Elyse and Hanna.
"Tom told me to take my shots and be confident, I knew I could knock them down."
And knock them down she did.
Milner sunk a game-high 27 points and dished out 5 assists in a history-making day for the Boomers.
"It was one of those days where it felt like everyone was in the zone and I was too," she said.
"I was nervous but I think I just knew I had a responsibility and that came in the form of points which was not common for me."