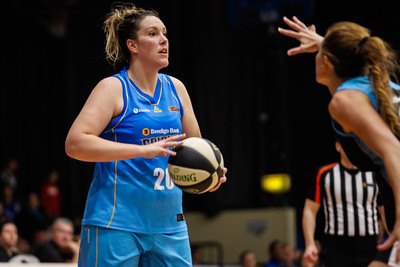 June 21, 2017 | WNBL news
The Bendigo Bank Spirit has welcomed back club legend and foundation player Gabe Richards for the 2017-18 WNBL season.
The 32 year old achieved legend status last season, becoming the fourth highest offensive rebounder in WNBL history. She should move into third spot this season.
Gabe also has the eighth highest number of total rebounds in the leagueÕs history, and should overtake international star Lauren Jackson this year.
Gabe said she was once again excited about the season ahead.
ÒI am extremely proud to be part of the Bendigo Spirit,Ó she said.
ÒThe Spirit is something I have lived and breathed since the clubÕs inception.
ÒAs I get towards the end of my WNBL career it is super special to have the opportunity to be a one-club player.Ó
Coach Simon Pritchard said GabeÕs experience makes her a threat to any team.
ÒA lot of teams know what Gabe can do and try and counter it, but a lot of them fail,Ó he said.
ÒGabe will yet again play an important role for us this season, in fact she will be vital. Gabe will come up against some of the best defenders in the world this year.
ÒWe believe that her experience and confidence will allow her to at least match it with the best.
ÒAnd her leadership around the team will also be important. We will be relying on her to work on the development of our WNBA payers and bring them into the game.
ÒShe is the Bendigo Spirit in more ways than one.Ó
Gabe urged Spirit fans to show their support for the team this season.
ÒWe all know Bendigo fans are the best in the league,Ó she said.
ÒThere is nothing like being on court and hearing them get behind us. But itÕs important they get behind us off the court as well.
ÒGo to www.bendigospirit.com.au and buy a membership to show your true support. It helps us make sure the club is around for a long time to come.Ó
Photo:ÊAkuna Photography